11. Hard Times At Harbour Town
12. From the inbox
This week's entry comes via Twitter, where you can find me at @JasonSobel ...
@robby_d Do repeat Masters champions get a new green jacket each time or do they just put on the old one?
It would be nice if Augusta National sprang for a new blazer every time a past champion won again, but the sad fact is these players are rewarded with the very same green jacket they already owned.
Which is exactly why Phil Mickelson was able to joke in Butler Cabin about his newest prize being a "perfect fit."
(This seems like a good time to mention that I'm in favor of a martial arts belt type of system that would award multiple winners with a different colored jacket each time they won another title. Green for first-timers, maybe a nice Shooter McGavin gold for second-timers ... all the way to six-time winner Jack Nicklaus, who could be outfitted in something like orange with purple polka dots to honor his distinctive achievement. Think about it.)
All winners are required to keep their jackets in the champions' locker room throughout the year, other than the reigning champ, who is allowed to keep his off-campus until the next April, meaning he can wear it whenever and wherever he pleases.
Like, say, to the drive-thru at Krispy Kreme ...
Have a question or comment for the W18? Send an e-mail to Jason.Sobel@espn3.com or @JasonSobel on Twitter.
13. Photo of the week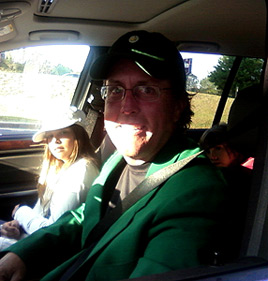 Greg Carswell of Krispy Kreme
During the years 2004-06, Phil Mickelson claimed his first three major championship titles -- one each season.
He then proceeded to hit the weight room, increasing his workout regimen prior to the 2007 campaign. And guess what? He followed by going winless at the majors in each of the next three years.
So maybe it was perfect irony when Phil and his children pulled into a Krispy Kreme the morning after his Masters victory.
There's a lesson in there for the kids, I think.
14. Road to the U.S. Open
Sure, the year's second major championship is still two months away, but the reigning U.S. Open champion doesn't exactly appear to be one of the favorites right now.
Very quietly, Lucas Glover followed his victory at Bethpage last year with a solid second half to the season, earning top-10 finishes in three of his final 11 starts, including fifth-place results at the AT&T National and PGA Championship.

It hasn't carried over to 2010, though, as Glover owns just a single top-10 in 10 appearances, that coming back in January at the Farmers Insurance Open, where he shot an even-par 72 to drop to T-9 by Sunday evening.
When asked during last week's Masters to assess his play so far, Glover said, "Very average. Haven't played very well, haven't put a tournament together yet. I was in position at San Diego and botched it on the back nine. And then other than at that, I haven't really been there. But same as last year, I didn't get off to quite a good start last year and worked hard and it all clicked. So I'm still doing the same stuff working on the right stuff, so when it clicks, just got to be ready."
It didn't click in his home state of South Carolina, as Glover went 69-77 to miss the cut at the Verizon Heritage.
For the season, he ranks outside the top 100 in driving accuracy, putting average and scoring average. And if you're seeking a clue that he could contend once again at Pebble, there might not be one. In three career starts at the AT&T Pebble Beach National Pro-Am, he's never made the cut -- and hasn't played it since 2005.
15. On the Hot Seat
Prior to competing in the Nationwide Tour's Fresh Express Classic at TPC Stonebrae on a sponsor's exemption, Jerry Rice said his goal was to shoot his jersey number in the opening two rounds.

Rice
It should be noted that the erstwhile No. 80 compiled a scoring average of 79.5, shooting 83-76 to finish second to last in the field of competitors who completed two rounds. He hardly embarrassed himself in his debut on a major pro circuit.
Rice sat down on the ESPN.com Hot Seat to discuss his own game, that of Phil Mickelson and whether he'd trade those Super Bowl rings for a certain green jacket.
16. Quote of the week
"I'm excited about competing. It's a wonderful venue and they always have a great field."
-- Tiger Woods on his intentions to play the upcoming Quail Hollow Championship.
OK, as far as quotes go, it's not exactly, "One small step for man ..." but the fact that Woods declared for his next tournament start eight days before the deadline might speak volumes about his renewed interest toward trying to please the fans and media more than in the past.
Every PGA Tour event has a commitment deadline of the Friday beforehand, at exactly 5 p.m. ET. And there aren't many non-major or WGC tourneys which have heard from the No. 1-ranked player much ahead of time in recent years. So while his decision might not seem groundbreaking, the simple courtesy of alerting the public of his intentions shows a new side of Woods -- for now, at least.
As for the decision itself, this should hardly come as a surprise.
Woods is a golfer and -- wouldn't you know it -- golfers play golf. Those who believed his Masters appearance would be a one-and-done deal were severely mistaken.
Expect him to play a full schedule for the remainder of the season. Well, "full" for his purposes. If I had to guess, I'd think we'll see him follow his second start of the year with appearances at, in order, the Players Championship, Memorial Tournament, U.S. Open, AT&T National (even though he isn't serving as host; this one is still run by his foundation), Open Championship, WGC-Bridgestone Invitational, PGA Championship, The Barclays (although he may choose to skip this once again), Deutsche Bank Championship, BMW Championship, Tour Championship and, yes, the Ryder Cup.
That would mean about 12-13 official events for his 2010 campaign, though again, it's just a guess.
What would happen if he didn't reach the PGA Tour minimum of 15 starts? Well, almost nothing. Woods is competing in his 15th season on tour and with more than 20 wins, he already owns lifetime membership. The only thing he would lose is voting privileges -- and that's just for PGA Tour-related things, not political office.
After all, Tim Finchem doesn't boast that kind of power ... yet.
17. Stat of the week

Woods
Following his season debut at the Masters, Tiger Woods ranked 90th on the 2010 PGA Tour money list with $330,000 in the bank -- just behind the likes of Matt Every and Joe Durant and just in front of Jason Dufner.
For those who haven't been paying much attention for the last 14 years, this is the lowest Tiger has ever been ranked this late in the year, dating back to his first full season as a pro in 1997.
Then again, it's not as if everyone in the Woods household will be subsisting on Ramen noodles for the unforeseen future.
His paycheck from Augusta pulled him over the $93 million mark all time, increasing his lead over No. 2 man Vijay Singh to more than $30 million.
18. And the winner is ...

Howell III
My pick to win this week's Zurich Classic of New Orleans is a guy who's been knocking on the door all year long.
He owns three top-10 results in 11 starts so far.
He was in serious contention through two rounds at Harbour Town, but never got it going on the weekend.
He has two career victories, so he's been in the winner's circle before.
He finished as runner-up in each of his last two starts in New Orleans, including last year, when he was one of three players who ended a stroke behind winner Jerry Kelly.
He is known as a bit of a teetotaler, so don't expect the excesses of Bourbon Street to affect his game.
He also doesn't look like he eats much, so the jambalaya and beignets shouldn't weigh him down too much.
Figure it out yet?
I'm going with none other than Charles Howell III. You know it hurt the Augusta, Ga., native to miss the Masters for a second straight year. With a win this week -- or almost any other week, for that matter -- he'll ensure that streak won't reach three in a row.