12. McDowell proves a point
13. Fact or fiction
PGA Tour pros should consent to wearing a microphone during competition.
No, they shouldn't consent. They should request it. Hell, they should even demand it.
This idea is all about featuring players and getting fans closer to the action. Sounds like a win-win for both parties, right? Well, it is. And yet, many players are balking at the idea of being miked up while playing. In fact, of those who were asked by Golf Channel prior to the opening round at the Tournament of Champions, every single one turned down the request. First-round leader Jonathan Byrd accepted the invitation for Round 2, but technical difficulties prevented it from happening.
Let's get something straight: I'm in favor of creativity across the board. As long as something isn't breaking one of the Rules of Golf or isn't an eyesore for the game, let's try it and see how it works out.
Perhaps those players who are opposed to wearing a microphone should be treated to a viewing party of HBO's recent "24/7" series featuring the Pittsburgh Penguins and Washington Capitals. The raw, behind-the-scenes footage might not have always painted a pretty picture of life as an athlete, but it did bring viewers closer to the players and afforded a glimpse into their lives. Same goes for the long-running soundtracks of NFL Films, which has taken players largely unrecognizable on the field due to helmets and pads, and depicted them as the people they really are.
Think about it: Which golfers have gained the largest fan bases over the past year? I contend Ian Poulter, Bubba Watson, Lee Westwood and Graeme McDowell are each near the top. Why? Well, they're elite players, sure, but through Twitter each has opened himself to the public and proved to be a likable personality, rather than just another name on the leaderboard.
By the same measure, all players should be willing to show a different side of themselves -- even if it comes during the heat of competition.
"I think it will work if we get some cooperation," Jack Graham, executive producer for Golf Channel, told The Associated Press. "But it's problematic. Some players will do it. Some won't."
That's a shame. In today's age, players need to market themselves -- and the game -- in any way possible. The above statement is a FACT. Hopefully, more players will see it that way soon, too.
14. The List
This past week's Tournament of Champions was a tournament to showcase, well, champions. (Yes, I figured that one out all on my own.) As the season's first full-field event, though, the upcoming Sony Open will feature many unknowns.
That includes 11 full-time PGA Tour members who have never before competed in a PGA Tour event. This week's edition of The List includes one tidbit on each of these newbies, courtesy of their official bios.
1. Keegan Bradley: Nephew of LPGA Hall of Famer Pat Bradley.
2. Fabian Gomez: Lists Tiger Woods and Diego Maradona as his heroes.
3. Scott Gordon: First car was a 1997 diesel Mercedes-Benz.
4. Sunghoon Kang: Has one brother who also doubles as his caddie.
5. Bio Kim: Youngest player on tour won't turn 21 until August.
6. Kevin Kisner: Dream foursome includes Tiger Woods, Will Smith and Megan Fox.
7. Matt McQuillan: Only listed special interest is bartending.
8. Nate Smith: Never travels without his "lucky blankie."
9. Scott Stallings: Favorite movies are "The Bourne Identity," "The Bourne Supremacy" and "The Bourne Ultimatum."
10. Brendan Steele: Uncle (Anthony Geary) plays Luke on "General Hospital."
11. Will Strickler: Dual major (anthropology, economics) at University of Florida.
15. Stat of the week
In 34 PGA Tour rounds since shooting 59 during the final day of last year's Greenbrier Classic, Stuart Appleby hasn't come closer than 10 strokes within that number.
Since then, he's shot 69 (three times), 70 (six times), 71 (four times), 72 (seven times), 73 (six times), 74 (three times), 75 (once), 76 (once), 77 (once), 78 (once) and 80 (once). That includes rounds of 69-75-73-72 at the Tournament of Champions, where he finished 30th in the 32-man final field.
His total scoring average over those 34 subsequent rounds? It's 72.38, more than 13 strokes higher than his magic number at the Greenbrier.
16. Hot Seat: Michael Whan
The 2011 LPGA schedule was finally released on Jan. 6. I spoke with LPGA commissioner Michael Whan about why it took so long and what the women's tour needs to do in order to find greater success this season.
Q: This year's schedule came out later than usual. What took so long?
A: Well, we had two things going on. We had a date conflict with one of our Asian events and we knew that if we moved that event, we would have to move all events in the back half of the year. It was something where I didn't want to offend anybody in the local country or here and I certainly wanted to keep the title sponsor happy, so what I said to my group was, "I may take some heat for it, but I'd rather keep the business partner happy than worry about what someone is going to say back here."
Q: One-word answer: In your first year as commissioner, was the LPGA successful?
A: Yes. I'm a guy who hates status quo, so I'm not at all happy with where we are, but if you ask, "Are we successful?" you have to get back to the mission of the LPGA. And that is to empower and inspire and educate women via the best golfers in the world. There's no doubt we're doing that. I don't care where you come from in the world and how old your daughter is, we're providing not only role models but opportunity through the game of golf and that's what we're here to do.
Q: That leads to my next question: What will make for a successful 2011 season?
A: My hope is that in 2011 we'll get to continue a little bit of what we finished 2010 with, which is this global chase to be the best player in the world and having it bounce back and forth. I mean, you know from following other sports that we have a pretty unique thing. The best players in the world all play on one tour. I mean, we show up in Hamilton Farms, N.J., and it's an Olympic event. We're going to tee off with 30 different countries and the best players worldwide. It doesn't happen three times a year on our tour, it doesn't happen occasionally. This is golf's global tour and hopefully we can continue to do that. And the other thing is that we'll hopefully get a greater group of non-golf enthusiasts to see what's really going on with the best female golfers on the planet.
Q: Name three players the LPGA needs to step up and play well this year.
A: I say this and I really believe it, but I really don't think the LPGA is dependent on any one player. I think people believe that's a negative, but I always say, "Then who's the one player the NFL is tied to? Because there's clearly not a problem with the NFL."
I have three sons and each one has a different face of the NFL in their mind. One believes it's Tom Brady, one believes it's Peyton Manning, one believes it's Drew Brees. I think that's a pretty powerful formula and we'd like to get to the same place. If you ask somebody in Japan who the face of the LPGA is, they might say Ai Miyazato; if you ask someone in Korea, they might say Jiyai Shin; if you ask someone in America, they'll say Paula Creamer, Cristie Kerr or Michelle Wie; in Europe, they'll say Suzann Pettersen. I think that's awesome.
We have players who move the needle more than others, but the good news is that most of our superstars are incredibly young and have their best golf left to play. So I think I'm going to be stupid-lucky as commissioner and get to be here while the best players in the world are truly blossoming.
17. Photo of the week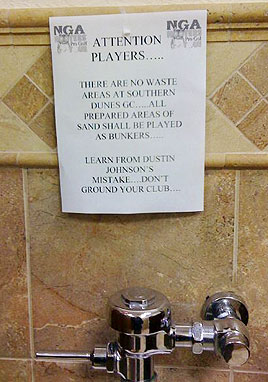 Ben Herrera
Yes, I know this was taken on Jan. 4, but it's already got Photo of the Year candidate written all over it.
Sent in by competitor (and friend of the W18) Ben Herrera, this sign was posted just above a locker room urinal at the Hooters Tour Winter Series event in Haines City, Fla.
By the way, my man Herrera isn't just a burgeoning photographer. He finished T-19 in the 109-man field this week.
18. And the Winner Is ...
Well, last week's pick of Bubba Watson played well enough to grab a top-25 finish. And, uh, that's about the last I'm going to say about that.
Hey, they can't all be winners, but this week's pick can be. After all, I'm going with a guy who already has two Sony Open victories on his resume. He's also gotten one other prerequisite out of the way for my annual choice at this tournament: He's already spent a week in Hawaii.
Whether it's the jetlag, too much time staring at the sunset or maybe an infatuation with hula girls, I'd rather pick someone who's already gotten both the subtleties and luxuries of the Aloha State out of his system at Kapalua. It's not unfounded, either. Seven of the last nine Sony Open winners first played in Maui one week earlier.
And so my selection to win this week's tournament is ... Ernie Els.
Granted, those who watched the Big Easy putt all over the Plantation Course might not agree. This past week, Els averaged 32.3 putts per round, including an eye popping -- and for him, maybe eye-gouging -- 34 in the first round and 36 in the third.
The greens at Waialae are much more forgiving, though. A ball-striker's paradise, the course suits Els' game. Since his wins in 2003 and '04, he has a runner-up, T-12 and T-39 in three starts. He's also coming off a win at the South African Open just three weeks ago. So despite those recent putting woes, he isn't that far removed from playing some really good golf.