Other tour stops should try to replicate FBR Open's success

Packed stands. A down-to-the-wire finish. A deserving champion.
While that may describe Super Bowl XLIII, it also characterizes another Super Sunday at the FBR Open, where Kenny Perry toppled Charley Hoffman in a three-hole, sudden-death playoff.
The tournament was a success well before Perry's clinching 22-foot birdie putt found the bottom of the cup, though. With nearly a half-million fans passing through the front gates during the week, the FBR once again proved that it's doing something right in Scottsdale.
This edition of the Weekly 18 begins with the notion that other regular-season events should watch and learn.
Imitation: The sincerest form of flattery
The current economic crisis is coming soon to a golf course near you. A study released last week revealed a decline in the number of rounds played in 2008; U.S. Bank and Ginn became the first -- and almost certainly not the last -- title sponsor to pull the plug on tournament sponsorship; and some of the world's best and brightest talents have taken extended-stay excursions in foreign lands rather than opting to compete solely on the U.S. circuit.
Jason Sobel/ESPN.com
The 16th at the TPC Scottsdale is a pretty ho-hum hole for 51 weeks of the year. The other week? Well, that's when the FBR Open is in town, and it transforms the par 3 into the loudest hole in golf.
The majority of tournaments, all major golf tours and -- most importantly -- the game itself will survive any impact of the recent financial downturn. That doesn't mean officials in all realms can safely lay up and hope making par is enough to win this battle. Just as risk-reward golf is the most exciting form of strategy in competition, it may be time for this tactic to be exercised off the course, too.
Let's face it: Tiger Woods isn't going to suddenly start playing 35 tournaments per season in order to lend a helping hand to the PGA Tour. And commissioner Tim Finchem's preseason plea for each player to compete in one or two events that aren't ordinarily on his schedule may not fall on deaf ears, but it may not make an immediate impact, either.
So what are regular-season tourneys to do when vying for attention from the local fan base?
I witnessed Exhibit A at the FBR Open this past week, where tournament organizers have always stood out for their creativity. What is, to put it bluntly, just another lower-tier tournament in another desert town on another TPC course has become a must-see event for the local set. The FBR annually receives higher attendance figures than any of the four major championships -- or any other tourneys, for that matter -- which is a paean to its proclivity for promotion.
Should we ask for other events to copy the stadium-like enclosed 16th hole, where nearly 20,000 fans can, ahem, "watch golf" at any given time? Absolutely not. That's the FBR's shtick and it's good for them, because it is working wonders. That's not all the tournament has to offer, though; from the weeklong after-hours rock concerts at the Bird's Nest to special promotions (like allowing all fans who wore the red colors of the Arizona Cardinals free entrance into the final round), the event just seems to get it right, year after year.
"I've always said that this should be the model for a lot of tournaments, especially in markets that are this size, to make it the big event of the year," said David Toms, one of four player directors serving on the PGA Tour's policy board. "How can you not sell out an event with sponsorships if you have this many people out here? You have great signage and it's obviously a big deal in this community. ... Some markets, obviously, it probably wouldn't work, but I think it would in a lot of places. I think they just need to come here and take a look, see how it's done and use that information."
The "if you stage it, they will come" mentality is no longer sufficient outside of the hedges surrounding Augusta National, meaning more outside-the-box ideas are necessary to help keep the nonessential events afloat in dire economic times when fans aren't exactly brimming with extraneous cash flow.
Such risk-reward propositions may not come easily for tournament officials who have become set in their ways and may be resistant to change; after all, as the term would suggest, there is inherent risk involved in every decision. Perhaps the best example is the PGA Tour's FedEx Cup itself. The first playoff system was implemented in 2007 and has been soundly lambasted in the time since for everything from being too volatile to not volatile enough. What the dissenters often forget is that prior to taking this risk, the Tour was laying up for par -- and losing every time.
Status quo isn't going to work much longer. If the economic downturn continues, the PGA Tour will continue to founder right along with it. Only the strong may survive on the schedule -- and that means a little risk and some creativity could mean an awful lot.
2 Rory McIlroy. As so many kids his age might say, "brah is fo' reals."
Ross Kinnaird/Getty Images
Rory McIlroy's sand save at the 18th hole during Sunday's final round of the Dubai Desert Classic might have been the most clutch shot of his career.
The 19-year-old triumphed in wire-to-wire fashion at the increasingly prestigious Dubai Desert Classic on Sunday to ascend all the way to No. 16 in the Official World Golf Ranking, but he came dangerously close to frittering it away down the stretch.
With bogeys on 15, 16 and 17 in the final round, McIlroy saw his one-time 6-shot advantage slimmed down to just a single stroke entering the final hole. Enter the ghost of tourneys past. Last year, he missed a 5-foot putt on the final hole of regulation that would have won him the Omega European Masters, then yakked an 18-incher to lose in a playoff.
On this occasion, the Northern Ireland native laid up on the par-5 finishing hole, then hit his third shot into the back bunker. It's not an overstatement to call what happened next the most important shot of McIlroy's young career. He pitched to within 3 feet -- "probably the best up-and-down of my life," he would later say -- and when nearest challenger Justin Rose missed his birdie attempt, Rory calmly knocked in his par putt for the first victory of his 16-month professional career.
He is now the sixth-youngest winner in European Tour history and though McIlroy still has yet to tee it up in a PGA Tour-sanctioned event on U.S. soil, he will be coming stateside for a handful of events soon, starting with this month's WGC-Accenture Match Play Championship. After that, expect to see him at the Honda Classic, WGC-CA Championship, Shell Houston Open, Masters, Verizon Heritage and The Players Championship, if not others, as well.
If the kid keeps playing like this, expect him to make his presence felt. Fo' reals.
3Scottsdale, Arizona. I witnessed the following exchange outside of the TPC Scottsdale clubhouse on Tuesday:
Player A: Hey, you live around here, right?
Player B: Nope, I'm based in California.
Player A: Oh, I thought every guy on Tour lived around here.
Player B: Well, I'm thinking about making the move ...

No, not every player makes his residence in the Scottsdale area. It just seems that way. All told, the FBR Open featured 16 players who make their home in this city and many others who have some sort of ties to the local community.
If Scottsdale isn't the most popular home base for tour pros, it's at least in the top three along with Orlando and Dallas.
And why not? From Whisper Rock to Grayhawk, there is an abundance of challenging courses and, more importantly, impeccable facilities. The weather is downright perfect in the offseason, when these guys are in town most often. Heck, even the best pro shops are here; Golf World recently ranked seven of 'em in its list of the top 100 -- more than any other city.
Don't expect this growth rate among pros to decrease anytime soon, either. These guys have plenty to discuss during five-hour rounds, which can often include a little recruiting pitch that just may wind up changing someone's mind. Just ask Player B.
4 PGA Tour rookies. Two weeks ago, four first-year players finished in the top 12 in the season's first full-field event at Waialae. Last week, there were four rooks in the top 25 at the Bob Hope Classic.
What would they do for an encore at the FBR Open? Contend for a title, that's all.
James Nitties and Scott Piercy found themselves in the mix down the stretch on Sunday afternoon at TPC Scottsdale, just another big week for the Class of '09. Showered with chants of, "Show us your Nitties!" the Aussie saved par from everywhere in the final round before finally running out of steam to lose by 2. Piercy, meanwhile, continues to prove he belongs, placing T-6 for his third straight top-20 finish of the season.
It's important for the Tour's freshmen to start strong, not only to gain some much-needed confidence, but for tangible reasons as well. At the end of this month, the 25 Nationwide Tour promotions and 28 Q-school grads will be reshuffled based on their current place on the money list. Being in, say, the top 10 of such a list can mean many more exemptions into regular-season events than placing in the bottom 10.
Nitties and Piercy are just the latest to get a leg up on the competition for the remainder of the season.
5
Advanced speculation. Now that Colin Montgomerie has officially been announced as Europe's Ryder Cup captain in 2010, it's quite possible for future candidates to line up in a single file queue and just take a number until they're ready to be called.
Common sense doesn't always prevail in such decisions, of course, but logic states that this year's apparent runner-up for the position, Jose Maria Olazabal, would be the apparent man for the position at Medinah in 2012, followed sequentially by Darren Clarke, Padraig Harrington and Lee Westwood.
Or you could extrapolate even further.
U.K.-based newspaper The Guardian recently spoke with former Euro Tour player Ewan Murray, who is now the lead golf commentator for Sky Sports. "The Tour is lucky because there is a logical sequence of potential captains [to name] through to 2029," Murray stated. "I went through this list with a senior official on the flight over and we ended up filling every spot and ending with Sergio Garcia in '29 by which time Sergio will be 49."
It's anybody's guess who would fill those five conceivably empty spots between Westwood and Garcia, but some players weren't too worried about such speculation just yet.
When I brought up the idea to Luke Donald recently, he quipped, "Where am I? 2031? … Maybe you could put a bet down with the bookies and see if it comes right."
A silly notion? Absolutely -- just like trying to speculate on captaincies for the next two decades.
6How's this for a decent proposal: If, prior to the FBR Open, I said you can have Phil Mickelson, Anthony Kim, Camilo Villegas and defending champion J.B. Holmes and I'll take the remainder of the FBR Open field, would you have accepted the offer?
It would have been very tempting, at the least, considering that quartet comprised four of the pretournament favorites.
By Friday afternoon, though, your hopes would have been dashed.
Mickelson, Kim, Villegas and Holmes all finished over par for the first 36 holes and failed to make the cut in Scottsdale, severely crushing the tourney's star-power for the weekend. All told, the foursome combined for 24 birdies, 26 bogeys and seven doubles in 144 holes.
7 If misery loves company, then perhaps Lyle and Larry Nelson should get together to commiserate chances gone by, as the former joined the latter last week as a potential Ryder Cup captain who will never see himself in that role.
The only member of Europe's so-called Big Five of the 1980s and '90s (along with Nick Faldo, Seve Ballesteros, Ian Woosnam and Bernhard Langer) who didn't get a chance to lead the squad, Lyle's final hopes were vanquished when Colin Montgomerie was chosen to captain the team next year in Wales.
"I would have loved to have been captain myself, but that's about it for me now," Lyle told Today's Golfer. "In a few years time I'll be pottering around on the Seniors Tour and probably won't be interested in doing it then. But you never know -- I'll keep the door ajar just in case for Gleneagles in 2014. My chances of being captain now are pretty slim, though I'd love to play a supporting role to Monty if asked."
It would be a gentlemanly gesture for the Scot to pay homage to his countryman by naming him as an assistant, and it speaks to Lyle's professionalism that he would be willing to serve in such a role. For his sake, let's hope it happens.
8 I wish more PGA Tour pros would play to the crowds on a more regular basis in the same way they did at TPC Scottsdale this week.
From Billy Mayfair brandishing an Arizona Cardinals jersey to Kirk Triplett touting off a head cover of the local team to Bo Van Pelt breaking out a "2008 NFC Champions" banner to Ted Purdy waving a team flag one day (after knocking one to within inches, no less) then wearing Anquan Boldin's number the next, players were having fun with the locals at 16. And it wasn't all NFL-related, either; Kevin Streelman and Bubba Watson jointly tossed candy and hats, respectively, into the stands Friday.
All of which begs the question: Why confine such behavior to one hole at one tournament?
If the players look like they're having fun, the fans will follow suit -- a theory which goes hand-in-hand with the No. 1 item here in the W18.
I'm not asking for any player to be someone he isn't -- certain personalities, after all, are more inclined to be crowd-pleasers than others -- but whether it's surprising fans with free candy or simply acknowledging their existence, these guys can all do a little bit more each week to not only promote the PGA Tour product, but themselves, too.
9I wish this year's Masters leaderboard would feature as many top players as the final standings at the Dubai Desert Classic on Sunday.
Seriously.
If I told you right now that those hand-operated scoreboards at Augusta National would conclude with eight of the world's 40 highest-ranked players, including three of the top-10, among its top dozen names, wouldn't you be pleased with such a result?
Emirates GC has a long history of bringing out the best in the game's best players and the latest edition was no different. Rory McIlroy won while ranked 39th, followed, in order, by Justin Rose (22), Henrik Stenson (7), Paul Casey (23), Robert Karlsson (8), Martin Kaymer (19), Miguel Angel Jimenez (21), Louis Oosthuizen (58), Scott Strange (125), Anthony Wall (84), Sergio Garcia (2) and Richard Green (67).
Whew, that's not only a who's who list of Euro Tour superstars; it's a veritable rundown of the game's most talented players without a major championship. Give me a leaderboard featuring players with those kind of creds come the evening of April 12 and I'll be pretty happy.
10 I wish I didn't have to keep harping on all the ways the world's current financial situation is influencing the golf world, but it's a huge story, one which is making an impact an all facets of the game.
While things like PGA Tour sponsorships and the decrease in golfers playing the game and golf equipment companies seeing their revenue streams adversely affected get a majority of the headlines -- and rightly so -- even the smaller parties are being discouraged by the climate. Allow me to proffer one that's near and dear to my heart.
It was announced last week that the Brandeis University golf program -- for which I played (poorly) for one season -- is being forced to discontinue due to lack of funding. The Division 3 school in Waltham, Mass., which also recently released the news that it would be shutting down its swimming/diving and sailing programs while also closing an on-campus art museum, would need approximately $22,000 to proceed with its golf team for one more year. The program would need another $300,000 or so in endowment to keep it going after that. Personally, the news saddens me, but doesn't serve as much of a surprise.
I wouldn't ask for the majority of the W18 readership to care about this news more than any other in the game, but let it serve as just a microcosm of what is taking place with the "little guys" of the golf world. Everyone is being affected, whether the story is making major headlines or not.
Rory McIlroy isn't just the world's best player under 20; he's the world's best under 30, too.
The kid from Holywood (Northern Ireland, that is, hence the lone "l") is already starting to write a script that would leave the producers of "The Legend of Bagger Vance" wishing they'd waited for something a little more real. He's personable, talented and loaded with potential.
But he's not the best under 30. Not even close. Maybe not top five.
McIlroy's first victory on the European Tour wasn't without some scary moments. A late barrage of bogeys left him grinding his way to a one-stroke win, but also left some doubt as to how calm this kid can be under pressure.
So far, he hasn't displayed the step-on-your-throat final-round mentality of Anthony Kim, the ability to close like Sergio Garcia (don't laugh, those of you who only watch majors; he owns 18 career worldwide titles) or the quiet confidence of reigning Masters champ Trevor Immelman.
These things will come in time, and I have no doubt that someday McIlroy will elevate to -- or even surpass -- the status of each of these players.
For now, though, Rory remains a kid blessed with a ton of talent, still waiting for it to culminate in greater success. The victory in Dubai was a great start, but until we see him repeat this on multiple occasions, the above statement is definitely FICTION.
Jason Sobel is a golf writer for ESPN.com. He can be reached at Jason.Sobel@espn3.com.

In 2008, Kenny Perry didn't qualify for the Masters, didn't try to qualify for the U.S. Open, qualified but chose not to compete in the British Open, and withdrew after one round of the PGA Championship due to an eye injury.
One year later, he's a virtual lock to play in all four of 'em, including making a pilgrimage to Augusta, where he hasn't teed it up since 2005.
Though the FBR Open win didn't solidify his spot in the field -- he had already qualified based on last year's performance -- it did solidify his place as a contender, despite having never finished better than T-12 in eight career appearances. Other than being a competent putter on fast greens, there's no characteristic of a player's game that is more important at the Masters than being able to work a right-to-left draw, and nobody does that better than Perry.
Don't worry about Perry passing on any of these majors, either; he said late last week that he will definitely play in each of them. But the 48-year-old is already looking past these events to some bigger long-term career goals -- like winning 20 career PGA Tour titles, something many dissenters believe is too far out of reach.
"Ryder Cup last year was an unrealistic goal if you really think about it. I'm 100-something in the world at the time, pretty much -- I had to do something magical, and I did; I won three out of five tournaments in the middle of the summer. All of a sudden I jumped right on the Ryder Cup team. That kind of spurred me on," said Perry, who earned his 13th career win in Scottsdale and his fourth in his last 15 total starts. "So I set a goal out there that's probably unrealistic and unreachable, but yet here I am. I'm only seven away now, not eight. So you never know."
You never know about his chances at Augusta National, either. But if we've learned anything about Perry in the past year, it's that the more we doubt him, the better he plays. Here's guessing he'd be just fine thinking no one believes he can take a green jacket.
Sorry, Kenny. Can't do it. Consider yourself among the top contenders come April.
Fill in the blank: The PGA Tour would be much better off if there were 10 more guys like __________.
Tiger Woods? Well, yeah, that's a no-brainer. Anthony Kim? Sure, another easy answer. Paul Goydos? Rocco Mediate? Mark Calcavecchia? I'm not positive I have enough notebooks to account for any of those scenarios.
Each is a solid choice -- as many others would be, too. But the response I'm looking for here is "Pat Perez," a player cut from a different cloth than most of his brethren. Brutally honest, opinionated and insightful, the recent Bob Hope Classic champ doesn't back down from anything, be it a tough question or a 6-iron over water for the win.
I spoke with Perez prior to the FBR Open about his victory and all of the aftereffects.
Q: First things first: Give me all of the gory details on the first-ever Pat Perez victory party.
A: It was good [laughs]. It wasn't anything out of control. We were going to go to Vegas, but we had too many people and would have needed two planes. So we didn't go; we just had a party there at the Hideaway in the desert. It was all my friends and family and we just had a great time.

Q: How much did it mean to have so many people waiting on the 18th green for you?
A: It was awesome. You know, I've told everyone you couldn't draw it up any better. I had a 1-shot lead playing the last, hit it to 3 feet, everyone's standing there that you know and have hung out with for a long time and they all rush the green -- I mean, you just can't put a price on that. It was incredible.
Q: And then, of course, you get to hang out with The King [Arnold Palmer] and he gives you a big check and the trophy.
A: That was the most special part, getting congratulations from him. It was just awesome. You know, a lot of things changed in one day.
Q: You went 0-for-196 as a single guy. Since getting hitched, you're 1-for-2. So, how's married life treating you?
A: I'd like to have that stat continue. They say when you get married -- I don't know what it is, but I have a lot of friends who are married and have kids and all that stuff. For some reason, a win comes out of it, so I hope it continues.
Q: You've got about a million reasons to be happy after this win -- and I'm not just talking about the dollar amount in the winner's check -- but what's the best thing about being a PGA Tour champion?
A: Just knowing that you belong and that you've accomplished something on tour. You've put yourself in a place where very few are, and that's the winner's circle. Everybody dreams about it growing up, everybody says I'd like to win on tour someday, but to actually do it is quite a feeling.
Q: Let me give you a multiple choice question: What means the most to you: winner's paycheck, trip to Augusta or two-year exemption?
A: Probably the Masters, to get back in there. I played in '03, but it's been a long time since I got in there. It's such an unbelievable tournament. It's the greatest tournament to watch, I think. I watch every year and I don't really watch golf, but I'll be damned excited to get back there.
Q: How long after that last putt went into the hole did you start thinking about Augusta?
A: I forgot about it. I didn't even think about it until somebody told me. It was sometime later that night.
Q: Needing just bogey to win, was there ever any thought of going wedge-wedge into that final green?
A: No, I would never go out like that. Never. It was a 6-iron, 200 yards. I mean, I'd hit 353 shots that week already, so why the hell not hit one more good one and go out in style? People will remember me for a long time for hitting that shot as opposed to hitting a wedge in there or something. That's not exciting.
Q: What percentage of PGA Tour players would have made the same decision?
A: Probably a good number of them. I mean, you've got to make 5; all you have to do is hit it toward the trap. Anthony Kim 100,000 percent would do it, Tiger would do it, Phil 100 percent; I mean, any guy who has won, you've got to have confidence in what you're doing and those guys do. I don't think anybody would lay up. It's a 6-iron.
Q: Has too much been made about your temper over the years?
A: Of course. The media. You've got to have something.
Q: And you've got to blame us.
A: Exactly. The thing is, I don't care in the least. Everyone keeps talking about it and bringing it up, but I don't think about it. I don't think about seven years ago or what I did a couple of weeks ago. It doesn't bother me. I'm a winner now, so I'm not worried about it.
Q: And a win doesn't necessarily mellow you out, does it?
A: No. Nothing changes.
This week's edition of "The List" is directly stolen from ... "The List."
Confused? Allow me to explain. As some of the rowdier fans on the FBR's 16th hole, a group of Arizona State grads and Minnesota natives sets up in the stands right next to the tunnel leading to the tee box and proceeds to pummel players with verbal jousts from their perch.
But here's the thing: They're not just loud; they're extremely creative. From high school team nicknames to player's ex-girlfriends, these fans offer the most original chants players will ever hear. This can't be done without plenty of research, however, and I was able to obtain a hot-pink copy of their version of "The List," which includes pertinent -- and not-so-pertinent -- info on each man in the field.
Here are my five favorites:
5. Kevin Streelman went to the same high school as the Belushi brothers.
4. Troy Matteson's hero is Superman.
3. Nathan Green first used his grandmother's clubs as a child.
2. Matt Bettencourt had a job selling shower doors after college.
1. Derek Fathauer went to high school with Playboy playmate Kelly Hemberger.

Sort of a bittersweet week for my prognosticating purposes. OK, more bitter than sweet...
My pick to win was Mathew Goggin, who got things to 4-under-par on Thursday at the FBR Open -- only to play his final 27 holes in 5-over, missing the cut by a stroke. If you're scoring at home, my picks have tallied a T-27 (in a 33-man no-cut field), two MCs and a DNS in four events so far.
Yikes.
As for the sweet part, well, prior to picking Goggin in this section last week, I also tipped off relatively unknown PGA Tour rookie Scott Piercy, who earned a career-best T-6 while playing on a sponsor's exemption at the FBR.
Considering my recent run of poor picks, I'm tempted to just go with Tiger Woods, knowing a DNS from the four-time defending champ will at least keep me from putting the jinx on a guy who's actually in the field.
Instead, I'm going with a player who in his eighth season surprisingly owns only a pair of PGA Tour titles. Luke Donald is due for win No. 3, and Torrey Pines -- where he was runner-up back in 2004 and '05 -- just may be the place. If not for an opening-round 76 at the FBR, he could have been in the mix at the FBR, but at least final scores of 65-68-69 proved that he's ready to contend yet again.
"He looks like he covered his body in glue and ran through a thrift shop."
-- CBS commentator David Feherty on the nattily attired Ryan Moore.

Wearing his own duds -- no freebies here -- Moore dressed himself in trademark painter's cap while adding a skinny tie throughout the FBR Open, looking "like a cross between Justin Timberlake and Ellen DeGeneres," said Feherty's tag-team partner Gary McCord -- which may or may not be a compliment.
But this underscores a bigger story, namely the fact that one of the game's better young talents is currently without any sponsorship deals that would put logos on his clothes. Though it could be taken as another sign of the economic downturn, consider it a matter of personal choice that the former PING-sponsored pro is now without any contractual obligations.
"I love that old-school look," Moore told the Arizona Republic. "To be honest, I did a lot of thinking in the off-season. I just wanted to go back to playing golf because I love playing golf. It has nothing to do with wanting sponsorships and stuff like that. … I just love playing and going out to the course every day, and some of that stuff can get in the way. This year I wanted my focus to be golf and golf only, and to not even think or worry about that other stuff. Good golf takes care of itself. That is where I'm at this year. I just want the focus to be on that."
Whatever he's doing, it's working. Moore shot 69-67-68-69 to finish T-6 at the FBR, and collected $194,250 in the process.
This one comes to us courtesy of the diligent PGA Tour staff: In each of the past two years, Phil Mickelson has followed a missed cut with a win at his very next event.
Mickelson missed only one of 21 cuts in 2008, but followed his MC at the AT&T Pebble Beach National Pro-Am with a win the next week at the Northern Trust Open. In 2007, Mickelson missed the cut at the FBR Open and followed that up with a win the following week at the AT&T Pebble Beach National Pro-Am.
If you believe in history repeating itself, get ready for another Phil-fest at Torrey Pines this week. After an opening-round 5-over 76 in Scottsdale (during which he took three unplayables), Lefty followed with a 73 to miss the cut by 7 strokes.
If his pattern of winning after MC'ing continues, though, he's coming to the right venue. Since 1993, he owns three wins and six other top-10s in 16 total Buick Invitational appearances at Torrey Pines.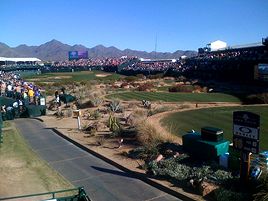 Jason Sobel/ESPN.com
After live blogging for some 20 hours from the 16th hole during the first two rounds of the FBR Open, I have a newfound respect for both the players who compete in such a raucous arena and the fans who continue to turn it into perhaps the most nerve-racking 162 yards on tour all year.
This shot was taken on Friday afternoon, just as the frenzied crowd at 16 was at its most vocal all day. If you take only a quick glance, the scene may appear to be from a baseball or football stadium rather than the only enclosed seating at a golf hole in any tournament in the world. As almost every player has claimed, there's nothing wrong with such a festival -- as long as it's just one hole in one tournament each year.
During the FBR, I was asked this question by multiple e-mailers: "If you could live blog from only one non-major hole during the season, which would it be?"
Before this past week, I probably would have said No. 16 at TPC Scottsdale. Now I can say it without any doubt.