Stirring the golfing pot with all the cooks back in action

The golf season officially began four months ago with the opening event of the European Tour's 2009 schedule, but excuse me if I finally felt complete for the first time this week.
It has nothing to do with Tiger Woods committing to his first stroke-play event of the year or my personal calendar being woefully out of date.
No, it's because for the first time all year, each of the four major tours that call the United States home -- the PGA Tour, Champions Tour, Nationwide Tour and LPGA -- were competing at the same time, although the latter two were taking place thousands of miles away in New Zealand and Singapore, respectively. Add in events on the Hooters Tour, Asian Tour and Australasian Tour (co-sanctioned with the Nationwide circuit this past week), and it seems like golf season is really now in the swing of things.
The Weekly 18 starts at the PGA Tour's Honda Classic, where some of the game's biggest names were nowhere to be found, but fascinating story lines were all the rage.
Doug Benc/Getty Images
Coming into this week, Y.E. Yang was ranked 460th in the world. After winning the Honda Classic on Sunday, he became just the second South Korean-born player to win on the PGA Tour.
Look, I'm neither na´ve enough nor enough of an ardent enthusiast of the game that I think the Honda Classic was must-see TV for four days. After all, Yong Eun Yang's single-stroke victory seemed like a foregone conclusion for much of Sunday's telecast until the final few holes. He was by far the lowest-ranked player to win a PGA Tour event this year and the ad nauseum promos of the Bear Trap became ad nauseating.
While we may not be talking about this year's edition of the tournament for months to come, allow me to provide some artillery for those who choose to debate the notion that if Tiger (or Phil or Padraig or Geoff or Vijay) isn't in the field, the event isn't worth watching:
• Bunched leaderboard, thrilling finish.
Entering the final round, there were a dozen players within 3 shots of Yang's lead. While he pulled away down the back stretch Sunday, a bogey at 17 left him up by just 1 shot heading to the par-5 final hole over water, meaning he needed to make par in order to avoid a playoff.
And isn't that all you can ask for as a golf fan?
Yang reached the left side of the green in 3, then knocked a brilliant lag putt to within a foot. From there, he made par to clinch the title, but it was in doubt until the penultimate stroke.
• The continuing drama of Y.E. Yang.
Consider me a big fan of any dude who smiles and points at the camera after every birdie.
While Yang may be the Korean version of Shooter McGavin, he looked more like Happy when holding the oversized check after clinching his first PGA Tour victory on Sunday.
And why shouldn't he? After winning the 2006 HSBC Champions Tournament by 2 strokes over Tiger Woods, he vaulted into the world's top 40 and earned a spot in the Masters. It's been a downward spiral ever since, though, as he was ranked No. 460 going into this week.
"When I played in the Masters a couple of years ago, which was my first time, up until then, my dream was actually to be able to play in the Masters," said Yang, who finished T-30 at Augusta in 2007. "And when I played there in a couple of years ago, in a way, I've accomplished my dream, because I was in the field. After that, I guess I sort of lost a sense of a goal, a purpose. And my golf has not been the same since then. I went through a little bit of struggle with my swing."
After reaching the PGA Tour through Q-school for the 2008 season, the man ranked last alphabetically on the tour made 17 cuts in 23 starts, but finished just 157th on the money list and lost his card for this season. He again qualified through Q-school this past December and has now made the most of it, as the victory ensures not only a berth in this week's field at Doral, but a return trip to Augusta National, as well.
That's an accomplishment of which even Shooter would be proud.
• The continuing saga of Erik Compton.
For those who don't know the story, here's the Cliffs Notes version: Last year, the journeyman pro endured a massive heart attack and was forced to undergo the second heart transplant of his life. Though his bid to reach the PGA Tour through Q-school late last year failed, he is currently competing on sponsor's exemptions and shot 69-69-73-72 to finish T-44 at the Honda.
"I made it through walking four days," said Compton, who is allowed to use a cart but chose not to at PGA National. "That was obviously the main goal and like I said earlier, I was a little bit frustrated that I didn't get anything out of my round the last two days. I felt like I hit it pretty well, just the putter and short game got me. I put so much pressure on myself and I want to perform and I want to be contending every week, but I think that's what helps me to be out here and to heal, because I demand myself to get better and demand myself to be as good as the other guys.
"I just need to relax. It's my first tournament back walking and, you know, I'll have some more opportunities and things to work on. I'll just try to build from there."
If that's not a story worth watching, I don't know what is. Compton will continue his comeback at this week's Puerto Rico Open.
• The continuing comeuppance of Rory McIlroy.
In his first U.S. start as a pro last week, McIlroy reached the quarterfinals of the WGC-Accenture Match Play Championship before getting knocked off by eventual champ Geoff Ogilvy.
Though he didn't match that T-5 result in Florida, the kid from Holywood (Northern Ireland) did make some noise in his first career PGA Tour stroke-play event, finishing T-13. And it could have been even better. Dubbed "Boy Wonder," he made a triple-bogey from the water hazard on the 17th hole in his opening round, bogeyed four of six holes midway through Round 3 and finished with a pair of bogeys on the final day.
We'll see more of McIlroy in coming weeks, as he's already committed for the WGC-CA Championship, Shell Houston Open and Masters.
• The course, of course.
If I go another 51 weeks without hearing about what a "bear" holes 15 through 17 are at PGA National, that would be just fine with me.
That said, let's not let the overebullience of the "Bear Trap" name take away from what a stout test of golf it really is. With water on 16 of the 18 holes, scores ranged from 1.389 strokes over par to 2.378 during each of the four rounds and Yang's winning score of 9-under-par was the highest in relation to par in nine stroke-play events this season.
No Tiger, no problem? Not exactly, but the Honda proved -- once again -- that there's plenty to watch on tour without some of the game's elite players in the mix.
2 Home-field advantage. PGA Tour pros cannot tell a lie: Playing golf for a living on the world's most lavish tour is a pretty good gig. The money is right, the venues are extraordinary and the perks are bountiful.
Of course, just like any job there are some drawbacks. Ask the members to name their least favorite thing about life on tour and I guarantee the No. 1 answer on the board will be the fact that they have to spend so many weeks away from home. And so it only makes sense that players would fare well when enjoying the luxuries of a home game.
Such was the case this week, when locals Robert Allenby and Will MacKenzie finished in the top five and Brett Quigley and Mark Calcavecchia were in contention until a pair of 3-over 73 rounds on the final day. How helpful is it to hang at your own crib for a tour event? Let's ask these guys …
Allenby: "Just the joy of sleeping in your own bed is the comfort part. Going back and hanging with your kids late in the afternoon or in the morning -- depending on the tee time -- it's nice, you know. It's just a nice, relaxing way to play golf and I wish we could do it a little bit more often, but that means I'd have to buy 26 houses around the country."
MacKenzie: "We're on the road so many weeks a year and it's just a blessing to play a golf tournament in your hometown. A lot of these guys don't get to do that. I'm within driving distance of several tournaments, so my wife and I can go to those tournaments. But staying in your own bed, having that familiarity of home -- I mean, I can eat eggs and bacon or a bagel in the morning, I've got my dogs there and my son, I can go out in the boat late in the afternoon -- it's just wonderful being home."
Quigley: "It's just a fun week, everybody is around this week. It's just a great week. It's funny, everybody comes down from the north and there are a lot of friends here, and I just go play golf. It's certainly a good distraction for me to have a lot of people around and a lot of friends. It keeps me loose."
Calcavecchia: "I've been here since I was a little kid and wind doesn't bother me. You learn how to play in wind and sand when you're a kid down here and all the different places we play. And I love Bermuda grass and staying at home."
3 Jiyai Shin. This year's LPGA rookie crop is laced with potential big-time players, thanks to the inclusion of Stacy Lewis, Michelle Wie and Vicky Hurst. But no first-year performer is more accomplished or -- dare I say it? -- talented than Shin, who continued to impress Sunday.
As a non-member last year, Shin tallied three victories, including the Women's British Open and season-ending ADT Championship. It took only three starts in her rookie campaign to add to that total in 2009.
After an MC and a T-13 to start the season, the South Korea native shot a final-round 66 to come from 6 strokes back to win the HSBC Women's Champions in Singapore -- whether that was her ultimate goal or not.
"Well, actually, this tournament my goal is top-10, to get to top-10 because [of my] first tournament and how I missed the cut in Hawaii," she said. "I think [it] upset me."
It shouldn't be such a surprising result for Shin (who changed the spelling of her first name from the hyphenated Ji-Yai to Jiyai in the offseason), considering the nickname heaped upon her by those in her homeland: "Final-Round Queen."
A bogey-free round for her second consecutive career-low 66 only cemented that moniker and helped her majesty vault into an early yet commanding lead in the Rookie of the Year race over the aforementioned up-and-coming triumvirate (plus Mika Miyazato). Maybe once again, though, Shin is setting her sights too low. Expect her to be right in the thick of the Player of the Year battle all season, too.
4 59, Inc. In an ongoing effort of trend-spotting here at the W18, I bring you the story of a company whose profile is growing by the day, thanks to a large stable of players brandishing its goods.
The numeral 59 is a magical number in golf, but it's been popping up more and more lately. Not on scorecards, though -- on belt buckles.
From recently retired Annika Sorenstam to PGA Tour pros Mike Weir and Paul Casey to LPGAers Jiyai Shin and Vicky Hurst to reigning U.S. Amateur champ Danny Lee to NCAA standouts Rickie Fowler and Jamie Lovemark (plus many, many more), dozens of top players are sporting the figure on the course in an apparent effort to summon the total in their rounds, as well.
First conceptualized in October 2006, the idea took eight months before a prototype was available and even longer to get it into the hands of touring pros, but it's now becoming a staple for players on every major tour. Of course, you have to look closely, as the 5 in 59 sort of looks like a 6.
"Yes, most people think it's a 69, but when I sat down to make the 5 and 9 look more balanced, this is what I ended up with," 59 president Trevor Derrheim told me via e-mail. "It's unmistakably a 5 if you look at how the number is written. A 5 has a break between the top stem and the circular bottom, whereas a 6 begins at the top and circles around the bottom and then back to the stem. I wanted the 59 to have balance and, most of all, I didn't want it to look obvious because it would never garner another look; obvious is boring and boring isn't the brand we are creating. To me, the number, the design, the idea of 59 is to be open enough and balanced enough to accept shooting the mystical score."
Perhaps the most appealing aspect of the company is that its most popular design isn't one that can be found in any catalog. Derrheim says that custom orders, which he has "down to a simple science at this point," have become all the rage, as consumers can place an order using their own buckle design and color scheme on the belt.
Is a 59 buckle going to help a player shoot that magical number? Of course not, but it'll help 'em look a lot better in the process.
5Luke Donald. It certainly seemed like "Prognosis Negative" for Donald at last week's Match Play, but Seinfeldian references aside, his latest injury tweak was no joking matter.
On the penultimate hole of his third-round match against Ernie Els, the 31-year-old Brit was forced to withdraw after feeling a pain in the left wrist that was surgically repaired last year, cutting his 2008 season to just 11 starts on the PGA Tour.
One day later, IMG released the news about its client: "Luke was examined last night by the same doctor who performed the surgery on his left wrist last August and was told that the discomfort he felt yesterday was limited to the scar tissue, and not the tendon he injured at the 2008 U.S. Open. It was Dr. Weiland's opinion that with treatment by anti-inflammatory medication, Luke could resume practicing in the next few days and could potentially play in next week's Honda Classic."
It was not to be, however. Though Donald's second and most recent victory came at the Honda in 2006, he wasn't able to give it a go this past week "as a preventative measure for his recently healed wrist," according to a statement from the PGA Tour.
The biggest shame of it all is that it appeared Donald may have been about to embark on the kind of season we've been expecting of him for so long. After finishing ninth on the 2006 money list, he dropped to 29th the next season and 67th in last year's limited action. So far in 2009, though, he finished T-23 (Sony Open), T-25 (FBR Open), T-7 (Buick Invitational) and T-6 (Northern Trust Open) before being credited with a T-9 for winning two matches in Tucson last week. Along the way, he has climbed atop the tour's scoring average list at 69.05.
Donald is currently in the field at this week's WGC-CA Championship, which is a good sign. But if he's going to enjoy a big bounce-back season, it appears he might need to persevere through that wrist injury once again. He can do it, but don't expect it to be an easy process.
6David Duval. Here are the words of the 13-time PGA Tour champ during last year's British Open: "I've been working toward greatness, not just getting back to making cuts and managing to play halfway decent."
At the time, it was easy enough to believe him. The 2001 British champ and former world No. 1 had sunk to the depths of his profession, but opening scores of 73-69 left him in the penultimate group Saturday at Royal Birkdale. Though he finished T-39 for the week, it wasn't hard to believe Duval was on the road to becoming a solid pro once again, if not an elite-level performer.
It hasn't quite worked out that way.
He followed that tournament with MCs in four of his final seven starts of the year -- with no finish better than T-22 -- and this season has only wrought more of the same. He missed the cut at the Bob Hope Classic, despite shooting 68 in three of his four rounds; he withdrew from the FBR Open after a first-round 77; and he finished T-55 and T-59 at the AT&T Pebble Beach National Pro-Am and Northern Trust Open, respectively, before shooting 82-75 to come in DFL (by 5 shots) of those who played 36 holes at the Honda.
That most recent total notwithstanding, an optimist could contend that at least Duval isn't embarrassing himself anymore; in 2005, he owned a scoring average of 75.56, made the cut in just one of 20 starts and finished 260th on the final money list. The pessimist will point out, however, that the stroke of midnight is near and his carriage might finally be turning into a pumpkin.
Duval's five-year exemption for winning the British expired in 2006. He competed under an exemption for the top 25 career earners in '07, but with only seven starts was able to carry that over to '08 due to a newly instituted "family crisis" medical exemption. This season, he's competing as one of the top 50 career money leaders, but failure to retain any status might result in a dead end come this autumn.
With 36 tournaments still left on the schedule, it's hardly panic time for Duval just yet, but at 166th on the money list entering the Honda -- and even lower now -- he'll need to cash a few decent-sized checks in order to return in some capacity for the 2010 season.
While watching his plight, one comment from Duval remains stuck in my head. When asked two weeks after his British Open rally last year about Michelle Wie competing in men's events, he said, "I don't know if the PGA Tour is exactly the place to gain confidence. You can get your head beat in pretty easy out here."
He would know better than most.
7 Robert Allenby. It's tough to kick a guy when he's already down, so don't think of this as a character assassination on Allenby or specific analysis regarding his Honda Classic finish, considering he's still mourning over his mother's death on Jan. 31.
Instead, let's allow the numbers to speak for themselves.
Allenby now owns a share of the current PGA Tour lead for most consecutive made cuts with Tiger Woods at 30, dating back to his first event last season. His T-5 finish was his 10th top-10 since that time and 46th since his last victory at the now-defunct Marconi Pennsylvania Classic in 2001.
All of which begs the question: What's been taking him so long to find the winner's circle again?
Though an even-par 70 actually gained ground on the field -- he was T-7 entering the final round -- Sunday scores have been his bugaboo in years gone by. Let's check out Allenby's overall scoring average and rank over the last four seasons as opposed to that of final rounds:
| | | | | |
| --- | --- | --- | --- | --- |
| Year | Scoring Average | Rank | Final-round Scoring Average | Rank |
| 2009 | 69.00 | 13 | 71.00 | 91 |
| 2008 | 70.64 | 25 | 71.23 | 99 |
| 2007 | 71.12 | 81 | 70.29 | 20 |
| 2006 | 70.48 | 16 | 71.47 | 92 |
Other than 2007, when he had eight top-10s, including a season-best pair of third-place results in 28 starts, Allenby has seen a steep decline in his final-round efforts. Of course, the PGA Tour average generally creeps up a bit when Sunday pin positions are in place, but not as drastically as the Aussie has seen over the years.
Allenby will win again -- and maybe soon -- but there are too many instances of poor results on the back nine on past Sundays to believe this will change overnight.
8 I wish fans could understand how important it is for Nationwide graduates and Q-schoolers to get off to a fast start to the season.
Since many don't understand the ramifications, allow me to help explain this phenomenon.
For the world's elite players, choosing tournaments in which to compete is simply a matter of personal preference. Make your intentions known by 5 p.m. ET the preceding Friday and you're in like Flynn. Easy as that.
Those further down the PGA Tour totem pole, however, are never guaranteed such luxuries. Players exempt via Category 24, which includes the 2008 Nationwide graduates ranked Nos. 2-25 on the money list (top-ranked Matt Bettencourt owns higher status), all Q-school grads and any others who at one time qualified through these means but are now competing on medical extensions, will be reshuffled on five separate occasions during the season.
The first of those checkpoints took place after last week's Mayakoba Golf Classic and the result was a mash-up that would make a Vegas blackjack dealer proud. Two examples: Q-school medalist Harrison Frazar began the year at No. 1 of the 56 total Category 24 players, but has backed up to 14th; Webb Simpson, conversely, started at 14th and is now sitting atop the list.
What does it all mean?
The PGA Tour uses this list, in part, to fill its fields for each week's event. Simply put, the higher a player is ranked in the reshuffle, the better his chances of getting into a certain event. Going back to the previous examples, if a tourney was to go 10 deep into the pool of Category 24 players, Simpson would currently earn a spot while Frazar would be left on the outside looking in.
This rule doesn't affect the game's elite, so it often goes overlooked. But for those struggling to retain playing privileges for another season, it could mean all the difference.
9I wish the PGA Tour wasn't so liberal with its use of the word "championship" in tournament titles.
I know, I know; the words "PGA Tour" and "liberal" aren't often used in the same sentence, let alone synonymous with each other. But at some point the folks in Ponte Vedra Beach, Fla., either directly or indirectly decided that every event needed to carry a moniker that invokes veritas often beyond its ranking within the structure of the schedule.
As such, there are currently a PGA Tour-leading 16 events which include the label "championship" in the title. They're not all a misnomer, of course. Players Championship? Fine. Tour Championship? Absolutely. Even this week's World Golf Championships-CA Championship, the "double-double" of championship golf, can be considered in this role, if you want to get really technical.
But really, from the Transitions Championship to the Wyndham Championship to the Turning Stone Resort Championship, the word is being abused and overused. Of the 46 tournaments currently on the PGA Tour schedule, a whopping 35 percent contain such a label. Here's the full breakdown:
Championship: 16
Open: 13
Classic: 7
Invitational: 4
Tournament: 2
None: 2
Pro-Am: 1
National: 1
My favorites happen to come from the "none" category, which includes only the Verizon Heritage and The Barclays. Time to get a little more creative, Ponte Vedra.
10 I wish there were more feel-good stories in the game like that of Steve Alker this week.
One of those "been there, done that" type of guys who litter every level of professional golf, Alker earned the biggest title of his career Sunday.
The New Zealand native was the touring pro for Clearwater Resort from 2002 to 2004 while biding his time on tours around the world. The last of those years was the first of three as a member of the Nationwide Tour, which in turn led to a stint on the Euro Tour in '07 and the Challenge Tour in '08.
Heading into this week's HSBC New Zealand PGA Championship, Alker needed a sponsor's exemption just to reach the field at Clearwater, but rounds of 69-70-67-67 led to a 2-stroke victory on what was once his home course.
"It's pretty special to win here," he said afterward. "It's great to come back here and see all the members and staff. It's really been a fun week for me."
With the win at the co-sanctioned Nationwide and Australasian event, Alker now owns full status on each tour through the end of next season, leaving the longtime rover with plenty of options.
"It's been a bit of a dry spell for me," Alker said. "Obviously, this comes at a really good time for me."
Among the options is a return to the Phoenix area, where Alker and his family still own a house, which could serve as home base for a U.S. comeback.
"It's a good thing we didn't sell that house," he laughed. "I'll jump at the chance to go back. The plans are a bit up in the air at this point, but we'll sit down and talk about it for sure now."
Jason Sobel is a golf writer for ESPN.com. He can be reached at Jason.Sobel@espn3.com.
I couldn't have a W18 category entitled "Road to Augusta" without mentioning the upcoming "Road to Augusta Invitational," which will be held Wednesday at Sunkist CC in Biloxi, Miss.

Before you read too much into the name, let me crush your dreams and break the news that, no, the champion of said event won't earn an invitation to play in next month's Masters. Instead, the real winner here is already in the field. The tourney will serve as a fundraiser for reigning U.S. Mid-Am champion Steve Wilson, one of five amateurs already qualified for the festivities at Augusta.
"It's just a benefit that my buddies are throwing for me to sort of help with my expenses. I didn't even know that amateurs were allowed to do that, but ... it's great, because it can actually be very expensive," Wilson said this week. "I'm not by any means poor. I told the guy running it, 'I feel kind of funny to have people helping me out financially.' But he said, 'No, no, they feel like they're a part of it if you let them do this.' So I said, 'Well, I guess that's OK then.'"
At 38, Wilson is no up-and-coming phenom. The Ocean Springs, Miss., native spent 10 years as a pro before regaining his amateur status. His full-time job? Owner of a gas station in his hometown.
And yet, come four weeks from now he will be teeing it up among the world's elite. In advance of such a mission, Wilson has already played more practice rounds than probably anyone else in the field, though in nine attempts so far he has yet to score better than 75.
"It's playing about 12,000 yards long," he said before admitting that for the first round on April 9, "with the pressure and everything, it will probably play even more difficult."
• We'll find out later this week if it was really a last-minute decision for Tiger Woods to play at Doral (he has a news conference scheduled for Wednesday at 11 a.m. ET), but I can report that until he committed about four hours prior to Friday's deadline, tournament officials were very nervous about whether he'd actually show.
Though PGA Tour commissioner Tim Finchem would never admit it publicly, you know these late committals from the game's biggest drawing card has to eat at him more than a little bit.
• A promo for NBC's final-round coverage of the Honda that ran at 2:59 p.m. ET stated: "Sergio Garcia has one last chance to tame the Bear Trap and a crowded leaderboard to capture the Honda Classic!" At the time, Garcia was 1-under through 17 holes - 9 shots behind leader Y.E. Yang. I don't want to spoil how that "one last chance" turned out, but let's just say El Nino fell a bit short in his bid at nintuple-birdie on 18.
This week served as a microcosm for Garcia's career. He finished tops in the field in greens in regulation at 76.4 percent and next-to-last in putts per round at an average of 31.5.
• Speaking of great players who are often poor putters, through nine rounds this year (Match Play not included), Vijay Singh ranks T-193 of 195 players in the PGA Tour's putts per round statistic, at an even 32 strokes for every 18 holes. Ouch.
• Trevor Immelman dropped the puck at a Tampa Bay Lightning game earlier this week. Wonder how that royal blue Bolts jersey will look under a green jacket.
• Talk about no rest for the weary. Ian Poulter and wife Katie welcomed their third child, Lilly-Mai, on Wednesday; she was born at 1:29 p.m. ET, weighing 7 pounds, 1 ounce. Despite the new addition, Dad still plans on teeing it up at Doral this week.
• Jeff Klauk can flat-out play. The son of the recently retired superintendent at TPC Sawgrass has now made the cut in each of the first seven starts in his rookie season, including three finishes of 12th or better.
• I have no idea if anyone has ever referred to Greg Chalmers as "Superintendent," but I'd like to start that rally. And no, it has nothing to do with golf course maintenance.
In reality, Chalmers' nickname is listed as "Snake." Get it? "Snake Chalmers"? Yeah, I like my idea better, too.
• The good news for Mathias Gronberg? In his opening-round back-nine at the Honda, he started and ended with pars. The bad news? In between, he posted, in succession: double-bogey, bogey, triple-bogey, triple-bogey, bogey, triple-bogey, double-bogey. The final result was a back-nine 50 and 19-over 89 for the day. I feel for you, brother. Been there before.
• What's up with Brandt Snedeker? Since a T-9 at last year's U.S. Open, he hasn't fared better than T-24 in 14 total PGA Tour starts, including four MCs in five appearances this season.
• Tom Lehman turned 50 on Saturday. If he so chooses, the former Ryder Cup captain still has the game to make an absolute killing on the Champions Tour.
• See, I told ya "The Haney Project" would be hilarious -- and worth the watch. Apparently, you agreed; the first show received higher ratings than any previous individual Golf Channel original entertainment program.
On a personal note, I was in a local watering hole early Thursday evening -- three days after the debut of Haney's show -- and it was airing on all three televisions. When was the last time anything but live tournament coverage generated such interest on Golf Channel?
If Charles Barkley wins this year's U.S. Open, here's guessing Tiger will be a little more careful about sharing his swing instructor in the future.
OK, maybe that's wishful thinking.
Geoff Ogilvy is currently the second-best golfer in the world.

According to the Official World Golf Ranking, the awesome Aussie is currently fourth, behind only Tiger Woods, Sergio Garcia and Phil Mickelson, just in front of Padraig Harrington and Vijay Singh. With victories at the Australian PGA, Mercedes-Benz Championship and, most recently, the WGC-Accenture Match Play Championship, Ogilvy has vaulted 10 spots from his No. 14 ranking entering the final month of last year.
Change the wording just a bit on the above statement and there wouldn't even be cause for debate. Geoff Ogilvy is currently playing the second-best golf of anybody in the world. Actually, that's not true; he's been second to none over the past three months.
But that doesn't necessarily mean he's the world's second-best, does it?
Ask Ogilvy and he'll humbly admit that there are others who stand in his way.
"Well, there's a few guys in the world who are obviously well in front of me: Tiger, Phil, Sergio, Harrington," he said after winning the Match Play. "So there's four. So I'm at least fifth. Sergio hasn't got a major, but Sergio's won a lot of big tournaments." When requested to argue his case, he stated, "Tiger, Phil, and Padraig, and then I'm in the next bunch, probably."
Consider me among an ever-growing list of Ogilvy supporters. He's got all the tools and plays some of his best golf in high-pressure situations. Off the course, he's perhaps the smartest, most thoughtful player on tour, often proffering lucid opinion on everything from course setup to how the economic setback is affecting the game.
With that in mind, I have a hard time equating a three-month hot streak into status as the game's second-best player. Of course "best" is such a subjective term, but I'm with Ogilvy; currently, the battle for No. 2 is a tight one, so I'll give the nod to those with multiple majors already to their credit.
It's not an easy call and you can argue either way, but as of right now I'll consider the above statement to be FICTION. With a few more big tournaments, though, Ogilvy can vault into that "next-best" position in the very near future.
Prior to this week's WGC-CA Championship, the PGA Tour will offer a dual Spanish-only news conference with Sergio Garcia and Camilo Villegas in an effort to appeal to the Miami area's large Spanish-speaking population.

(My first question: "Que pasa?" Next one: "Que hora es?" That's what I get for switching to French in the ninth grade.)
Not included in this interview room session is Andres Romero (right), one of four other primarily Spanish-speaking players in the field (along with Alvaro Quiros, Miguel Angel Jimenez and Pablo Larrazabal). For those regular readers, you may remember that I picked Romero to reach the finals of the WGC-Accenture Match Play Championship two weeks ago … only to see him lose on Wednesday afternoon to Justin Leonard.
Well, despite that result and an MC at the Honda, I'm sticking with this birdie machine to claim un triunfo at Doral. Last season's PGA Tour Rookie of the Year owns as many top-10 results in majors (four) as Garcia in the past three years -- despite four fewer appearances -- and twice as many as Villegas.
Perhaps a win this week will get him some Spanish-only interview time, too.
"It was just, you know, victorious, and it was just the pits. All in one round."
-- Ben Crane after shooting a third-round 1-over 71 at the Honda Classic.
No, a 71 doesn't exactly sound like the roller-coaster ride Crane made it out to be, but let's consider the scorecard. After opening with a bogey and three pars, Crane aced the par-3 fifth hole then followed with a chip-in for birdie on No. 6 to claim a spot atop the leaderboard. From there, though, it was all downhill as he doubled two of the next five holes and added just one birdie down the stretch run to close with that topsy-turvy 1-over total.
If the season ended today … Tiger Woods would finish 129th on the money list.

Of course, with only one start under his belt -- a second-round exit at the WGC-Accenture Match Play Championship worth $95,000 -- I think it's safe to say that Tiger has a chance to climb that list prior to the Tour Championship in late September.
In fact, don't be surprised if he makes a huge leap this week at Doral.
In his first start at the Blue Monster, TW finished T-9 at the "Doral-Ryder Open" back in 1998; in his next start, he was runner-up to Ernie Els at the "Genuity Championship" in 2002; in his next two starts, he won the final two editions of the "Ford Championship at Doral" in '05 and '06.
Since the venue became host site for the WGC event in 2007, Woods owns another win and a solo fifth last year, 2 shots behind winner Geoff Ogilvy.
Based on those numbers, call me crazy, but I've got a sneaking suspicion he just may creep back into the top 125 this week.
For this week's e-mail, allow me to repurpose a Q&A from my SportsNation chat last week. This question came from Silky Johnson in St. Augustine, Fla.:
"How does a place with greens so ridiculous that they have to keep them this slow get a hold of the Match Play Championship? Seems silly to me. Obviously, there's real estate money involved, but this is a prestigious event and the venue should be taken more seriously. Am I right?"
And here's my response ...
"You couldn't be more right. Let me be frank: The location of this tournament is an absolute joke. First of all, it's ridiculous that the three WORLD -- stress that word -- Golf Championship events are all played in the U.S. But the fact that the most unique of those three is played in a small town north of Tucson, originally at one generic resort course and now moved to another generic resort course down the road? The PGA Tour should be ashamed of itself. Have a little self-respect. There are 1,000 courses worldwide that deserve to host this event before this place. But yes, you're right -- it's all about the Benjamins."
More than a week later, I still feel the same way. In 2007 -- the first season in which all three regular-season WGC events permanently came to the U.S. -- there was plenty of consternation from the international contingent, though they collectively seemed resigned to the notion that all three tournaments will remain stateside for the time being.
While that may be true (and isn't necessarily wrong; when the Match Play was held in Australia eight years ago, the field dipped into the triple-digits in the OWGR), it doesn't mean the year's first WGC tourney must be relegated to a new, indifferent venue every February. Players were hardly complimentary of the slow, sloped putting surfaces at Ritz-Carlton GC and there wasn't much else that stood out to make it an attractive location for future editions of this tournament.
As one fellow scribe whispered to me while walking the course last week, "Boy, maybe we shouldn't have been so critical of La Costa." The erstwhile host venue may have been underwater half the time, but at least it had some character. Can't say the same for Jack Nicklaus' recent design in the desert.
Got a question for the inbox? Hit me at Jason.Sobel@espn3.com.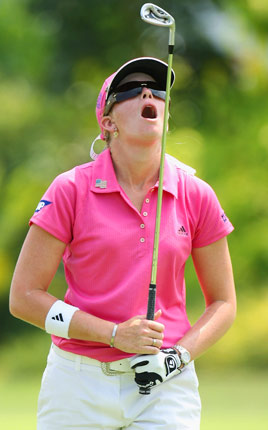 Ross Kinnaird/Getty Images
Where have we seen this look of exasperation and frustration on the face of Paula Creamer before? Well ... everywhere.
One week after Creamer parlayed the 54-hole lead into a third-place finish in Thailand, she again placed third in Singapore this past week. Though the Pink Panther quashed her "close but no victory cigar" reputation with four wins last season, it's still worth noting that her final-round scoring average in 2008 was nearly a half-stroke higher than her total number of 70.56, which ranked third overall. And it may explain why she owned 11 other top-10 finishes when she didn't win.
Through three events so far this year -- she also finished T-15 at the SBS Open in her season debut -- her scoring average of 70.36 is a bit better than that of last year, but her final-round number has dropped to an even 72.
"I feel very confident with my game," Creamer said after closing with a 70 on Sunday. "Being right in the hunt, that's all you can ask. As long as I keep giving myself chances. The more I learn, hopefully the more wins I'll have."
There's no doubt Creamer is going to win many more times on the LPGA Tour, but until she can improve her final-round scoring, it may not be as much as her talent level would suggest.