Delving into this week's Augusta chronicles

AUGUSTA, Ga. -- Bountiful, blooming azaleas. Endless green-hued vistas. Countless renditions of the Masters theme song. (It's called "Augusta" and actually has lyrics that name 10 past champions.)
Sunday Conversation
Tiger Woods sat down with ESPN's Tom Rinaldi for an extended interview before the Masters.
Watch

Yep, it's that time of year again, golf fans.
Masters week is upon us and, as always, there are numerous story lines entering the sport's biggest event. This special all-Masters preview edition of the Weekly 18 begins with the notion, though, that this time around there might be more pre-tournament drama than any recent edition -- led by one player, of course.
Pick a story, any story.
Major plotlines abound at Augusta National Golf Club, where the golf world will converge for this week's Masters Tournament. The preceding sentence could be written prior to this event any year, but it rings especially true entering this week's festivities.
To wit: Greg Norman is making his return here after seven years of exile. Fred Couples is attempting to build on a strong week in Houston. Trevor Immelman is trying to become just the fourth back-to-back champion. Three teenagers are competing in the same Masters for the first time.
Want more? Padraig Harrington is seeking his third straight major title in search of the Paddy Slam. Phil Mickelson is trying to win his third green jacket since 2004. And there's always the course, of course, with lingering questions about whether the roars will return to the back nine on Sunday.
I'll get to each one of those in different areas here in the W18, but the No. 1 story entering the week -- as it's been in so many other tourneys before this -- revolves around Tiger Woods. As you might recall, the last stroke he took in competition occurred two weeks ago at Bay Hill, when he drained a 15-foot, 11-inch birdie putt on the final hole to prevail by a single shot.
Tiger Tracker

What's the latest surrounding Tiger Woods as he returns to major championship golf for the first time since his epic U.S. Open triumph? Get the latest news and analysis.
Tiger Tracker
And so Woods enters this week on a high note, searching for his fifth career green jacket in his fourth appearance since returning from last year's season-ending knee surgery.
"Tiger obviously made his splash at Bay Hill," Luke Donald said Sunday. "It's not his first event back, but ... Tiger's always the biggest story."
Donald then thought about it for a second before suggesting, "If Harrington had a chance to win, that would be a pretty cool story."
Yes, it would. Same goes for Norman. And Couples. And Mickelson, too.
For now, though, it's Tiger's world and everyone else is just living it. Need further proof? Ratings for the recent Arnold Palmer Invitational were higher than any tourney since last year's U.S. Open -- and yes, that includes the British Open and PGA Championship.
Another Masters title would push Woods past The King, just one behind Jack Nicklaus' all-time record. And it would only ensure that TigerMania would continue to grow even bigger.
2 Paul Casey. After he made bogey on the final hole of regulation to drop into a playoff with J.B. Holmes at the Shell Houston Open on Sunday, then made another bogey on the same hole to win the title for his first career PGA Tour victory, Casey was asked what the accomplishment meant for him entering the year's first major.
He didn't hesitate to recite some history.
"Winning this tournament," Casey said, "is not like winning the Par-3 Contest."
As Casey is well aware, no player has ever won the Par-3 at Augusta National, then parlayed it into a green jacket ceremony four days later. He did, however, cite both Sandy Lyle and Phil Mickelson, each of whom won a tournament in the week before the Masters, only to make it two in a row the following Sunday.
Masters Live Blog

Normally golf fans only get four days of live blogging out of ESPN.com's Jason Sobel at a major. But with the par-3 contest on Wednesday at Augusta National, we'll toss in the fifth day as an added bonus.
Don't count Casey out of the 2-for-2 equation, either. He's finished T-10 and T-11 at Augusta the past two years and might be ready to more seriously contend than ever before.
"I love the Masters," he said. "I feel it's my best opportunity at a major. The golf course sets up very well for me."
Hmmm, time for a little golf math ...
Hot Player + Favorite Tournament x Golf Course Suited for Game = Masters Contender.
3 SHO MCs. It only sounds like a hip-hop group. Instead, this was a group of players who hopped out of Houston earlier than expected.
In theory, competing at the Shell Houston Open the week prior to the Masters was a good idea, as Redstone GC has been set up as similarly as possible to its more vaunted counterpart, Augusta National.
This week's edition of the event, however, was marred by high winds that caused some fairly lengthy delays during the first few rounds. It meant four straight early mornings for some and lots of extra time spent at the course -- unless you missed the cut.
For those in this week's Masters field who did MC in Houston -- many of whom, like Phil Mickelson, were doomed by the early-Thursday/late-Friday wave -- it allowed for some extra time to get to Augusta earlier than expected. On Sunday, Luke Donald called it a "blessing in disguise," and he probably wasn't the only one feeling that way.
Among those who failed to reach the third round in Houston and will be playing this week were Donald, Mickelson, Angel Cabrera, Steve Stricker, Jeev Milkha Singh, Aaron Baddeley, Dustin Johnson, Chez Reavie, Vijay Singh, Andres Romero, Alvaro Quiros and K.J. Choi.
This was one time when failing to finish above the cutline came with a clear-cut silver lining.
4 Stewart Cink. If you're seeking a dark-horse candidate to win the Masters, think again. Simply put, no-names don't claim green jackets; even the most recent champs, Zach Johnson and Trevor Immelman, were two of the more inexperienced players to take this title, but were already fairly well established in their careers at that point.
That doesn't mean the winner can only be an elite-level thoroughbred, either. I'd consider Cink among the second or third tier of the world's best golfers, good enough to contend a handful of times each season and maybe win one of 'em, but never a top-5 talent.
I would also consider him a viable candidate to be sitting in Butler Cabin on Sunday evening.
Ever since failing to reach the field in 2003, Cink has finished in the top 20 each year at Augusta, which is roughly a two-hour drive from his home in Duluth, Ga. That streak culminated in a share of third place last year, when he was paired with Tiger Woods in the final round and matched the four-time winner's score of 72 to finish 4 strokes behind Immelman.
"I think it opened up a door in some respects to me, because I really never had a very high finish there," Cink, whose previous best was a T-10 in 2006, said recently. "Not that I was really close to winning the tournament last year, but still, only a couple of guys beat me. I hung around and I think looking back, I said, 'Well, I can play with the best here.' This is a course that's never been really up my alley as far as finishes, but I think I can play."
Look, there's no question that the likes of Tiger and Phil are favorites going into this week. But there's room on the leaderboard for more than a few names, and the final ledger won't simply look like a rundown of the Official World Golf Ranking. Don't have any illusions that a no-name can pull himself into the winner's circle. But for a guy like Cink, who has fared well here before, it's a very real possibility.
5 Fred Couples and Greg Norman. Wanna feel old? Check out this stat: Couples and Norman are a combined 103 years of age.
Just to put that into a little perspective, there's this: The two Presidents Cup captains, combined, are one year older than the combined age of fellow Masters competitors Anthony Kim (24), Dustin Johnson (24), Rory McIlroy (19), Danny Lee (18) and Ryo Ishikawa (17).
Being 49 and 54 years old, respectively, isn't the reason Couples and Norman find themselves on this list, though. Instead, they're here because of what happened on the weekend in Houston.
Leading the tourney -- site of his last win in 2003 -- with three holes to play on Sunday, Freddie finished bogey-bogey-bogey to end in a tie for third place, 2 strokes out of the playoff. Norman didn't quite entertain any notion of contending, but after solid rounds of 71-69-70, he finished with an 81 that saw him play the last two holes in a combined 6-over-par.
Neither result will instill much confidence in these players heading into Masters week. Couples, the 1992 champion at Augusta, is coming off his first MC at the year's first major in two dozen starts. Norman, in the field based on his T-3 finish at Royal Birkdale last year, will return to the site of so much heartache for the first time since 2002. If they start like they finished at Redstone, it won't be pretty.
Well, that's one way to look at things.
Or there's this: Couples and Norman each showed flashes of brilliance that was thought to have diminished years ago. If either can re-establish that magic this week, he'll quickly turn into a major story at Augusta.
Four days before the Houston event was completed, the two men held a joint interview session, discussing the upcoming tourney, this year's Presidents Cup and, of course, the Masters.
"As I enter Augusta, it's going in with a totally different mindset than the British Open, but I'm going in with the exact same expectations," Norman said. "I'm going in there, I'm going to go enjoy it. I'm going to go play practice rounds with my friends, have fun being with a lot of members that I haven't seen for a long period of time. And how it plays out over the week, quite honestly I really don't care. I'm going to enjoy myself. I want to go in there, and I want to play well. I want to put my best foot forward, whatever that best foot is, left or right, both of them, who knows?"
"Who knows?" That could be the rallying cry for Couples and Norman this week.
6Adam Scott. Missing: World-class golfer with 14 career professional victories. Owns strong, sturdy swing and reliable short game. Might be nursing injury. Last seen in Hawaii three months ago.
Seriously, has anyone seen Adam Scott lately? It seems like years since he pulled a T-2 result at the Sony Open; since then, the 28-year-old Aussie lost in the opening round of the WGC-Accenture Match Play Championship, finished T-66 at the WGC-CA Championship and missed the cut at both the Transitions Championship and Arnold Palmer Invitational.
What's wrong? Well, Scott injured his knee in a preseason running-on-the-beach incident and, well, actress Kate Hudson -- who's been romantically linked to the golfer -- has helped to curtail bigger careers than his. To his credit, though, he isn't making any excuses for his recent poor track record.
"Needless to say, I was disappointed with my play again last week," Scott, who shot 72-77 to MC by 4 strokes, wrote on his personal blog. "Things are clicking along and I'm confident it will all come together next week."
That might be true, but don't be so sure that The Case of the Missing Golfer will be solved at Augusta.
Since finishing T-9 in his Masters debut back in 2002, Scott has made the cut in five of six starts, but never fared better than T-23. That's only one piece of the cryptic puzzle that he has produced at major championships; in 31 career appearances, he owns only four top-10s -- and none since a share of third place at the 2006 PGA Championship.
I'm reminded of something Scott told me just over a year ago in regard to his attitude toward majors.
"I really haven't taken my best stuff into a major yet," he said. "It's been something that I've struggled with, peaking on those four weeks of the year. I'm working really hard to change that."
And he did. Last year, Scott finished T-25 at the Masters, T-26 at the U.S. Open, T-16 at the British Open and MC at the PGA. That's three decent results, but for a player of his caliber, it's not enough. He has the ability to win multiple majors in his career and I still think it will happen someday. Based on recent results and past history at this tournament, though, don't be surprised if Scott is still missing come Sunday evening.
7 The Two-Timers Club. Don't let the name fool you. This is all about on-course production at Augusta National -- or a lack thereof, as the case may be.
Sergio Garcia, Camilo Villegas and Ernie Els are ranked in the top 20 of the Official World Golf Ranking, at third, eighth and 16th, respectively, but they've each got something else in common, too. None of the trio has made the Masters cut in either of the past two years.
It's been a quixotic quest for Garcia. As the course has become more of a ball-striker's paradise over the past two years, it would seem to only play more into the hands of one of the world's best tee-to-green players. Instead, El Nino has blown up, totaling a score of 14 over par in his past four Masters rounds while never breaking par on any of those occasions.
For his career, Garcia now owns two top-10 finishes (a solo eighth in '02, a T-4 in '04) and four MCs in 10 starts at this event.
If any of the three has a legit excuse for recent Masters frustrations, it's Villegas, who only made his first start in 2007. As a PGA Tour sophomore that season, he vaulted into the field based on the strength of finishing 38th on the money list in his debut campaign one year earlier.
The Colombia native countered with a cringe-inducing score of 80-85 to finish 13 strokes off the cutline. He improved last year -- tough not to, really -- but still failed to shoot even-par in either round and was headed back home via Magnolia Lane on Friday evening.
And then there's the Big Easy, who was once thought to be a lock to win multiple green jackets during his career. Instead, the man with a pair of runner-up results at this course ('00 and '04) has regressed in his pursuit for a title; like Garcia, he's played his past four rounds at Augusta in 14 over par.
Time may be starting to run out for Els, who will turn 40 later this year. The first key to getting back into contention is to at least stick around for the weekend.
Expect a little added internal pressure on each of these three players this week. They can't undo the past, but the weight of a third straight strike here at the Masters isn't something any of them wants to endure.
• Fred Couples has always owned great body language, using a silky smooth swing and effortless sashay while cruising down the fairway. On Sunday, however, he just never looked like a guy who was going to win that tournament. You could read it in his eyes.
Bo Van Pelt has now held the 54-hole lead twice this season -- and finished T-28 and T-19 on those occasions. Wow.
• Also tied for the lead entering the final round was Colt Knost. Would have been a great story if he hung on for the win and earned a Masters invitation. Two years ago, the U.S. Amateur and PubLinks champ eschewed a berth in the field by turning pro prior to the season. It didn't happen, though. Not even close. Knost shot a final-round 81 to finish T-42.
• At least he was in good company. Sergio Garcia and Greg Norman also shot 81 on Sunday.
• J.B. Holmes barely missed qualifying for the Masters in about four or five different ways, but none will hurt more than failing to win the SHO after hitting his drive into the water to start the playoff.
Still, it was a strong result for Holmes, who has played a cut for years and only recently started hitting the ball right-to-left and decided to go with it.
The cutoff for those in the top-50 of the Official World Golf Ranking to reach the Masters field came prior to the Masters. Holmes was 83rd on the list. After Houston, he's now 48th.
• Speaking of the OWGR, Paul Casey jumped from 12th to No. 6 with his victory.
• Two years ago, Zach Johnson played the par-5 holes in 11-under and won the Masters at 1-over. Last year, Trevor Immelman played the par-5 holes in 3-under and won at 8-under. What does it all mean? Apparently nothing.
• That said, I still think Nos. 2, 8, 13 and 15 are the keys to victory. Post birdies on half of 'em without any bogeys, then play the remaining 56 holes in level-par and a player will have a very good chance to claim the green jacket at the exact same final number as Immelman a year ago.
• I'll have my ranking of the entire 96-player Masters field posted on Wednesday. The final analysis might shock and amaze you -- stress the word "might."
9I wish I had some semblance of an idea about what to expect from Anthony Kim this week.
Compared with next-gen youngsters Rory McIlroy and Ryo Ishikawa, it feels like Kim has already been around forever, so it's a bit unnerving to check the record book and find that he's never before competed in the Masters.
Six months ago, this kid was on top of the golf world, having won against strong fields and on formidable courses at Quail Hollow and Congressional prior to compiling a 2-1-1 record at the Ryder Cup while playing a key role for the victorious U.S. side.
And he picked up this year right where he left off. After challenging Geoff Ogilvy for the lead heading to the back nine at the season-opening Mercedes-Benz Championship, he settled for a share of second place. In fact, I still maintain there may be no single shot in 2009 that has been struck better than his fairway wood to kick-in range on the par-5 final hole at Kapalua.
Since then, however, it's been a globetrotting hodgepodge of mediocrity, injury and illness for the 24-year-old.
In late January, he was forced to withdraw from his hometown event, the Bob Hope Classic, due to a bothersome shoulder. He returned the next week in Phoenix, only to MC.
From there, it was off to Malaysia, where after an opening-round 78 he settled down to finish T-33. Then it was down to Australia for a T-25 at the Johnnie Walker Classic before returning to the U.S., where he lost in the second round of the WGC-Accenture Match Play Championship and was 58th in a 79-player field at the WGC-CA Championship before ultimately being forced to WD from Bay Hill due to illness.
It's no wonder. That's a travel schedule that could leave Gary Player airsick.
Kim returned at Houston to mild success, shooting 72-68-70-74 to finish in a share of 26th place. It was better than some of his previous results, but didn't do much to give us any more of an idea about what to expect from him this week.
10I wish more tournament winners were able to capitalize on the "win and you're in" clause.
Two years ago, Augusta National officials righted a wrong by reinstating the rule that says all PGA Tour winners would automatically be entered in the next Masters field (save for those of Fall Finish and opposite-field events).
Great move. This one was always a favorite of sentimentality seekers. Tell a recently crowned champion that he just won a million bucks, two years of job security and a week at Kapalua and you'll see a broad smile envelop his face; tell him he's going to the Masters and you might actually see the guy shed a tear.
"I can remember innumerable times where winners of tournament events would be more excited to hear that they had automatically qualified for the Masters than to receive the first-prize money check," said Augusta National chairman Billy Payne during the announcement prior to the 2007 edition of the Masters. "So it was an exciting component of golf that really only the Masters could offer, and we all thought it appropriate that we bring it back."
Here's guessing, though, that Payne and the rest of the green jacket posse figured this rule would come into effect more than twice during the three-plus months preceding the tournament. Instead, that's exactly what happened, since 12 of the 14 PGA Tour winners so far were already exempt into the year's first major in other ways. The only players who reached the field by winning were Y.E. Yang and Pat Perez.
"I played in '03, but it's been a long time since I got in there," Perez said shortly after qualifying via his victory at the Bob Hope Classic. "It's such an unbelievable tournament. It's the greatest tournament to watch, I think. I watch every year and I don't really watch golf, but I'll be damned excited to get back there."
I know, I know. We should file this one under the guise of "careful what you wish for." So many otherwise qualified champions means we've been treated to a season of strong winners so far. Even so, forgive me for wanting more self-gratification of seeing a guy slug his way through four hard-fought rounds for a victory before being told, "You're going to Augusta!"
And that's when the emotion really spills out.
11I wish there was more talk about the Paddy Slam.
Shhhh. Let's keep this just between you and me, but I've got a little secret to share. Remember the second half of last season, when most casual "fans" discontinued their golf viewing in favor of other pastimes, just because Tiger Woods was inactive?
Well, apparently the same guy won each of the year's final two majors, which means that ... hold on, let me do a little math ... yes, Padraig Harrington can actually make it three in a row this week.
When Woods was in pursuit of the so-called Tiger Slam earlier this decade, they were writing books about the guy. Now that Harrington is already halfway there, there are barely even any whispers.
To what can we attribute such a lack of discourse surrounding the reigning British Open and PGA champion? Well, firstly, as mentioned, he produced those victories without a certain No. 1-ranked player in the field; I'll be the first to decry any use of an asterisk for these wins, but the situation did take a little luster off the trophies.
Secondly, it's not like Harrington has been playing sublime golf ever since. If he was in contention and on the leaderboard each week, we'd be hearing more about his efforts; instead, he has yet to finish inside the top 10 in six PGA Tour starts this year. His T-26 finish in Houston this week came after a final-round 77.
And then there's his personality. Paddy is a nice guy to a fault, one who would rather toast his success with a cool, refreshing glass of Coca-Cola before retiring home to play with his children.
More than anything, though, there's been less talk about Harrington because his story has been superseded by the likes of Tiger's return, Phil Mickelson's multiwin season and the emergence of Rory McIlroy. And Padraig being the kind of guy that he is totally understands the lack of hype surrounding his quest.
"Tiger is back, Phil has been great, which has obviously taken huge amounts of the media attention in the U.S., and Rory McIlroy coming on the scene at home has taken a good bit of the attention at home, so it's all the better for me," he said recently. "That makes me better able to manage my own time and cope with what I'm doing. So that's all very positive. & Definitely the attention is less when other things are happening. But yeah, that's all good in terms of my preparation and lets me get back to sort of normality in how I prepare."
Which is just how he prepared for the last two major championships, too. Prior to his victory at Royal Birkdale, Harrington hardly practiced and was almost forced to WD due to a wrist injury. One month later, he questioned his own form -- both mentally and physically -- entering the festivities at Oakland Hills, then prevailed there as well.
And so it should come as no surprise that once again he isn't touting himself as a potential contender or spearheading discussions about the possible Paddy Slam heading into this week.
"I don't think about it at all until I'm asked questions about it," Harrington said. "Yes, it would be a nice bonus to win three majors in a row, but does it make much difference whether I win this one or one win in a year's time or two years' time? No, I'm quite patient; I'll wait for two years' time. It doesn't have to happen this time around. I'm not going to get drawn into this, that if I go to the Masters and I don't win that there's a failure in that, that it takes away in any way from the last two majors.
"It is nice that we can talk about it, but as I said, if you had told me I was going to miss the cut in the Masters and win it next year, I'd be very happy with that. So it doesn't have to happen this time around, even though it is a nice thing to talk about."
He's right about that last part. It is a nice thing to talk about -- whether anybody's actually doing that or not.
Jason Sobel is a golf writer for ESPN.com. He can be reached at Jason.Sobel@espn3.com.
For the past three months, I've included this category in every edition of the W18, tracking the figurative paths for different players en route to the Masters.
This last "Road to Augusta" entry, however, deals with the more literal version.

For those who have never made the pilgrimage to Augusta National, allow me to paint a picture of, based on its location, the most unassuming elite private country club in the world.
Drive down Washington Road in Augusta and you'll find an amalgam of fast-food chains and cheesy, if not sleazy motels. The scene is notable only for its undistinguished tone ... and some tall, lush hedges that lead to the home of the Masters. One flat strip of pavement separates Washington Road from Augusta National, the very real "Road to Augusta."
For more on the history of famed Magnolia Road, allow me to borrow from David Owen's book "The Making of the Masters":
Magnolia Lane is far older than the Masters or Augusta National. ... By 1931, when [Clifford] Roberts and [Bobby] Jones first visited the property, the magnolias were good-sized trees and the driveway was known locally as Magnolia Avenue. Because the branches were long and close to the ground, two cars could not pass side by side between the rows, and Roberts and Jones briefly considered placing the club's main entrance somewhere else. ...
One night in the sixties, Roberts and his wife had dinner in New York with another Augusta National member and his wife. They got to talking about the plantings on the club's property. The member asked how old the Magnolia Lane magnolias were. Roberts said they were a little more than a hundred years old, and that with proper care they ought to live another hundred or hundred and fifty years. The member's wife said, "Well, that certainly ought to be long enough."
Roberts turned on her the same fierce stare with which he pinned neglectful committee members to the backs of their chairs. "No," he said, after what to the wife seemed like the better part of a life span of a magnolia, "that is not long enough."
I wonder how many of this week's Masters participants, each of whom will travel down Magnolia Lane en route to course entrance, know anything about the history of golf's most famous road.
The roars will return at Augusta National this week.
You know it, I know it and, yes, the tournament organizers wearing those green jackets know it, too. The Masters just hasn't been the same in recent years.
The combination of a more stringent golf course and colder, windier weather conditions than in previous editions of the event has diluted the number of eagles and birdies, which in turn has taken much of the fun out of things from a spectator's perspective. This is a place where Jack Nicklaus once shot a back-nine 6-under 30 to win at age 46; last year, Trevor Immelman skyrocketed to a back-nine 38 ... and still won comfortably by 3 strokes.
It's a problem, and one that needs to change in order to restore what used to be the most exciting Sunday afternoon in golf. If you don't believe me, just ask Tiger Woods.
"I just hope the excitement comes back on the back nine," he said recently. "It's not what it used to be; 13, 15, were good drives, were automatic irons into greens, and that's not always the case now. ... I miss guys being able to go out there and shoot 31 on that back nine and win a championship. You know, granted, we have had bad weather the last two years and that's aided the high scoring. But hopefully we can get some good weather and the ball will be flying again, like it can, and guys will be a little bit more aggressive on that back nine and create a little more excitement on Sunday."
When TW speaks, people listen. And that includes the folks who host the year's first major. In this case, Woods is simply echoing the sentiments of many of his peers, seemingly all of whom would rather see the Masters revert to its previous form than continue in its role as another U.S. Open.
The notion of "Tiger-proofing," which became the topic du jour after Woods won his second title in 2001, has finally reared its ugly head, leading to some of the quietest, most sullen galleries ever seen at Augusta. And this time around, there's still rough, still just as many trees, still a lot of the same things that have kept scoring down the past few years.
That said, I've got to believe that officials will listen to the convictions of these players and set up the course to be more birdie-friendly -- especially for Sunday's final round.
If Mother Nature complies, expect the roars to return this week. Consider the above statement to be FACT -- and consider my fingers crossed that it really does come true.
In last week's Part 1 of my Q&A with Mark O'Meara, while discussing his goals and expectations for the upcoming Masters, he provided one of the great understatements I've heard in a while: "I'm glad that I made those two putts on 17 and 18 in '98."
O'Meara prevailed in the final tournament of what has to be one of the most dramatic four-year periods in Masters history. In 1995, Ben Crenshaw paid tribute to his late mentor Harvey Penick; in '96, Greg Norman blew a 6-stroke lead in losing to Nick Faldo; and in '97, some 21-year-old kid named Tiger Woods lapped the field to win by 12 strokes.

As such, O'Meara's heroics -- which included birdies on the final two holes, the last of which came via a 20-foot clinching putt -- often get lost in the annals of history, but that doesn't make them any less impressive 11 years later.
In Part 2 of my chat with O'Meara, he discussed the swings of Rory McIlroy and Anthony Kim against that of a young Tiger and gives his not-so-subtle Masters pick to win.
Q: You recently stated that Rory McIlroy is a better ball-striker than Tiger Woods was at that age. What impresses you so much about the kid?
A: Well, when I played with him in Dubai, I thought his technique was extremely good. I like the way he swings, the consistency in his swings, he drives the ball really well; it just didn't seem like he had any weaknesses. He's great with his long irons, he had plenty of length, his short game was good and he putted well.
So, I mean, I know I played with Tiger when he was 18 or 19 and I thought he could hit the ball extremely well -- you could tell he was a prodigy -- but technique-wise, his swing was a little across the line, his face was a little too shut. I'm not saying that Rory McIlroy will ever be Tiger Woods, but I thought at that age his technique was actually better.
But the heart and the mind -- that's something that you can't even compare. And certainly, Tiger at 19 had accomplished so much more in golf than Rory has up to this time, but everyone's always asking, "Who's the next great young player?" I saw Anthony Kim, I think he's an immense talent, but Rory winning in Dubai at only 19, you know, he could be the next guy to maybe not challenge Tiger right now, but down the road he's a top-10 player in the world, in my opinion.
Q: You've made similar comments about Anthony in the past, saying his game was more technically sound than Tiger's at that stage of their careers as well.
A: Yeah, I mean, they play all the shots. I was impressed when I played with Anthony two years ago at the Merrill Lynch Shootout, Greg Norman's tournament. The guy could hit a 6-iron from 160 yards; he'd play a little three-quarter shot.
Today's game is such a power game and most guys are always hitting full shots. To see a guy have some creativity and play some little shots impresses me a lot. And I thought he was an extremely good driver of the ball, his short game was good, he putted well, so I wasn't surprised to see Anthony have the kind of year that he had last year. But on top of all that, there are so many other facets of being a professional golfer, besides just having good technique and hitting the ball well.
You know, weathering the storms, weathering the off times, how you handle success -- these are all things that the young players have to deal with besides just playing well and winning tournaments and making money. They've got to understand all the other facets that go along with being a champion and sometimes those things themselves are hard things to deal with.
That's why Tiger is in a different stratosphere; not only is he the greatest player in the world, he handles himself with immense poise and character, considering the scrutiny that he has to live under.
Q: You know, Mark, I'm curious: What does Tiger think about one of his buddies comparing his swing to that of younger players and you choosing them over him?
A: Well, I mean, we're talking at that stage, but I don't know. Maybe that's why he doesn't talk to me that much anymore [laughs].
He's never really said anything. He still knows that I don't necessarily think those guys are that big of a threat, but he keeps an eye out. There's no denying it. But he also sees them and knows that I'm a pretty good judge.
Listen, I think I've had a little bit of an impact in his life; he's certainly had a big impact in my life. I've always tried to be pretty honest. If someone asks me about a kid that I see swinging the club with immense talent -- that beautiful rhythm and on plane and good technique -- I mean, that's what produces such good shots for a Rory McIlroy or an Anthony Kim.
Whereas at 19, Tiger was taking lessons and his swing was good, but if you look at his swing now, technique-wise, compared with when he won the Masters in '97, there's a vast difference in his technique. There really is.
Q: I know it's only speculative, but do you think Tiger ever uses your comments as motivation a little bit?
A: He might. I don't know. I think he definitely has an advantage because he plays a lot of practice rounds on his own, there is a mystique about him and he's usually accustomed to being in the last group of major championships. He's there all the time, so that's an advantage for Tiger. There's no denying it.
Q: I know you've played a decent amount of golf with him at Isleworth in the past couple of months. I want to know if, going into the Masters, is he (a) as motivated and (b) as ready for that tournament as you've ever seen him? [Note: Interview was conducted prior to Woods' victory at the Arnold Palmer Invitational.]
A: I'd say (a) he's more motivated than he's probably ever been to try and win the Masters and (b) he's physically fit, I think his technique is as good as it's been. I know Hank [Haney] and Tiger have been working really hard.
I know my caddie, Shane Joel, played with him last Saturday and it's just amazing the shots that he plays. I mean, he can hit just some incredible shots and I know that Tiger has got the 14 majors and we all know what he's trying to do. He doesn't speak about it much, he plays it close to the hip, but I think just the ability in his personal life, off the course, his time away from the game probably came at a great period.
You know, to have the injury, to recuperate, to witness the birth of his son, to be around his wife Elin and his daughter Sam and the dogs more often, I mean, it probably fired him up more. The break was probably perfect at this stage of his career. I know Phil [Mickelson] has played great this year, he's won two tournaments in L.A. and Doral, he's won twice at Augusta, so he's definitely a guy that you've got to take a hard look at, but I don't know, if you only had $100, who are you going to bet on? Come on.
For his victory at last year's Masters, Trevor Immelman earned $1.35 million.
In 19 starts on the PGA Tour since that time, he has earned just over $1.28 million.
It's not that the defending champ has played poorly in the 51 weeks following his victory; it's just that he hasn't elevated his game to the level of an elite player. And he knows it, too.
"You know, I don't think it was so much my game," Immelman told me earlier this year. "Mentally, I think I was having a hard time coming to grips with what I had just achieved. I think it took me a long while to digest the fact that I had completed a lifelong goal, and I think it took me a while to get my mind back on track to setting myself some goals and figuring out exactly what I would like to do after winning the Masters. It had such an incredible impact on me that it just took some time for me to get used to it."
Much longer than he would have liked or expected, in fact. Immelman finished T-2 in Memphis last year, losing in a playoff, but didn't register another top-10 until the season-ending Tour Championship. This season has been more of the same; his best result is a T-19 at the Transitions Championship and he's failed to break 70 in all but four of 18 stroke-play rounds.
Ask Immelman to name the only three players to win back-to-back green jackets and he'll do so without hesitation. ("Jack Nicklaus, Nick Faldo and Tiger Woods," he says correctly.) In order for the South African to become the unlikeliest member of a foursome, though, he'll need to turn things around this week.
It's improbable but far from impossible. After all, nobody expected him to prevail at Augusta National a year ago, either.
Thirty years ago, Fuzzy Zoeller became the third Masters rookie to triumph in his first try, but that fact is more than a little skewed. After all, the other two to pull off such a feat were Horton Smith and Gene Sarazen, who happened to claim the first two editions of the tournament back in 1934 and '35.
Needless to say, experience plays more than a little factor on this course as competitors often have to put in their dues before seeing a return on their investments.
Of course, that shouldn't stop us from examining the chances of this year's rookie class, which includes 19 total participants. This week's edition of The List breaks down the top five who could still be on the leaderboard come Sunday afternoon.
5. Ryuji Imada. This University of Georgia product has the right mindset, at least. "I'm going to enjoy the whole week," he says, "whether I play good or bad."
4. Oliver Wilson. No, Augusta natives Charles Howell III and Vaughn Taylor aren't in this week's field, but this Brit is the next best option; he played his college golf at nearby Augusta State.
3. Anthony Kim. He's got all the talent in the world, but a recent string of middling results doesn't exactly purport the type of entrance he'd like to make entering this event.
2. Ross Fisher. The world's 32nd-ranked player has seen his stock rise steadily in recent years. He recently finished fourth at the WGC-Accenture Match Play Championship.

1. Rory McIlroy. When Tiger Woods goes out of his way to notice the comeuppance of a 19-year-old, as has been the case recently, you know you're doing something right.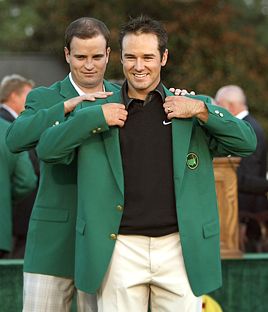 Don Emmert/AFP/Getty Imagess
They are the unlikeliest back-to-back winners in Masters history -- and it's not even close, really.
When Zach Johnson helped Trevor Immelman into his brand new green jacket last year, it signified a changing of the guard. Though both were obviously deserving champions and each could boast a formidable résumé, they have combined to form the least accomplished duo in the tournament's 72 years.
Let's examine the other contenders.
There have been a handful of other surprising winners, but none has been backed by an equally surprising winner the next year. Claude Harmon was sandwiched by Jimmy Demaret and Sam Snead; Art Wall was both preceded and followed by Arnold Palmer; Charles Coody had Billy Casper and Jack Nicklaus; Tommy Aaron had Nicklaus and Gary Player; first-timer Fuzzy Zoeller was flanked by Player and Seve Ballesteros; and Larry Mize won in between Nicklaus and Sandy Lyle.
A casual fan may point to the threesome of Gay Brewer, Bob Goalby and George Archer in 1967-69, but in reality, those three owned a combined 20 PGA Tour victories before Brewer won the 1967 Masters to start their three-year run, and none had fewer than five.
Johnson and Immelman, however, each had one career PGA Tour victory (Johnson at the 2004 BellSouth Classic; Immelman at the 2006 Western Open) prior to claiming victory at Augusta National.
All of which begs one simple yet oh-so-complex question: Why?
A few possible explanations ...
• Recent course changes have negated length off the tee, while also leveling the playing field. Whereas there used to be a limited amount of players who could even contend at any given Masters, that number might now include more than half the participants.
• Today's fields are deeper on a week-to-week basis than those of yesteryear, which means lower victory totals for strong players, but the players also have learned how to win on different levels. Perhaps it's the infusion of mental coaches and more of a concentration on that side of the game, but it could be that first-time contenders don't feel the ol' chicken bone in the throat like those in days gone by.
• Their careers more closely resemble that of Zoeller's than other Masters champions who have won later in their careers. Like Johnson and Immelman, this was Fuzzy's second PGA Tour victory, but he would go on to triumph eight more times during his career.
Whatever the case, it will be interesting to see whether this week's tourney reverts to old form with an accomplished player taking the green jacket, or another lesser-known guy can make it the least accomplished back-to-back-to-back champions in Masters history.
"I'll make sure that he double checks everything. We are going to play three practice rounds. I'm going to hit the golf ball within a certain area on every fairway. So he'll know the right distances from each sprinkler head. But I wouldn't fire him anyway."
-- Greg Norman on his Masters caddie.
As you can probably guess, the Shark isn't making such accommodations for just any looper. No, the man on his bag at Augusta will be none other than son Gregory, 23, who has gotten his feet wet by caddying for Dad in the Cap Cana Championship and Shell Houston Open the past two weeks.
"He's extremely excited about it," the elder Norman said. "We actually talked about it coming out in the car [Wednesday] morning. 'Hey,' I said, 'You getting ready to wear white overalls next week?' He kind of chuckled at it, but he's excited about it.
"I said, 'Next week at Augusta, it's going to be totally different. There's a lot more intensity and severity of these greens and carries and little knobs and humps and hollows where you don't want to go, just as much as where you want to go.' It's a good step for him. I'm proud of him. He's excited about it and just having him on the bag, like I said, is going to be a great moment for both of us."
If the tale sounds familiar, that's because Norman might be trying to channel his inner Jack Nicklaus. The six-time Masters champ, of course, had son Jackie on the bag when he won in 1986 at the age of 46.