Debating the issues surrounding eighth Presidents Cup

Circle Oct. 8 on your calendar, golf fans -- for two good reasons.
The first makes sense, if you think about it. This date marks the exact six-month warning until the opening round of next year's Masters at Augusta National Golf Club. And no, it's never too early to be excited about that.
2009 Presidents Cup
ESPN.com's Jason Sobel will be sharing his unique brand of live analysis from all four days of the Presidents Cup at Harding Park Golf Course in San Francisco.
Thursday, 2:30 p.m. ET
The second, of course, is because Thursday marks the beginning of the Presidents Cup, with the four-day competition between the United States and International teams kicking off at Harding Park in San Francisco.
The festivities were already affected by sorrow and intrigue before the week even started. On Friday, Kenny Perry's mother, Mildred, passed away after a lengthy battle with cancer; he later declared his intention to still compete for the U.S. side at this event. Meanwhile, International captain Greg Norman's loss was much less grievous, as he announced his 15-month marriage to tennis great Chris Evert had come to an end.
This edition of the Weekly 18 examines many other angles of the upcoming Presidents Cup, from Tiger Woods' potential partners to the biggest wild-card snubs to an ever-growing notion that the U.S. may need to lose one of these things in order to garner more interest.
Too much of a good thing?
Entering last year's Ryder Cup, the United States still held an overall advantage over its European counterpart but hadn't won the event since 1999, giving the rivalry all the appeal of that of a hammer versus a nail.
It was enough to warrant a warning from the most ardent of Europe supporters, as former captain and team member Seve Ballesteros said beforehand: "I hope the Americans win this year, in all seriousness. I see the Ryder Cup getting very boring because we are beating them so badly. Everybody is losing interest. I think it will be good if they win the next one. It would give the Ryder Cup a lift."
Another way to view the collective attitude toward the competition came from that of U.S. captain Paul Azinger, who argued that it was already given a lift from three consecutive European victories.
"In the end," he said, "it took America losing to make this popular."
The Presidents Cup will never be confused for the great-uncle that rears its head every other year, but some of these same ideas can be introduced for this event, too. In seven previous editions, the United States has lost only once -- back in 1998 at Royal Melbourne -- and tied one other time. The fellas representing the Stars and Stripes are already 3-0-1 this decade, giving this Cup a hammer-and-nail type of feel as well.
All of which begs the question: Does the U.S. need to lose in order to garner greater interest in this tournament?
"I think the International team needs to start winning some more," Perry said, "and make it to where the fans will see it and view it and make it a ... great event."
Even with more unpredictable results and a diminishing divide between the two sides, don't expect the Presidents Cup to ever match the intensity of the Ryder Cup. In other words, if that one is considered World War III, this one is the Civil War -- and more civil, too.
There will be an increased familiarity among the players at Harding Park, as 11 of the 12 members of the International team currently compete full-time on the U.S. circuit. If the Ryder Cup is a big varsity match, this has more of an intramural feel.
It's a notion that has been echoed by each of this year's captains.
"Way back [in the late 1980s], a lot of the European players didn't play on our tour, and if there was a comment made here and they got it back, whether they were in Ireland or London or somewhere, it had an effect, because they didn't really know us as well," U.S. captain Fred Couples said when he was named to the position last year. "If I made a comment about Sandy Lyle and I didn't know him, it would be misconstrued or taken ... in a tough way, whereas almost it's laughable [with] the Presidents Cup teams. Guys will laugh with each other and it's really a laid-back situation."
Norman echoed Couples' assessment.
"The Ryder Cup has got a lot more history under its belt, and that history creates, well, whether you want to use 'contentious moments' or 'special moments' or 'great matches.' At the same time, I believe that those contentious moments, if you interpret them the wrong way, they get blown out of proportion as Freddie said so correctly," Norman added. "I know when we got our rear ends handed to us by the U.S. team, we always went over and joined the Americans in their villa for whatever we want to drink, iced tea or coffee or a glass of wine at the end of the day. And I think that's the spirit that's always been there and will continue to be maintained, because we do play week in and week out and we do see each other in the locker rooms more often. ... Even though it's one-on-one and everybody wants to beat each other, no question, it's done in a spirit that's reflective on the true spirit of the game of golf."
The spirit of the Presidents Cup has never been in question, but the lack of competitiveness throughout the years is without doubt. Will a victory from the International team this week help enhance the overall product going forward? Maybe not, but a decisive triumph from the American side could do more damage than good.
2 Phil Mickelson and Vijay Singh.
There are two players who can say they've seen it all at the Presidents Cup. Literally.
Mickelson and Singh have been the only men to compete in every single edition of the event to date, each starting in 1994 and taking part in his eighth one this week. As such, both are among the highest point-scorers in the tournament's history.
"It's interesting how the Presidents Cup has evolved," Mickelson said recently. "I mean, here we are 15 years later. ... I think it's been successful. I think it's been fun to play in. It's fun to represent your country."
And yet, it hasn't been all fun and games for these guys. The truth is, each player owns a losing Presidents Cup record.
For the U.S. side, Mickelson is 11-13-9 in his career. His only winning record is in fourballs (5-4-4), as he's just under .500 in foursomes (5-6-2) and only has one singles victory (1-3-3) -- ironically enough, a 5 and 4 win over Singh two years ago.
As if we needed more parallels, Singh's record for the International team is eerily similar, as he owns a 14-15-6 career mark. Like Mickelson, he has a winning record in fourballs (8-5-1), a losing record in foursomes (5-6-3) and only one win in singles (1-4-2) -- his lone full point coming in 2003 against David Toms.
3 Adam Scott.
Nope, that's not a typo. Scott's name really is listed under the "Three Up" section this week.
If you've paid any attention to the professional ranks this year, you no doubt know of Scott's travails, which have lasted for the normal gestation period of a human fetus. Since finishing in a share of second place at the Sony Open in January, he missed the cut in 10 of his next 16 starts, with a best result of T-33 that occurred only when he lost in the first round of the WGC-Accenture Match Play Championship.
Until this past week, that is.
Granted, Scott wasn't exactly opposing a stellar field at the Fall Finish-opening Turning Stone Resort Championship and no, it's not like he won the thing, but after such poor results for most of the season, his T-35 finish should be viewed as a rousing success.
In conditions that could make even a blustery Harding Park seem like, well, a walk in the park, the controversial captain's selection posted rounds of 68-70-70-72 that included 20 birdies.
And therein lies the optimism concerning Scott's game -- especially as it relates to the Presidents Cup. It would be more disconcerting if Scott was shooting decent scores without making many red numbers; instead, his birdies have been offset by the occasional big number, as he also faltered with a few double-bogeys in New York.
Of course, those blow-up holes won't hurt as much in this week's match-play format. If he can continue putting up birdies, Scott may just prove Norman right after all.
4 The United States half-dozen.
Here's the final leaderboard from the FedEx Cup finale at East Lake Golf Club last week:
1. Phil Mickelson
2. Tiger Woods
3. Sean O'Hair
T-4. Kenny Perry
T-4. Padraig Harrington
6. Steve Stricker
T-7. Jim Furyk
What do six of those seven players have in common? Other than Harrington, each is a member of the U.S. Presidents Cup team.
There is no indication that results from Atlanta will travel cross-country after a week off and translate into success in San Francisco, but keep this in mind: It's always better to be hot than not.
All told, 10 of the 12 U.S. players -- all but Justin Leonard and Anthony Kim -- competed in the Tour Championship, posting an average result of 9.2. Meanwhile, half of the International team was in the field, but didn't fare nearly as well, netting an average position of 17.3. Leading that group was Ernie Els in ninth place, followed by Angel Cabrera (T-13), Geoff Ogilvy (T-16), Y.E. Yang (18th), Retief Goosen (23rd) and Mike Weir (T-25).
Again, these numbers could mean next to nothing at Harding Park, but they've got to inspire some optimism in Fred Couples' troops.
5 Greg Norman.
When the United States and International teams ended in a tie six years ago in South Africa, it was suggested that the captains -- Jack Nicklaus and Gary Player, respectively -- battle it out head-to-head on the course. It was an idea, of course, that lost traction as soon as it was submitted, for obvious reasons.
If the captains were called upon to tee it up this time around, the U.S. would own a decided advantage, with Fred Couples' notoriously faulty back leaving him healthier than Norman, who underwent arthroscopic surgery on his right shoulder Wednesday.
"The procedure will in no way impact my responsibilities at the Presidents Cup," he said, although that's not entirely true.
If "responsibilities" include filling out a lineup card, Norman will be at a disadvantage, with his arm in a sling throughout the proceedings.
There was some levity in the situation, though, and it came in the first paragraph of the original press release, which read: "The procedure was scheduled to allow adequate time for rehabilitation, meaning Norman's December playing schedule should not be interrupted."
Hmmm ... when was the last time a pro golfer scheduled surgery in order to return in December?
Then again, Norman has his reasons, as he will attempt to play in the Australian Open and his own Shark Shootout before the end of the year -- both viable explanations for wanting to regain full health before the calendar turns over.
Even bigger news is that he'll team in the Shootout with ... none other than Fred Couples.
"I think that's a great thing for myself and Freddie," Norman said Friday. "We're great friends and we talked about it at length up in Washington, D.C. [on Sept. 8]. Went up there for the last press conference for the Presidents Cup and [I'm] just proud to say that he'll be my partner."
When U.S. captain Fred Couples named his wild-card selections Sept. 8, there were no surprises, as he called upon 2007 team members Lucas Glover and Hunter Mahan.
Good, solid picks. In fact, Glover was a no-brainer, as the U.S. Open champion's failure to qualify for the team might say more about the points system itself than his accomplishments this season.
Mahan wasn't quite such a slam-dunk choice. I happen to think he's one of the most talented young players in the game today, but with a 2-3-0 record at Royal Montreal last time around and no PGA Tour victories since then, his inclusion on the roster is certainly up for debate.
Among those who made a bid to be picked instead of Mahan were Brian Gay, Scott Verplank and David Toms. Perhaps no one was a bigger snub than Johnson, who won at Turning Stone late last year and at Pebble Beach in a rain-shortened event earlier this season. He had five top-10s in two dozen starts through the Tour Championship, including a T-4 at TPC Boston on the eve of Couples' announcement.
"I think Hunter was my pick all along, and he did nothing to push his way off the team, whereas Dustin did everything to make me basically make about 40 more calls last night, and I didn't sleep too much," he said. "But Dustin will be on a lot of teams, believe me."
If Harding Park plays as it did when it held a WGC event four years ago, expect the team to miss Johnson's prodigious length off the tee. On a course where bombers Tiger Woods and John Daly duked it out in a playoff, Johnson's average driving distance of 308.4 yards -- third on the PGA Tour -- could have been as much of an advantage as that of fellow long hitter J.B. Holmes at last year's Ryder Cup.
7 John Senden.
If Couples' picks were the equivalent of laying up to a safe spot in the fairway, then Norman's were akin to going for an island green in two with a fairway wood.
With his first selection, the Shark called upon teenage wunderkind Ryo Ishikawa, which seems like a reach only until you realize that his three worldwide victories this season are more than any player who qualified automatically. The kid nicknamed "Bashful Prince" didn't own a great season on the biggest stages -- he made the cut in only two of six PGA Tour-sanctioned starts, with a best finish of T-56 at the PGA Championship -- but with dozens of photographers following his every move, he is accustomed to life under the spotlight and playing with pressure.
Norman's second choice, however, was ripe for debate. Though Adam Scott had once ascended to No. 3 in the world, he went into a tailspin that became a major league slump this season. Capital S, capital LUMP. Another captain without a prior relationship with Scott might not have even placed him on a short list of candidates.
Needless to say, there were less controversial picks available. Rory Sabbatini and Jeev Milkha Singh were the highest-ranked players to be left off the team. Stephen Ames, K.J. Choi and Rod Pampling are all experienced veterans who could have filled the role. And if you want to get really creative, Michael Sim was a possibility after winning three times on the Nationwide Tour to earn an in-season promotion to the big-time.
No potential candidate, however, has as much of a beef as Senden, who placed only 31st on the final points list, but really came on strong in the past two months. The Aussie earned a share of second place at the Buick Open, then followed with a strong showing in the FedEx Cup, finishing T-11, T-20 and T-10 in the final three playoff events.
He also leads the PGA Tour in greens in regulation (70.54 percent) -- a category in which he's finished outside the top 10 only twice since becoming a full-time member in 2002, and never outside the top 30.
To his credit, at least Norman recognized the abilities of his countryman, never naming Senden on his short list of possibilities, but at least alluding to him afterward.
"I went down to, I think, No. 31 on my list," he said. "I had to take a lot of things into consideration."
If Scott has trouble finding his swing at Harding Park, Norman may consider the fact that he left one of the game's purest ball-strikers at home for the week.
8 I wish we knew exactly what role Michael Jordan will serve for the U.S. team this week.
That's right. Michael Jordan. As in one of the greatest hoopsters to every play the game. And now? Very possibly some sort of assistant captain.
When Couples was named to the captain's position on Feb. 26 of last year, he mentioned two names as possible assistants: comedian Robin Williams and MJ. As it turns out, he was only half-joking. The official assistant role went to Jay Haas, who is neither hilarious nor a high-flying dunker. That doesn't mean at least one of those entertainers won't be involved, though, as it's believed that Jordan -- a single-digit handicapper in his own right -- will have a seat in the team room throughout the week.
"I've held that guy on a pedestal since I was about 4 years old. That's going to be awesome," Zach Johnson said of the prospect of playing for Jordan. "I don't really know how to explain it. To me, it almost seems a little surreal right now, knowing that arguably the best or one of the best athletes of all time is your assistant captain, I guess he is. I don't know what you'd call him. 'Hey, Captain!' I don't know what I'm going to call him. I'll probably get tongue-tied. I've met him on a couple of occasions, Cups and stuff like that, and he seems like a normal guy, just great. Some of the players know him better than I do. They say he's easy to be around; he's fun to be around."
"To us, it's going to be cool just to hang around with that cat, just to be able to just go up and shake his hand and listening to his stories," Kenny Perry said. "I want to hear some NBA stories. I don't want to hear no golf stories."
On the surface, it wouldn't appear the six-time NBA champion has much to offer some of the game's top pros. Then again, no assistant is doling out swing tips to team members anyway. He'll be able to regale them with a few stories, provide some motivational speeches and talk about what it's like to play for your country.
And isn't that what being a captain -- sorry, assistant captain -- is all about anyway?
9 I wish the Harding Park greens would be at an optimum level this week.
When asked about the putting surfaces Sept. 8, exactly a month before the first day of competition, Norman admitted, "To be honest with you, there are some concerns." That's obviously not a very good sign so late in the proceedings.
There was an incident of overfertilization July 23 that led to damage on nine holes and temporary greens being used on five of them: Nos. 1, 3, 7, 11 and 13. Course officials, however, are confident that there will be no issues come Thursday.
"It has been blown out of proportion a little," said Harding Park superintendent Wayne Kappelman. "It was repaired within a week. All 18 greens are in great shape and the whole course is where it should be. Every course has something happen; this was just unfortunate timing. It seems that to dwell on those issues would discredit the three years of preparation and hard work. After everything that has gone into getting ready for this event, it seems rather minor in comparison."
"I think what our agronomists are looking at is comparing it to 2005, and they feel like we're right there," PGA Tour commissioner Tim Finchem stated last month. "We had the same issues. We were softer late in the summer, and then by October the dry period coming in, the people were able to get the golf course where we wanted it to be. If it's a normal weather pattern, we feel very optimistic we'll be able to get that done again this year. The concerns we had a year and a half ago have largely evaporated. There was a little bit of damage, but we feel now we're on the right track and we'll be ready in four weeks."
Despite rampant optimism, it remains to be seen whether these greens will be up to professional standards this week. If they're not? Well, players are never bashful about their criticism of poor surfaces. Such an outcry could lead to egg on the face of both the PGA Tour and Harding Park.
10 I wish the world could witness the two captains matching up players each evening during the event.
It may seem like a minor detail, but the Presidents Cup dusts its Ryder Cup counterpart by a 9 and 8 score when it comes to the way in which competitors are matched against each other.
At the Ryder Cup, captains submit a list of names in a sealed envelope, which is later unveiled to reveal entirely random matchups. The Presidents Cup, however, offers the men in charge a chance to serve up some tasty confrontations, as one submits a name that is countered by the other.
The best way to explain it is that the process is similar to a fantasy football draft, right down to the snake format that changes the order for each round.
Sound like fun? Well, it is.
And here's a dirty little secret you never knew before: This "draft" is shown live on closed-circuit television at the course each evening from Wednesday through Saturday, when journalists can witness a glimpse into the inner machinations of the process.
If you're jealous, I don't blame you; in some respects, the player matchups are every bit as exciting as the matches themselves -- maybe even more so. Here's the idea, and it's a simple one: Rather than showing this to only a select few at the course, open up the proceedings to a live television audience. It's great drama and would absolutely keep you from clicking away as soon as the final putt drops each day.
Jason Sobel is a golf writer for ESPN.com. He can be reached at Jason.Sobel@espn3.com.
Presidents Cup vs. Ryder Cup
In five previous Presidents Cup appearances, Tiger Woods has posted a severely ordinary record in partnered matches, compiling a 3-7-0 mark in fourballs and 7-2-1 in foursomes for a 10-9-1 overall total.

Perhaps the biggest reason is the lack of a regular running mate. Woods has been paired with seven different players over the years; of those, only two are on the current roster: Jim Furyk and Justin Leonard. (The others? Charles Howell III, David Toms, Notah Begay, John Huston and current captain Fred Couples.)
Which players have the best chance of competing alongside Tiger over the event's first three days this time around? This week's edition of The List breaks down the possibilities:
5. Stewart Cink. One of four teammates who also plays a Nike ball, he could be a solid alternate shot option.
4. Anthony Kim. If he was on the opposing side, AK would be the guy asking to play TW in singles. Instead, he'll settle for playing with him.
3. Sean O'Hair. One day before the Tour Championship, Tiger gave his buddy a putting tip during a practice round. It led to a third-place finish.
2. Jim Furyk. They've teamed in the Ryder Cup before and in this event, in which Woods and Furyk own a 3-1-1 record together.

1. Steve Stricker. The two players certainly know each other's games, having been paired together seven times in the past month. "I think it would work great," said Stricker, who intimated they've discussed the idea. "I think I could ride him all the way."
Quick: Which 2009 Presidents Cup competitor has earned the most points in tournament history? If you said Tiger Woods, Phil Mickelson or Vijay Singh ... you're wrong.
The correct answer is Jim Furyk, whose 27 total points (13-8-2 overall match record) are a half-point more than each of those aforementioned players. For his career, which has included appearances in each of the past five editions of this event, Furyk owns a winning mark in all three formats: He is 5-4-0 in fourballs, 4-3-2 in foursomes and an impressive 4-1-0 in singles.
Even with a perfect performance this week, however, Furyk couldn't overtake the all-time points leader. That would be Davis Love III, who has recorded 34 total points, thanks to a 16-8-4 record.
acejoemayo @JasonSobel Who do you think Captain Norman is most likely to put head-to-head with Tiger on Sunday? Mike Weir or Y.E. Yang? ...Adam Scott?
All three are viable options. Two years ago in front of the home crowd, Weir defeated Woods in an emotional singles match. Yang, of course, has owned the best recent experience, besting his playing partner at the PGA Championship, but has repeatedly stated he's not in the market for a rematch. And Scott -- well, that could be a strategic move by Norman should he place his mentee in the role of sacrificial lamb for the sake of the team.
There are plenty of others, though, too.
Ryo Ishikawa would allow a glimpse of the present world No. 1 against a player who could very possibly be a future No. 1. Ernie Els has faded in Tiger's shadow many times, but their playoff at this competition six years ago was legendary. Tim Clark beat Woods in the second round of the WGC-Accenture Match Play Championship earlier this season. And Vijay Singh might the most difficult player in the world to intimidate. Remember, his caddie once wore a hat that read "Tiger Who?" when they faced each other in this event.
That said, I'd put my money on Geoff Ogilvy, who has proved to be one of the world's pre-eminent match-play competitors in recent years. The Aussie owns a 17-2 career record at the WGC tourney, including wins in 2006 and '09 -- when he beat a star-studded lineup featuring Camilo Villegas, Rory McIlroy, Stewart Cink and Paul Casey -- and defeated Steve Stricker 1-up in his only previous Presidents Cup singles match.
What makes Ogilvy so proficient in this format? His ability to control the mental side of his game.
"I don't think I've conquered match play," he said after winning the AMPC in February. "I think I have made a concerted effort to stay on an even keel in match play. It's much more important, I think, in match play than it is in stroke play, because when you're playing 156 other guys or you're playing next to 156 other guys, they don't give two hoots about what you feel about your 8-iron into the fourth hole. But when you're playing the guy right there, a lot of match play is feeling like you're beating him, whether you are, it's feeling like you're getting on top of a guy, and it is under your control to not let him feel like that. That is in your control. You can behave however you want, so if you behave like he's getting to you, that's going to make him play better potentially. So it's definitely a concerted effort to not let the guy know what's going on inside my head."
Sounds like another guy we know. The same guy who could face Ogilvy in an all-important singles match come Sunday.
Wanna be considered for future W18 columns? Hit me at Jason.Sobel@espn3.com or follow along on Twitter.
"I guess he just texts. I heard he doesn't use the phone. I heard if you call him he won't answer; he's afraid somebody's at the other end."
-- Kenny Perry on U.S. captain Fred Couples.
It's a humorous -- and not untrue -- statement from a fellow elder statesman, as Perry, 49, is just one year younger than Couples.
Then again, the team member isn't going on much. He followed this by answering a reporter's next question with the following QOTW nominee: "I don't know Freddie very well, even though I've been out here as long as he is. Freddie to me is kind of aloof, kind of out there. He's just a loose cannon. You never know what's coming out of him. Really, he'll be nice and laid-back, and then all of a sudden he'll get on a tangent and a tear and I've seen him just rip some guys before."
Interesting comments from a guy who has spent the past quarter-century in the same locker rooms and on the same courses as Freddie. Will be even more interesting to see how these two men interact throughout the week.
On paper, the United States is a heavy favorite over the International team this week. The guys in red, white in blue own a 5-1-1 all-time advantage in the series and haven't lost since 1998. As if that weren't enough, they have an average world ranking number of 16.5, with 22 total major championships, compared with a 34.7 average ranking for their counterparts with nine fewer major titles.
Of course, as my friend Kenny Mayne says, "We all know that games aren't played on paper. They are played by little men inside our TV sets."
If we've learned anything about these competitions over the years, it's that we should throw out the records -- both old and current -- when trying to forecast a final scenario. As I say about the Ryder Cup every other year, if they played it 100 times with the same teams, they very well might come out tied at 50 wins apiece.
Same goes for the Presidents Cup, in which any prediction should have a warning label affixed. Twist my arm, though, and I'll give the advantage to the favorites, simply because the U.S. players have been hotter more recently. I could see the team MVP coming from a group that includes possible player of the year runner-up Steve Stricker, emotional pick Kenny Perry and rookie Sean O'Hair. And oh, by the way, that Tiger Woods guy is worth keeping an eye on, too.
Expect a close, entertaining, dramatic contest, but in the end, I see the little men of the U.S. team hoisting their flag in victory on our TV sets for the sixth time in eight attempts at this event.
The Presidents Cup will someday be combined with the Ryder Cup to include all the world's best players.
At some point while watching one of these biennial competitions, you've no doubt turned to the guy next to you at the 19th hole and proclaimed, "Hey, it would be awesome if ..."
Let me stop you there for two reasons. First of all, nothing personal, but producing a combined Ryder/Presidents Cup is hardly a unique idea; we've all had a similar thought at one time or another. And secondly, it's not going to happen. Ever. That's because the Ryder Cup is governed stateside by the PGA of America and the Presidents Cup is presided over by the PGA Tour. Yes, they're different organizations, and no, they're not going to combine forces any time soon.
Then again, it's not totally out of the realm of possibility to someday have a competition that includes players from everywhere in the world. Just spitballing here -- I've heard no rumors to back this up -- but maybe there could be a time when the Presidents Cup joins with the Vivendi Trophy (formerly the Seve Trophy) to include European players, too.
In case you missed it, the Vivendi Trophy was contested in France two weeks ago, as a team of players from Great Britain and Ireland defeated those from the rest of Europe. Held biennially during the same years and same time of year as the Presidents Cup -- in fact, they've been played on the same weekend in the past -- it's not inconceivable that the European Tour could create an all-inclusive event with its American counterpart for which all of the world's top players would be eligible.
There has been no talk about such a merger, which may neither be feasible nor hold interest for either party. Those would be the foremost topics in any preliminary conversation. And then there are the details. Would it be a four-team competition? Would each team compete every two years? Where would the tournament be held? Would players buy into the idea?
The one thing I'm 100 percent positive about is that the Ryder Cup and Presidents Cup will never live together as one event -- well, at no point in the near future, at least. This means the above statement is FICTION. But it doesn't mean a similar event couldn't take place every other year. Someday.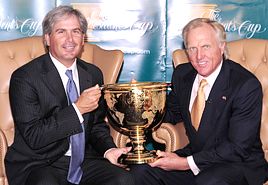 Karen Bleier/AFP/Getty Images
As sarcastic and biting and -- let's face it -- fun as captains Paul Azinger and Nick Faldo were at last year's Ryder Cup, expect a stark contrast in interview room entertainment value this week, with Couples and Norman taking a more subdued, dignified approach to their roles.
It's actually symbolic of the differences between the Ryder Cup and the Presidents Cup: one serving as cutthroat competition, the other filling a role as an understated match among friends.
Don't expect that to change this week, with Couples and Norman rarely making headlines, instead acting cordial toward each other throughout the event.