WHITE SULPHUR SPRINGS, W. Va. -- Tiger Woods has been abysmal this year.
Let's not sugarcoat it. He hasn't just been abysmal by lofty Tiger standards, either. He's been abysmal for any PGA Tour pro. He's played in six tournaments, finished four rounds just twice and earned less money than 179 of his peers. He's second-to-last in strokes gained from tee to green and second-to-last in bogey avoidance, with only Mike Weir to thank for keeping him from the cellar.
So, yeah. Abysmal is the right way to put it.
Not like that's any sort of major revelation. You understood all of this before ever clicking this link; you were keenly aware of his snowballing struggles. Even if you didn't know he'd sunk to 220th in the world ranking, you knew he wasn't anywhere close to the top anymore.
What you might not know is that there's reason for optimism this week. There's reason to believe that Tiger's recent run of dreadful drives, chunked chips and poor putts could give way to something more, well, Tiger-like here at the Greenbrier Classic.
No, before you spit-take coffee all over your screen, this isn't a prediction that he will win for the first time in nearly two years. Or even contend. His main goal lately, though, has been about improvement -- and there remains adequate evidence that he'll attain this goal.
With that in mind, here are "Five Reasons Tiger Should Be Optimistic About This Week," alternately titled "Five Reasons Tiger Might Not Be As Abysmal This Week As He's Appeared So Far This Year."
1.The Field
In each of Tiger's last three starts -- not unlike most of his starts throughout his career -- he's been playing against elite fields. At the Masters, 49 of the world's top 50 teed it up; it was the same at the Players Championship; and at the U.S. Open, it was a perfect 50 for 50.
This week? Only 10 of the top 50 are here in the West Virginia foothills. That includes just one player in the current top-10 -- last week's champion, Bubba Watson.
What it means is that this tourney should serve as a better litmus test for Woods' game than those previous starts. If his game isn't elite right now, then it only makes sense that testing it against elite fields hasn't been successful.
If he struggles to compete against a field of the PGA Tour's proletariat, that speaks greater volumes than failing to beat the elite.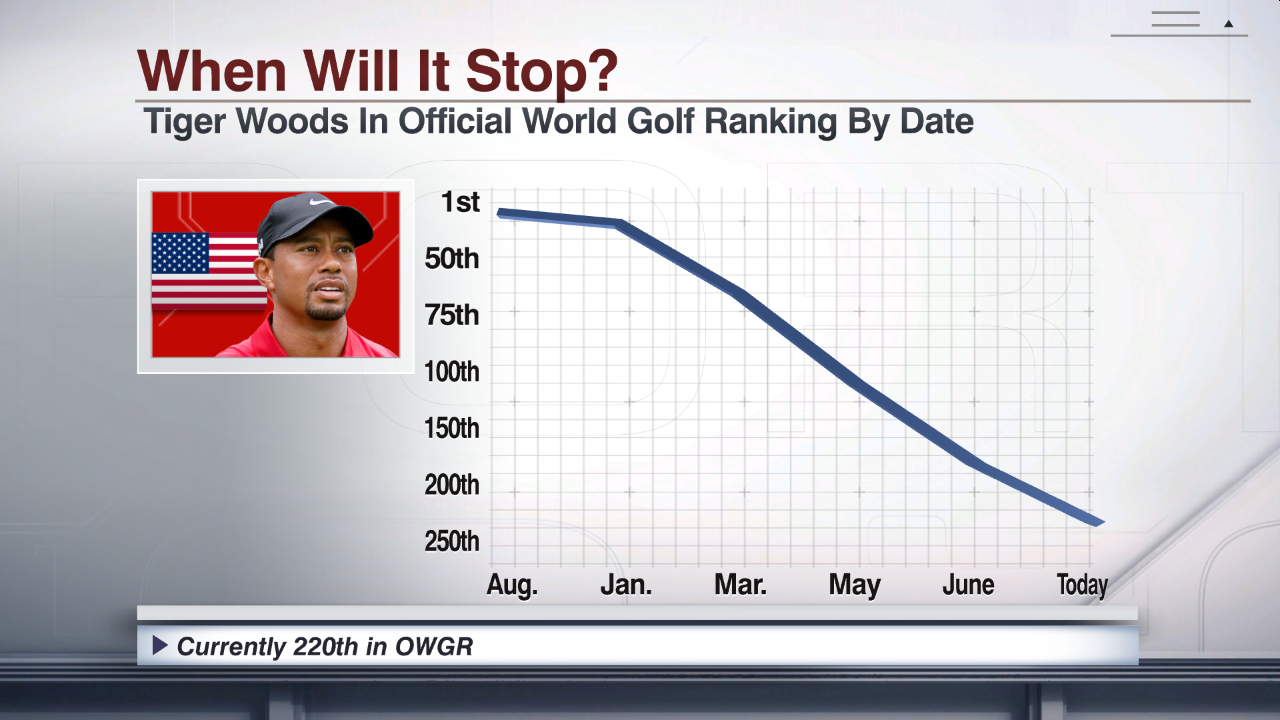 2. The Scoring Average
Tiger hasn't just been playing tougher fields lately; he's been playing tougher courses.
At the Masters, the scoring average was 72.54; at the Players, it was 72.08; and at the U.S. Open, it was 72.47.
Here at the Greenbrier, though, the scoring average has been between 69.78 and 70.59 each of the past four years.
Granted, every player will be playing the same course this week, but an easier track should eliminate the prospect of another big number for Tiger. Speaking of which, he owns three scores in the 80s this year in just 16 rounds. The only other players with that many in the 80s? Lucas Glover and -- yep, him again -- Weir.
3. The Atmosphere
For years, there has existed a definitive stress level surrounding Tiger's group during competition that isn't palpable for other players. It's as if he and his playing partners are encased in a bubble, the pressure emanating from within.
There might be a few lower-stress events on the annual PGA Tour schedule -- the Hyundai Tournament of Champions on the island of Maui comes to mind -- but not many. Some players use this week as a de facto summer vacation, spending any hours away from the course enjoying the resort's plentiful activities.
The point is, this isn't a traditional Tiger type of venue.
There might be an element of stress still surrounding his group, but it will be less here than anywhere else.
Maybe that won't have any effect on his overall performance, but it certainly couldn't hinder it.
4. The Pro-Am?!?
Every time I hear somebody analyze a pro-am round, I get Allen Iverson's famous "practice" speech stuck in my head. The game's best players often insist they want their games to peak four times per year for the majors; view that from a more specific window and you'll also see they want their games to peak four times per week -- and Wednesday isn't one of 'em.
As proof of how much pro-am success actually means to the pros, Tiger owns 79 career PGA Tour victories, but maintains he's never won a single pro-am.
Think about that: He's played in more than 300 of these things. At some point, you've got to think a few Grade A sandbaggers would've picked his name at the pairings party and turned their 7 a.m. tee time into an end-of-day trophy.
So, no ... pro-am performance doesn't mean much.
But in this instance, it shouldn't keep us from at least understanding what is possible.
Playing in the first group off the tee Wednesday morning, Tiger hit every fairway and green in regulation on the front nine, his streak only broken on the 11th hole, when he missed the front of the putting surface by a mere six inches. His swing appeared fluid, not forced; it looked natural, not erratic.
That doesn't mean he can take Wednesday's play to Thursday, but it does mean he's capable of keeping his ball in the right positions.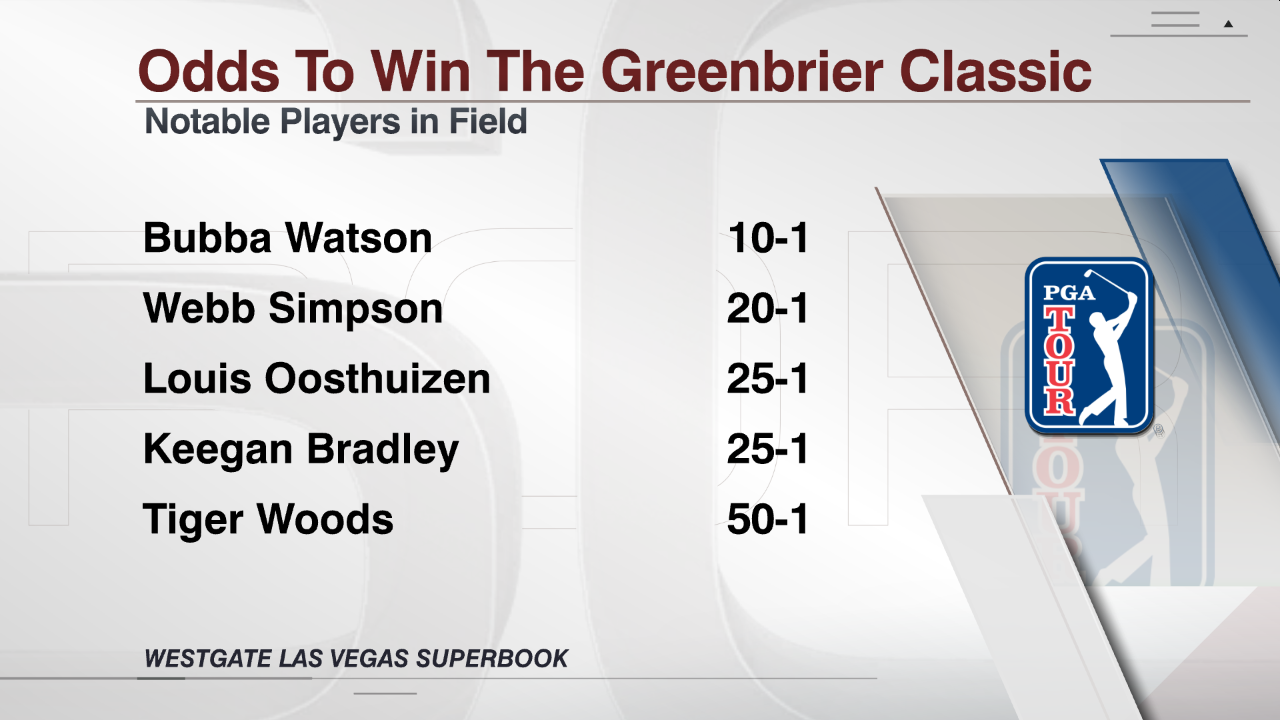 5. The Necessity
We're getting very close to "lost season" territory for Tiger.
It wouldn't be the first time, of course, and it probably won't be the last. But there's a very strong possibility that his seventh start of the year could be followed by three more -- and nothing else.
Tiger will play the Open Championship in two weeks, his own Quicken Loans National two weeks after that and the PGA Championship two weeks later. As of right now, that would be the end of his season before he starts anew at the Frys.com Open, which kicks off the 2015-16 PGA Tour schedule in October.
He isn't currently qualified for the WGC-Bridgestone Invitational, nor is he among the top 125 which reach the FedEx Cup playoffs.
For a player who constantly maintains that he needs more reps, Tiger is getting dangerously close to losing a chance to get more reps, effectively ending his season before it ever really began.
At this point, he probably doesn't need further motivation to improve -- and improve quickly. But if knowing that more tourney starts will only come from better results helps light a fire under him, well, it could be reason for a little optimism -- cautious optimism -- this week.