That sound you hear echoing around the country? All the Auburn University folks screaming "War Eagle!"
One day after the school's football team thumped previously undefeated Georgia, alum Patton Kizzire claimed his first PGA Tour victory.
Pretty decent weekend for the Tigers.
Kizzire didn't make it look quite as easy as the football team, but there were some similarities. This edition of the Weekly 18 begins with an examination of how a loss last year prepared him for the win this week.
1. Thirteen months ago, Kizzire led the Safeway Open on the back nine Sunday, only to finish discouragingly short of the win. He was asked afterward about what he'd take from that and offered, "I'm definitely disappointed. That was probably as close as I've been to winning, but I'm going to take the positives from it and try to put myself back in a good spot. I learned a lot today." There's little doubt that loss helped him win this weekend.
2. I say this all the time, but I still feel like I can't say it enough: Fans too often view close calls as negative outcomes, but players themselves usually take more positives from the experience than anything else. Maybe it's because there often isn't a direct correlation and the fans don't see it, while a guy like Kizzire can point to his best previous finish and know that he learned something from that situation.
3. There were certainly better golf shots this week, but none was more important than Kizzire's approach into the final hole. His ball lying about 2 feet right of the left fairway bunker, he set up for the shot with his heels hanging over the hazard, then hit a beautiful shot -- considering the circumstances -- to the front-left part of the green. From there, he two-putted for par and the win.
4. Early in his career, I always thought Rickie Fowler would've benefited from playing against more fields that didn't necessarily include the best players. As you'll recall, Fowler's rapid ascendancy meant that he was quickly qualified for major championships, WGCs and invitationals. One byproduct is that it helped him earn ranking points and gave him invaluable experience against the stiffest competition. Another is that he struggled to "learn" how to win, claiming only a single victory in his first five PGA Tour seasons.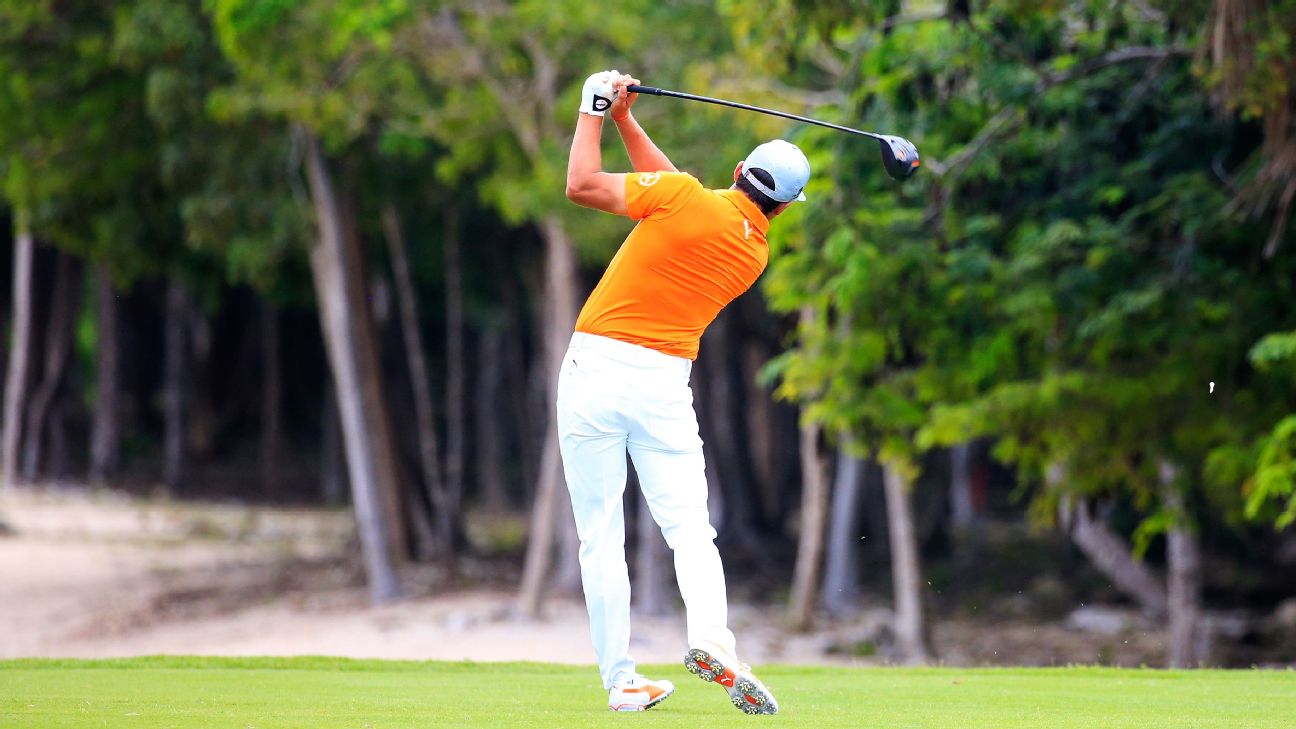 5. Granted, Fowler is past the point of his career where he has anything to prove to himself or anyone else in these types of events, but it was still good to see him teeing it up at Mayakoba as the highest-ranked player in the field at No. 10. There was a time when finishing in second place would've caused him more heartache than hopefulness, but this should be a nice performance to build on as he prepares for next year.
6. If I'm Keith Mitchell, I would've at least considered pulling a Costanza. The PGA Tour rookie made a hole-in-one on his opening hole of the first round this week, which means he could've simply walked off the tee box, waved to his playing partners, and in true George Costanza form, said, "All right, that's it for me! Be good everybody!"
7. Jason Day turned 30 on Sunday -- and with it, he might find himself at the crossroads of his career. The former world No. 1 is now ranked outside the top 10 after a year in which he failed (so far) to win a single tournament. Add to that a third child expected soon, a balky back, a caddie change and continued insistence that he doesn't expect to have a lengthy career, and it's difficult to see Day's performance being as fruitful in his 30s as it was in his 20s.
8. This is getting silly. The business of announcing tournament venues years in advance might have jumped the shark on Wednesday, when Olympic Club was named host of the 2028 PGA Championship and -- mark your calendars here -- the 2032 Ryder Cup. For the mathematically challenged, the latter is 15 years away, which means that your favorite 8-year-old should start practicing a little harder if he hopes to make that team.
9. Hey, at least organizers stopped short of naming Rickie Fowler and Rory McIlroy as captains. But here's how ridiculous this is: There is currently no venue in place for the 2026, 2028 and 2030 editions of this event, but they've got 2032 covered already.
10. Don't get me wrong. Nothing against Olympic Club here. Terrific course and a NorCal edition of the Ryder Cup should be a huge success, both on site and in the prime-time viewing window for Europe and much of the United States. I just don't understand the rush. The event isn't going anywhere -- and neither is the course.
11. I have conflicting thoughts about Branden Grace, who won the European Tour's Nedbank Golf Challenge this weekend. On one hand, the 29-year-old is obviously immensely talented. With five finishes of sixth or better in majors over the past three years -- more than Dustin Johnson, Jason Day or Rory McIlroy during that span -- he ranks among the most "underrated" players (to use an entirely nebulous term) in the world, on the short list of guys we'd expect to win a first one soon ...
12. On the other hand, if Grace is indeed so talented, it shouldn't have taken him nearly a year and a half to claim his first win since last year's RBC Heritage. Granted, winning is never easy -- and maybe this is the start of a handful of 'em coming shortly -- but it's difficult to pinpoint his place on golf's current hierarchy, considering those impressive major results but lack of recent titles.
13. Speaking of talent, Shanshan Feng has always owned a ton of it. Now she's seeing it translate into the greatest success of her career. With her second straight victory, Feng will become the new world No. 1 -- and first Chinese player, male or female, to own that distinction -- when the new ranking is released on Monday. Of the 13 different players to hold the top spot since the ranking was introduced in 2006, Feng, 28, will become the third-oldest first-time No. 1, after only Annika Sorenstam and Stacy Lewis. The real question is how long she'll last in that spot. Two of the past three top-ranked players remained in that position for two weeks and one week, respectively.
14. I really liked what Feng had to say after winning in her native China -- and taking over that coveted ranking. "I actually claimed the world No. 1 in front of all the people at home," she said. "I'm really happy about that and I hope all the Chinese are going to be watching me ... Hopefully, there will be more Chinese getting on the tours and more world No. 1s coming up from China."
15. Among the notable players to advance through the second stage of PGA Tour Q-school this week were former college stars Maverick McNealy and Sam Burns. Why is that so important? As McNealy tweeted afterward, simply advancing to the final stage guarantees at least partial Web.com status for the upcoming season. For players like these, just having that opportunity could unlock the secret to success.
16. Then there's my personal favorite story of Q-school advancements to the final stage. I've gotten to know Kevin Hall over the years, writing about him when he played the Genesis Open back in February. Hall is deaf, but that's hardly the essence of his story. He's a likable guy with an infectious laugh who has put in some hard work to reach this point in his career. Here's hoping this is just the start of bigger things for someone who has waited so long for this breakthrough.
17. Another great story failed to transpire at Q-school. One week after turning a sponsor's exemption into a T-10 at his local PGA Tour event, Las Vegas resident A.J. McInerney eschewed another start in favor of the second stage, but couldn't replicate that success. As I wrote last week, another tourney looking for a feel-good story could do much worse than offer another spot to McInerney.
18. I'll leave you with a laugh -- but I take no credit for this one. Just after Kizzire's win, Smylie Kaufman tweeted a photo of the two of them as junior golfers. And, well ... let's just say one of them looked a little more junior than the other.