EVERY TWO YEARS, U.S. and Euro golfers gather in the name of pettiness, jingoism and wounded pride. Behold! our Couch-Caddie Guide to the Ryder Cup.
---
MAY THE BETTER TEAM WIN? THAT WOULD BE EUROPE
If past is prologue in this Ryder Cup, which begins Sept. 28 at Medinah Country Club in Chicago, then the career records of both current rosters deliver a clear verdict. Americans have an edge in experience (115 career Ryder Cup matches, versus 110 for the Euros), but what they've experienced is best forgotten. Not one U.S. player has a winning Ryder Cup record, while only two European players have a losing one. In all, Euro team players have a career win percentage 20 points higher (55 percent vs. 35 percent) than their U.S. rivals. European union, indeed.
---
ALPHA + ALPHA = AWFUL
In 2004, U.S. captain Hal Sutton stubbornly (and famously) paired Tiger Woods and Phil Mickelson, his top two players, in team play on Day 1. The alpha-male couple proceeded to lose both matches, demoralizing the U.S. squad and sparking the underdog Euros to an 18.5-9.5 victory. In fact, pairing the two highest-ranked players on a team has resulted in victory only three times in 14 matches.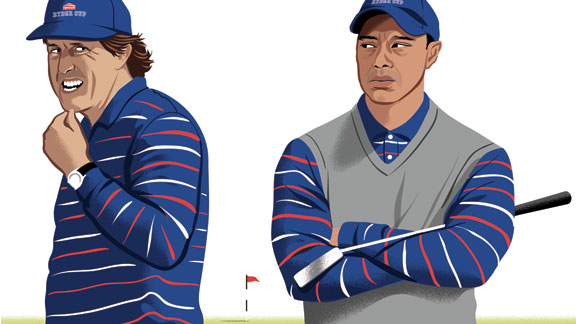 ---
AMERICANS DO NOT PLAY WELL WITH OTHERS
In the past 15 Ryder Cups, Europe has amassed 21.2 percent more points in team events, while the U.S. leads by 13 percent in individual matches. Cultural anthropologists could have a field day analyzing the divide: Europe's cooperative socialists and America's individualist capitalists holding form. But 2008 Ryder Cup captain Paul Azinger narrowed that theory: "Europe was bonded by nationality. The Spaniards always played together -- they were so invested in each other and their country, as were the Irish and the English and the Swedes." Since no such bonds existed for the Americans, Azinger created them, forming his 2008 team into three four-man "pods" who played all their team matches together -- an approach this year's captain, Davis Love III, has reportedly adopted. Oh, and that year, the U.S. outscored Europe in team matches for the first time since 1995.
---
KEEP ONE EYE ON THE 15TH HOLE
When are golfers like gladiators? Not often. But the closest they come is on a drivable par 4 during match play. Then, it's all about guts, glory -- and, in this case, who's good at hitting a golf ball 300 yards when there's a big watery thing on the right. That's why Rees Jones redesigned the previously mundane 15th at Medinah, building a two-acre pond and adding new tees that allow the par 4 to play as short as 280 yards. Jones says the changes were made to offer golfers "more choices, more options; a lot of the matches are going to swing on the 15th."
---
PAY NO HEED TO THE EARLY LEAD
Remember the 1999 Ryder Cup? When the Euros lost just one match on Day 1 and were up four points? When the margin remained four after Day 2? And when the U.S. came back on the final day, snatching a 14.5-13.5 victory after Justin Leonard rolled in a 45-foot putt? Not ringing a bell? Maybe it's because you didn't watch the weekend? Don't be that guy. The team trailing after Day 1 has ended up winning seven of the past 15 Ryder Cups. A big reason: 12 points are up for grabs in the Sunday singles matches, compared with eight in each of the first two days -- and since everyone plays Sunday, captains can't hide their weakest links. Volatility reigns! Indeed, as this graph shows, first-day leads in the Ryder Cup are almost as meaningless as Wednesday pro-ams.
---
THERE'S NO PLACE LIKE HOME ... UNLESS HOME IS THE U.S.
Golfers are used to camera clicks and obnoxious dudes commanding every shot to "get in the hole!" They're less used to a partisan crowd celebrating pulled tee shots and a course set up to maximize opponents' strengths. But that's what happens to away teams at every Ryder Cup. Hardly surprising, then, that seven of the past 10 Ryder Cups were won by the home team. But home-course advantage is about more than wins or losses; it's about outperforming expectations. When we examined the past 12 Ryder Cups, controlling for strength of squad, a pattern emerged. The home course has almost solely benefited Europe -- underdog in all but one of the recent Cups. "Over there, the crowd is biased as hell; it fires up their players and irritates some of ours," 2002 U.S. Ryder Cup captain Curtis Strange says. "The Europeans are motivated. It's as simple as that."
---
THERE WILL BE EINOS (EUROS IN NAME ONLY)
Not many golfers call Chicago home; the infamous weather and equally infamous taxes aren't nearly as golfer-friendly as, say, Florida. But Luke Donald is a Chicagoan in every sense of the word. He played his college golf at Northwestern, cheers for the Cubs and lives in suburban Northfield, Ill. At Medinah, though, the Brit will be just another Euro -- sort of like teammates Justin Rose, Graeme McDowell, Peter Hanson and Ian Poulter, who all own homes in Orlando and, with the exclusion of Hanson, all play more in the States than in Europe.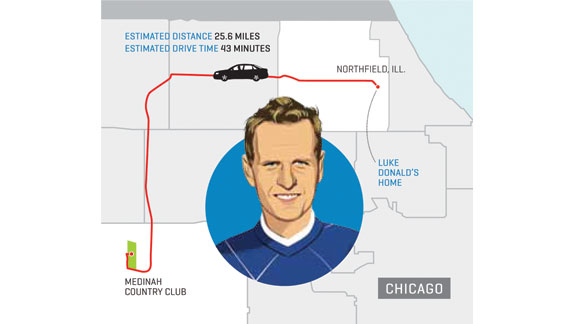 ---
AS TIGER IS TO TEAM USA, MCILROY IS TO TEAM EURO
For years, Europe has made no secret of targeting Woods. "If Tiger was losing," Azinger says, "it was a huge boost to Europe because of how much better he was." According to Azinger, the U.S. hasn't bothered gunning for a Euro since Seve Ballesteros 20 years ago. "We didn't give a s-- about Nick Faldo," Azinger says. "He didn't inspire anybody. Seve was the guy you had to get." But Azinger says the U.S. team will go after Rory McIlroy. "I believe he'll be partnered with Graeme McDowell as their marquee pair," Azinger says. "Davis is going to look for Rory."
Infographics built by Ronik; Designer: Linda Pouder
Follow The Mag on Twitter (@ESPNmag) and like us on Facebook.