SOUTHPORT, England -- It was supposed to be plain sailing, a cakewalk, a stroll in the dunes. Instead we witnessed a day of drama.
Who deserves the plaudits and who needs homework before the year's final major, the PGA Championship at Quail Hollow next month? It's time for the final grades from the 146th Open at Royal Birkdale.
Grade: D-
After an error-free and apparently promising third lap, it all went horribly wrong on Sunday. It even started in ugly fashion, with a double-bogey 6 on the first followed by another six bogeys and just one par breaker. Next step? Sort out the approach play. The world No. 1 landed 14 greens on Saturday, but just 19 out of 54 the rest of the week.
World ranking: No. 1
Score: 71-72-64-77 (+4, T-54)
---
Grade: C-
We've said it all week, but it bears repeating: In 2017 Matsuyama has not been able to free himself of a roller-coaster record in the majors. And the thing is, roller coasters are fun at the theme park, but not so good in championship golf. He went 76-70-74-67 at the Masters, 74-65-71-66 in the U.S. Open, and 68-72-66-72 this week. The simple truth is that you don't win majors being as erratic as that. He's consistent, but it's the wrong kind of consistent. He needs more stability, less volatility.
World ranking: No. 2
Score: 68-72-66-72 (-2, T-14)
---
Grade: A+
He started with a stumble (three bogeys in four holes) and midway down the 13th he was reeling, a boxer on the ropes to start the final round. But this is not a man who will give up. Special sportsmen are at their greatest when they need it the most. Against the odds, he made bogey at 13 then nearly made a hole-in-one at 14. He then made an eagle at 15 and backed it up with birdies at 16 and 17. His competitiveness is rugged. His desire is ravenous. He's three-quarters of the way to the career Grand Slam. He's a superstar.
World ranking: No. 3
Score: 65-69-65-69 (-12, first)
---
Grade: C+
A week of maybes and what-ifs. What if he hadn't thrown away 5 shots in the first six holes on Thursday? What if the recovery wasn't halted by a double-bogey in Round 3? The flip side is that he finally looked like the old Rory at times. The eagle-3 on the 71st hole showed chutzpah and suggests that there is more to come in the near future. After the missed cuts in the Irish and Scottish Opens, that has to be great news.
World ranking: No. 4
Score: 71-68-69-67 (-5, T-4)
---
Grade: D
A listless final round from Sergio, but let's give him some leeway because he's still got that green jacket and he has something else as well: a wedding next week. "I didn't feel good all week," he admitted. "Unfortunately today it came out." Perhaps his eye doesn't fit Royal Birkdale. His record there now reads T28-T51-T37. Quite a contrast to his 10 top-10s elsewhere on the Open rota.
World ranking: No. 5
Score: 73-69-68-72 (+2, T-37)
---
Grade: C
A week of mixed messages. He started it talking of the need for patience, then got off to a fine start. Friday's collapse provoked rage, which required ice cream therapy. He woke Saturday and flushed it. Then he woke Sunday, made double-bogey and never recovered. Remember: patience.
World ranking: No. 6
Score: 69-76-65-71 (+1, T-27)
---
Grade: D+
Two late birdies failed to add gloss to a week that never recovered after the rules discussion late Thursday evening. The ruling went his way, but the momentum was lost and he was never again a feature in the tournament.
World ranking: No. 7
Score: 69-74-70-70 (+3, T-44)
---

Grade: B-
Did he ever reach the heights of 2016? There were brief glimpses on Saturday, but not really. Should we have expected him to repeat what he achieved 12 months ago? Of course not. Stenson is good, but Royal Troon witnessed golf for the ages. No one repeats that kind of performance when defending. It may be good for him to relinquish the Claret Jug and press reset. There's a sense that the off-course hoopla associated with being Open champion has worn a little thin in recent months.
World ranking: No. 8
Score: 69-73-65-70 (-3, T-11)
---
Grade: B
At the end of Round 3, we suggested a realistic goal for Sunday was a major championship personal best, and he duly delivered, bettering his T-9 in the 2012 Open. A burst of three birdies late in his front nine, combined with the then-faltering efforts of the leaders, suggested it might be more, but it was always an outside shot. This result represents progress as he seeks to transfer European Tour excellence to the world stage.
World ranking: No. 9
Score: 68-72-69-67 (-4, T-6)
---
Grade: C-
Only once did he free himself of the 71 mud -- on Saturday. In Round 4 he returned to the difficulties of his one step forward, one step backward golf. The frustrations continue, but the quest for major glory remains. He needs to channel Sergio Garcia, not Lee Westwood.
World ranking: No. 10
Score: 71-71-67-71 (Even, T-22)
---
Grade: A
Oh golly gee. Shucks. What a great week. Poor old Kuch has become something of an easy target with his non-swearing and "back-door top-10s," but let no one overlook his effort this week, or indeed in the final round. He had a few issues early on, but when Spieth began to struggle, he stood firm to offer a challenge. If there was one weakness, it was that his distance putts failed to threaten the hole, but there was no folding, and his ninth major championship top-10 finish was his best.
World ranking: No. 18
Score: 65-71-66-69 (-9, second)
---

Grade: A
In June, the 21-year-old Chinese golfer endured a desperate first weekend of major championship golf, carding 82-84 to finish T-68 at Erin Hills in the U.S. Open. It says much for his talent and personality that he bounced back to log 69-63 this time around. He made seven birdies in his last 11 holes and closed with four straight red numbers. Stunning golf and probably not the last we'll see of him in the majors.
World ranking: No. 107
Score: 69-73-69-63 (-6, third)
---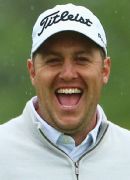 Grade: A
What will the 28-year-old do with himself at final qualifying next year? Three of the past four years he was earning himself a spot in the main event and in Round 4, 12 months after finishing T-12 and 1 shot outside exemption, he has ensured himself a spot in next year's field at Carnoustie. Last year he cursed that near-miss all the way home. This year he won't be able to wait for a return to the Scottish course where he and his father are members, hold fond memories and have dozens of family friends. The boy from Essex will be the hometown hero by proxy for the week. The one downer? He finished 1 shot outside an invite to the Masters.
World ranking: No. 172
Score: 72-72-67-65 (-4, T-6)
---
The practice grounds
Grade: A
Ben Hogan always said the secret was in the dirt -- by which he meant the practice grounds. Now Spieth, with his sprayed tee shot on the 13th hole in the final round, which required a drop on the range, has added his own twist to that old notion. He's also taken his place in a line of Open champions. Seve won from the car park. Jordan from the range. Who'll chance their arm in the tented village?