Jack Nicklaus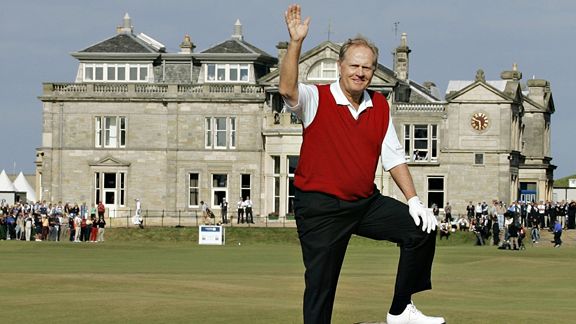 Jack Nicklaus is a retired American professional golfer and one of the sport's most prolific champions of all-time. Nicknamed "The Golden Bear," Nicklaus has won more major championships than any golfer in history (18), and is 2nd all-time in PGA TOUR victories with 73. Only Sam Snead (82) has more in the history of the PGA TOUR. Nicklaus is widely regarded as the best golfer of his era, and one of the greatest golfers of all-time.
Nicklaus' 18 career major championships is the most heralded record in golf. Nicklaus won the Masters 6 times (most all-time), the U.S. Open 4 times (tied for most all-time), the Open Championship 3 times, and the PGA Championship 5 times (tied for most all-time). Nicklaus' Nicklaus and Tiger Woods are the only 2 men in history to have won each of golf's 4 major championships 3 times each.
Nicklaus has been named "Golfer of the Century" or "Golfer of the Millennium" by almost every major golf publication in the world. He was also named Individual Male Athlete of the Century by Sports Illustrated, and one of the 10 Greatest Athletes of the Century by ESPN. Nicklaus has also been honored with the Presidential Medal of Freedom, the highest honor given to any civilian.
Nicklaus is a five-time winner of the PGA Player of the Year Award, has been the PGA Tour's leading money-winner eight times and runner-up six times. He has played on six Ryder Cup teams, captained two other Ryder Cup teams, and served as U.S. captain for the 1998, 2003, 2005, and 2007 Presidents Cup teams. He is also one of the pre-eminent golf course designers in the world.
The son of a pharmacist, Jack William Nicklaus was born January 21, 1940 in Columbus, Ohio. He was raised in the suburb of Upper Arlington, and went to Upper Arlington High School. At age 10, Nicklaus carded a 51 in the first nine holes he played. That year, he also won the Scioto Club Juvenile Trophy. He would win it a second time the following year.
At age 12, he won the Ohio State Junior Championship, launching a streak of 5 straight wins from 1952 through 1956. When Nicklaus was 13, he played in his first national tournament, the U.S.G.A. Junior Championship for ages 17 and under, winning his first 3 matches before being eliminated. That year, he also won the Columbus Junior Match-Play Championship.
At 14, Nicklaus won the Columbus Junior Championship in both the stroke play and match play competitions. He would win that again the following year, as well as qualifying for the U.S. Amateur for the first time. He was defeated in the first round, 1-down. At 16, he won the Ohio State Open - easily the victor with a 2-round final day posting of 64 and 72. That year, he won his 5th straight Ohio State Junior title, and the Ohio Jaycees, but lost the U.S. National Jaycees Championship in a playoff.
Amateur Career
When Nicklaus was 17, he won his first national title, capturing the U.S. National Jaycees Championship. He also qualified for his first U.S. Open, missing the cut. At 18, Nicklaus won the Trans-Mississippi Championship, and qualified for the U.S. Open again. This time, Jack made the cut and finished tied for 41st place. Nicklaus also played in his first PGA TOUR event, the Rubber City Open at Firestone in Akron, Ohio. Jack was 1 shot back of the lead after 36 holes after opening rounds of 67 and 66. He finished tied for 15th in the event.
Nicklaus won his first career U.S. Amateur at age 19, defeating Charles Coe, 1-up, in the 36-hole final at Broadmoor in Colorado Springs. He also played on the winning Walker Cup team against Britain in Muirfield, Scotland, and won the North-South and Trans-Mississippi championships. Nicklaus also reached the quarterfinal at the British Amateur that year.
Nicklaus' biggest early breakthrough in his young career came at the 1960 U.S. Open at Cherry Hills, where he established an amateur record by shooting a 282. Jack finished as the runner-up to Arnold Palmer by 2 strokes. He also emerged as the individual winner in the World Amateur Team Championship by 13 strokes with 269, eclipsing Ben Hogan's record by 18 shots.
In his final year as an amateur, Jack won the U.S. Amateur for the 2nd time, defeating Dudley Wysong, 8 and 6, at Pebble Beach. He was also a member of the winning Walker Cup team, the Western Amateur Champion, an NCAA and Big Ten Champion, and finished tied for 4th at the 1961 U.S. Open.
In 8 major championship appearances as an amateur, Nicklaus made the cut 5 times, including each of his last 4 starts. He was merely warming up for the epic display he put on throughout his legendary career.
PGA Tour Career
Jack Nicklaus joined the PGA Tour as a regular in 1962. His first professional event was the Los Angeles Open, where he finished tied for 50th and won $33.33. That year, he also won his first PGA Tour event, defeating Arnold Palmer in a Monday playoff at Oakmont for the 1962 U.S. Open. This sparked the beginning of the Palmer-Nicklaus rivalry, which would grow into one of the best rivalries in American sports history. Nicklaus won 3 times in all his rookie year (also in Seattle and Portland), and was named PGA Tour rookie of the year. Nicklaus finished 3rd on the money list as a rookie.
The next year, Nicklaus won his first of 6 Masters titles, as well as his first PGA Championship. He won 5 times in all that year, posted 17 top-10's in 24 starts, and finished 2nd on the money list. In 1964, Nicklaus finished 1st in money and scoring average on Tour, and finished runner-up or tied for 2nd in 3 of the 4 majors (U.S. Open - T-23rd). In '65, his five victories included his 2nd Masters win, where he shot a record number of 271, breaking Ben Hogan's mark by 3 strokes. That number stood until Tiger Woods shot a 270 in 1997. He led the PGA Tour in both money and scoring average for the 2nd straight year.
In 1966, Nicklaus became the first ever consecutive Masters champion. That year, he also won his first British Open title, which was the only major he had yet to win at that point. At the time, that made him the youngest player (age 26) to win all four major championships (since bested by Tiger Woods, who was 24 when he completed it). Nicklaus became the 4th golfer all-time to complete the career "Grand Slam", joining Gene Sarazen, Ben Hogan and Gary Player.
In 1967, Nicklaus won his 2nd U.S. Open, besting Palmer by 4 shots. The two were tied for 2nd, one shot off the lead entering the final round. Nicklaus did not win another major until the 1970 British Open, which he did so shortly after his father Charlie Nicklaus died. One of the most memorable images of Nicklaus is him throwing his putter into the air in elation after sinking the winning putt on the final green at St. Andrews.
With his victory at the 1971 PGA Championship, Nicklaus became the first player to ever win all four major championships twice in a career. The following year, Nicklaus' 4th green jacket and 3rd U.S. Open title generated buzz as the possibility of a season grand slam arose. Nicklaus would finish runner-up to Lee Trevino at the British that year, though, and Gary Player went on to win the PGA Championship. Nicklaus' U.S. Open win was his 13th as a professional, tying Bobby Jones for most major titles all-time (though a different set of Tournaments were considered majors during Jones' era). He went on to win the PGA Player of the Year award for a 2nd time that year, and also took over the all-time Tour earnings lead.
In 1973, Nicklaus made golf history by capturing his 14th major championship, winning the PGA for the 4th time. He won 7 times that year, and finished in the top-10 16 times in 18 events. He also did not finish worse than tied for 4th in any of the majors, and posted the lowest scoring average of his professional career (69.81). He also became the first player to win $300K in consecutive years, and the first player to ever pass the $2M mark in career earnings.
Nicklaus continued to add to his legacy for the remainder of the decade. In 1974, he was one of the inaugural inductees into the World Golf Hall of Fame. In 1975, he won 2 majors in 1 year for the 4th time in his career, taking the Masters and PGA Championship. In 1976, he picked up his 5th PGA Player of the Year award, breaking Ben Hogan's record of 4. The next year, he passed the $3M mark in earnings for his career, further extending his record. He also won his 63rd career Tour event, passing Ben Hogan to take 2nd place all-time behind only Sam Snead.
In 1977, he went without a major, but his performance in the British Open that year made headlines around the world. In a one-on-one battle dubbed the "Duel in the Sun," Nicklaus shot 65-66 in the final 2 rounds, only to be outdone by Tom Watson, who fired a pair of 65's.
He was named Sports Illustrated's Sportsman of the Year in 1978, winning his 3rd career British Open. For his incredible run in the 1970's, he was then named "Athlete of the Decade" in a poll of 432 sports journalists. He added 2 more majors in 1980: the U.S. Open and PGA Championship, giving him an astonishing 17 for his career.
From 1981-85, Nicklaus would win just twice on the Tour, and went without a major victory. In 1986 though, Nicklaus woke up the echoes at Augusta with one of the most remarkable performances in sports history. The Golden Bear posted a 30 on the back-9 to shoot a 7-under 65 for his round. He then watched the leaders falter, and won his record 6th green jacket by 1 stroke. At age 46, he still holds the record as the oldest player to ever win a the Masters. The victory was to be his last on the PGA Tour.
Champions Tour
In early 1990, Nicklaus became eligible for the Senior PGA Tour (since renamed the Champions Tour). He won his first event on the Tour, The Tradition, which was also a major championship. Nicklaus would go on to win The Tradition 4 times. Nicklaus won 10 Champions Tour events overall, including 5 of the 9 events he started in '90 and '91. His final victory on the Senior Tour came at the 1996 Tradition.
Nicklaus continued to play on the Champions Tour into the 2000s while also making infrequent appearances on the PGA Tour, primarily at majors and the Memorial. He retired from competitive golf in 2005.
Nicklaus is one of the world's most prominent course designers, and has developed an immense course-building business. Nicklaus has been involved in the design of close to 270 courses open for play worldwide, and his thriving business, Nicklaus Design, has more than 335 courses open for play around the world. Nicklaus Design courses are represented in 32 countries, 39 states, and at least 87 have hosted a combined total more than 600 professional tournaments or significant national amateur championships. At least 60 Nicklaus Design courses have appeared in various national and international Top-100 lists. The firm currently has projects under construction or under development in 45 different countries - 25 in which Nicklaus Design has never been involved.
Jack Nicklaus was born on Jan. 21, 1940 in Columbus, Ohio. He married his wife, Barbara, before turning pro. They have five children - Jack Jr., Steven, Nancy, Gary and Michael. Gary Nicklaus played on the PGA Tour from 1992-2004. Nicklaus also has 21 grandchildren, including Nick O'Leary, a top high school football recruit.
In addition to his work with his course design company, Nicklaus and his wife Barbara are involved in multiple charitable causes, including the Nicklaus Children's Heath Care Foundation and The First Tee program.
In 1999, Nicklaus underwent a hip replacement surgery, but returned to the course less than four months later. In 2010, he was hospitalized for an intestinal infection stemming from a case of diverticulitis. Nicklaus did not need surgery, but was forced to miss a charity event.
JACK NICKLAUS QUICK FACTS

Birth Date: January 21, 1940 (age 71)
Birth Place: Columbus, Ohio
College: Ohio State
PGA Tour Debut: 1958
PGA Tour Wins: 73
Major Championships: 18
Inducted into World Golf Hall of Fame in 1974
TRIBUTE TO JACK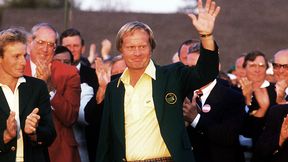 "Yes Sir: Jack Nicklaus and the '86 Masters" is a documentary, narrated by Jack's son and caddie Jackie, that looks back at one of the most memorable events in golf history. Watch preview »
JACK NICKLAUS CAREER MAJOR WINS
18 Major Championship Wins
| Year | Event | Score |
| --- | --- | --- |
| 1962 | U.S. Open | -1 (283) |
| 1963 | Masters | -2 (286) |
| 1963 | PGA Championship | -5 (279) |
| 1965 | Masters | -17 (271) |
| 1966 | Masters | E (288) |
| 1966 | Open Championship | -2 (282) |
| 1967 | U.S. Open | -9 (275) |
| 1970 | Open Championship | -5 (283) |
| 1971 | PGA Championship | -7 (281) |
| 1972 | Masters | -2 (286) |
| 1972 | U.S. Open | +2 (290) |
| 1973 | PGA Championship | -7 (277) |
| 1975 | Masters | -12 (276) |
| 1975 | PGA Championship | -4 (276) |
| 1978 | Open Championship | -7 (281) |
| 1980 | U.S. Open | -8 (272) |
| 1980 | PGA Championship | -6 (274) |
| 1986 | Masters | -9 (279) |
8 Champions Tour Majors
| Year | Event | Score |
| --- | --- | --- |
| 1990 | The Tradition | -10 (206) |
| 1990 | Senior Players Championship | -27 (261) |
| 1991 | The Tradition | -11 (277) |
| 1991 | PGA Seniors' Championship | -17 (271) |
| 1991 | U.S. Senior Open | +2 (282) |
| 1993 | U.S. Senior Open | -6 (278) |
| 1995 | The Tradition | -12 (276) |
| 1996 | The Tradition | -16 (272) |