The Barclays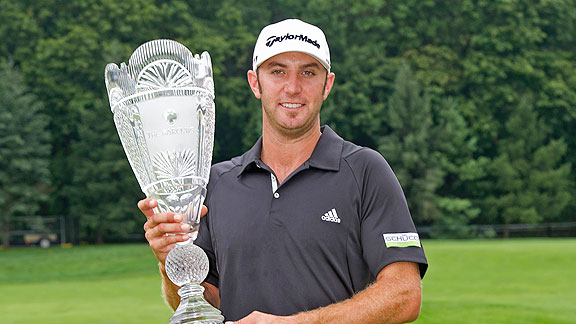 The Barclays tournament is an annual event on the PGA Tour and, since 2007, the first tournament in the FedExCup playoff. The stroke-play tournament, which has been played since 1967, generally is held in the Westchester County, N.Y., area. For the first 40 years of its existence, it was held in June, but it was moved to August in 2007.
That year, The Barclays became the first event in the championship series for the PGA Tour's FedExCup, the new playoff series for the PGA Tour. The top 125 players (based on points from the regular season) are eligible for The Barclays. A win at the tournament is worth 2,500 points -- five times more than a regular-season tournament win -- and the top 100 players in points after The Barclays move on to the second event, the Deutsche Bank Championship.
The Barclays began in 1967 as the Westchester Classic, played at the Westchester Country Club in Rye, N.Y. Jack Nicklaus won the inaugural tournament. The tournament has had several name sponsors over the years and, since 1990, has contained the name of neither the host course nor the location (although many fans still think of the tournament as the Westchester). The Barclays became the tournament's sponsor in 2005, and it took on the name simply of The Barclays in 2007.
That same year, in the inaugural year of the FedExCup, The Barclays became the first tournament of four in the event's championship series. The Barclays, which traditionally had been held in June, was moved to August to coincide with golf's postseason series.
Since the event has become part of the FedExCup, it has been won by Matt Kuchar in 2010, Heath Slocum in 2009, Vijay Singh in 2008 and Steve Stricker in 2007. Its highest attendance was in 2001, when Tiger Woods participated in the event but eventually lost to Sergio Garcia (Woods has never won the title). Singh, who went on to win the FedExCup after taking The Barclays in 2008, is the tournament's most frequent winner, with four trophies.
In 2011, the event was shortened to 54 holes, due to Hurricane Irene's impact on the east coast. It was the first time a FedEx Cup event didn't go the full 72 holes. Dustin Johnson won, with a 19-under-par performance in three rounds, besting the field by two strokes.
AUDIO RESULTS FOR THE BARCLAYS
TOP STORY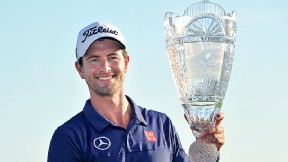 Last Man Standing
With a win at the Barclays, Adam Scott's best years just might be ahead for the 33-year-old Aussie. Story »
PAST WINNERS
The Barclays
Barclays Classic
Buick Classic
Manufacturers Hanover Westchester Classic
American Express Westchester Classic
Westchester Classic