UNIVERSITY PLACE, Wash. -- Jason Day lifted his gloved hand to his eyes and fell to the U.S. Open ground as if he had been struck by a wayward drive, creating the kind of chaotic scene around an injured athlete rarely found in the comfortable arenas of golf.
No blitzing or tackling or boxing out or beanball wars in this members-only, courtesy-car sport. From tee to green, golfers never have to worry about getting their faces rammed into the boards.
And yet there was Day, down on the downslope of a steep hill on the par-3 ninth at Chambers Bay, his 18th hole of the day, surrounded by cops and caddies and medics in orange shirts trying to figure out what in the world had gone wrong. The ninth tee box is way up in the clouds, and it would be easier to climb down from the Space Needle than to navigate this course's rugged terrain from that box to this green.
To those of us standing on the opposite side of Day, right next to the bunker that had collected his tee shot, the questions were many. Did he sprain his ankle? Did he slip and break his nose in the fall? Was he suffering from another ill-timed case of vertigo? Why was he rolling about in the grass, and why was it taking him so long to get up?
Suddenly in the confusion, a familiar figure emerged and started shouting above the din. Jordan Spieth, 21-year-old Masters champ and the youngest member of his group (Day is 27, Justin Rose is 34), declared himself the new marshal at No. 9.
Spieth had shooed away some photographers with his putter, demanding they give Day some privacy and some room. When he felt one particular crew wasn't heeding his direct order, he barked, "Cameras down!"
This time the cameras went down. Spieth had no right to tell credentialed media members they couldn't cover an unfolding news event, but he wasn't worrying as much about journalistic integrity than as he was worrying about his fallen friend. Spieth is an agreeable, accessible figure with reporters, and anyone who knows his backstory, and his family's, knows he's the very last player on tour who'd be accused of being a bully.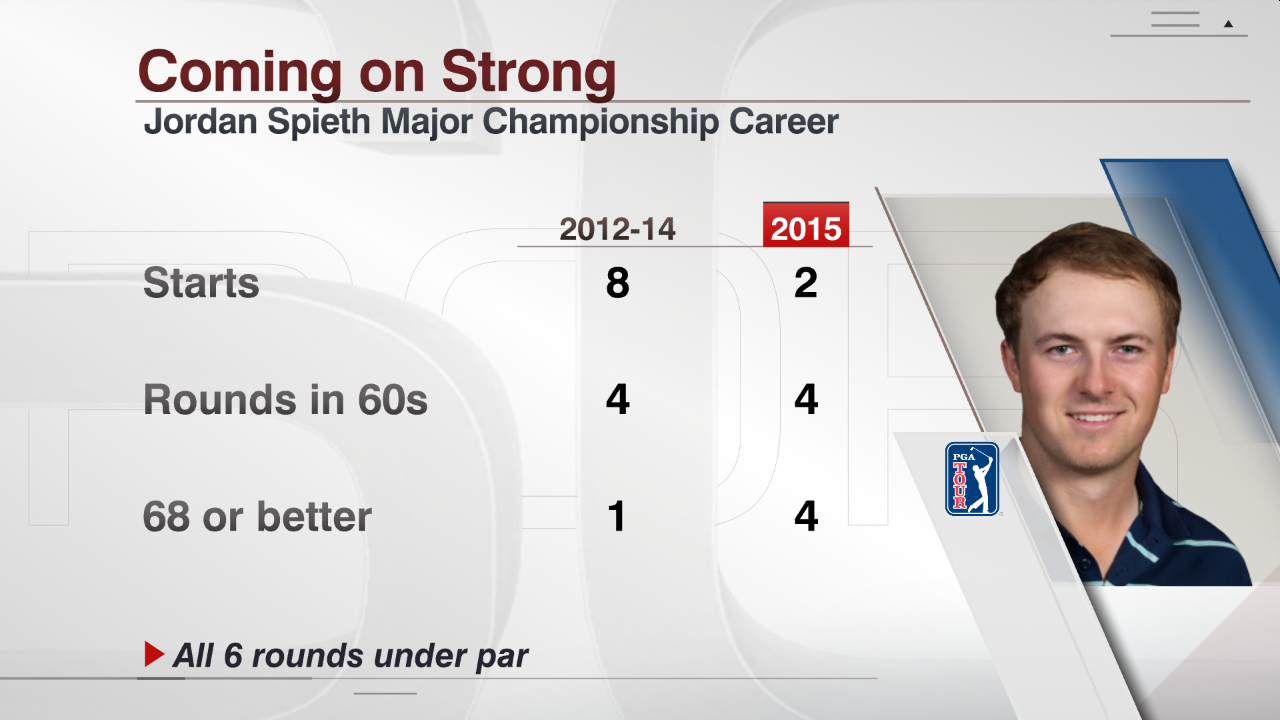 But these startling sights and sounds told a bigger-picture story about the one player in the field who has a chance to join Tiger Woods, Jack Nicklaus, Arnold Palmer, Ben Hogan and Craig Wood as the only golfers ever to win the Masters and U.S. Open in the same year. Spieth showed a willingness to take control of a tense situation, helped a competitor in distress finish his round, and then sank an 8-foot birdie putt that gave him a share of the 36-hole lead with Patrick Reed heading into the weekend, at 5 under, with a chance to replace Rory McIlroy as the game's dominant star.
"That was one of the better birdies I've ever made," Spieth said, "given the situation."
And let's take a longer look at that harrowing situation. After Day was helped to his feet, and after he staggered into the sand, and after he had an official move some impediment from behind his ball, and after he blasted out and had his caddie pull him out of the bunker, Spieth still tended to him instead of tending to his own putt. Day bent over gingerly and marked his ball, then squatted and tried to gather his thoughts while Spieth and the group's caddies stood guard around him.
Spieth had to wait for the wobbly Day to miss his par attempt, finish out and then head for the nearest patch of fescue grass so he could drop to a knee and bow his head as another medic approached. From the time Day collapsed to the time Spieth approached his 8-footer, more than a dozen harrowing minutes had passed. Who in the world makes that putt?
Jordan Alexander Spieth, that's who. Yes, the wait and the time and energy spent policing the green could've impacted him in a negative way. "But I actually got somewhat of a read off Jason's putt," Spieth said, "and was able to knock it in."
Those words should scare the rest of the contenders straight. Spieth did everything he could to get Day safely to the finish line, and yet the intense competitor within wasn't beyond studying Day's misread and using it to his own advantage. Of his ability to focus and grind despite the circumstances around him, Spieth said, "I don't know if it's my trademark."
It is his trademark, and a much-needed one during another nutty round on this nutty course.
Spieth was caught by a Fox microphone calling the par-5-turned-par-4 18th "the dumbest hole I've ever played in my life," a hole he double-bogeyed, and didn't back down from that assessment afterward. "I am who I am," he said.
He would watch Day chip in for birdie at No. 1 and then scream back at him "as if I was sitting in the gallery" while Day was throwing his club in the air and raising his arms to the sky in celebration. Eight holes later, Spieth found himself responding to an entirely different scene.
Day had suffered from vertigo in the past, including a nasty spell at Firestone last year, but he'd said sleep studies and blood tests and MRIs on his head and neck had put him in the clear. He didn't mention any problems to Spieth on Friday, and Rose described his mood as "chirpy, buoyant all day."
But then Day went down and Spieth went into action. "So at that point," Spieth said, "how can we help him out and kind of clear the scene and try and keep the cameras off and let him just rebound from being dizzy?"
Day was ultimately helped into a cart and taken to the scoring trailer while fans cheered him. Outside that trailer, below the ninth green, a red Fire and Rescue truck from West Pierce, Washington, marked "Medic One" was parked and waiting for a possible passenger. Just as Day emerged from the trailer looking wide-eyed and punch drunk, his wife, Ellie, told two media outlets, including ESPN.com, that she was stunned by her husband's frightening finish.
"He gave me a heart attack out there for a minute," Ellie Day said. "I think it's encouraging that he wanted to finish. He's like, 'I don't care. I'm dizzy but I'm just going to finish. ... I've never seen it come out of nowhere like that. I saw him have it in Akron last year really bad because we were on the bus and he was like, 'What's going on? ... I swear the bus is moving right now.' And I'm like, 'It's definitely not moving.' "
Soon enough Day was loaded into a white Ford minivan with his wife and driven away; he was treated for vertigo, and his agent said he was hopeful to finish the tournament. Meanwhile, Spieth told reporters about his role in the episode and about a small comeback of his own.
He'd bogeyed the 16th hole of his day and missed a birdie opportunity on the 17th before marching to the final tee box with a purpose. Spieth hit his beautiful 5-iron, restored order around the green and then sank his putt before punctuating it with a fist pump.
We saw that fist pump a ton at the Masters. On his winning-weekend experience at Augusta National, Spieth said, "I'll probably draw a significant amount off of it."
He'll probably add to it, too, if he manages the next 36 U.S. Open holes the way he managed a health crisis in a sport that doesn't normally need to deal with them.