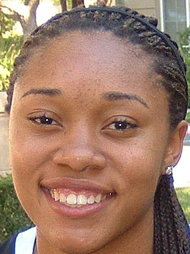 Kendall Cooper
Post
CLASS: 2013
Carson, CA

Hometown

St. Anthony

High School
12

Overall Rank

2

Position Rank
ESPN Player Evaluations
USAB Trials-May 12: This 6-3 center has a lot of skill and power around the basket. She was able to grab rebounds and finish with contact time and time again. The talent that she possesses with the ball in her hands is very impressive for her size. She is able to stay light on her feet and make a quick power move to create enough space to get her shot off. If her shot is not there, she sees the floor well and makes the skip pass to an open teammate. Cooper also can stretch the defense out because she has good touch from 15 feet and in. The biggest thing that she brings to the team is her willingness to rebound and play with a lot of energy as soon as she steps on the floor. (Gray)

Nike Nationals-July 11: Easily one of the more improved players over the past year. Making that better is the fact that she was already among the elite of the class. Adding to her size, build and strength is a much more active approach to her play. She's much more aggressive in posting up and is quick to flash on reversals and look for the high-low options. Her lower body strength is enabling her to hold her ground and attack on the catch. she's advanced her skills in creating her own looks rather than just settling for the ones that come her way. At times, however, she's taking some off balance and rushing rather than taking advantage of the position she's created. (Lewis)

USA U16 Trials-May 11: Don't take Cooper not being selected for the team as a sign that she didn't play well at the trials, the competition in the post was fierce. Against taller, stronger, quicker, she actually showed more on the defensive end than we've seen against lesser competition. She wasn't the tallest of the post crop but she was one of the more consistent shot blockers. Offensively she started strong and finished strong but showed a little inconsistency later in trials with it. Seemed like she went to moves for inside of five feet but without realizing she was being pushed out before the catch to 10 feet. She showed her athleticism and power on several attacks from the high post. Overall, a very strong showing, and most importantly she's getting better. (Hansen)

Cooper continues an off season evolution of her game that has her finally tapping into the potential has been obvious from day one. Looking fit and physically stronger, she's more assertive in posting for the ball and much more aggressive in her attack on the catch. Her first step, either a drop or step through, is explosive and covers a large amount of real estate. Her spin move off a bodied up defender is applied with much more authority than in the past and is serving her well both to the baseline and the middle. That being said, her touch still needs some refinement and consistency. She's creating good looks but the high percentage finish isn't automatic yet. The jump shot that she's always been so willing to let fly now has a smoother stroke to it and her interpretation of good shot selection is much better than in the past. She may well be one of the most improved players after the spring, it will be interesting to see if it continues throughout the summer. (Lewis)

WCP Spring-May 11: Big body, has really gotten in tip-top shape. Great skill set. Can score on the low block, hit the 15 footer off the I-Cut or Stepout while also stretching the defense with the three pointer now as well. Reminds me of Kelsey Bone (Texas A&M) as her skill set continues to expand. (Clay)

Nike TOC-Dec. 2010: Maturing physically and playing with more confidence. Had several moments in the paint that allows you to catch a glimpse of her potential. She stepped out and hit a 15 footer but also tossed up an air ball from the ft throw line. The biggest thread you can find in her game in her inconsistency. The skills are starting to show but have very rough edges as well as the fact that they're still a thought rather than a reaction. Ultimately she has the capacity to be as good as she's willing to put the effort to become. (Lewis)

Nike Nationals-July 10: She has a perfect build for college post play. She doesn't shy away from contact and has no problem scoring over against older players. (Bodine)

Maturing and beginning to capitalize on the physical size and potential that's in place. Using her size and strength effectively as well as revealing some eye catching mobility. Her willingness to get out and run the floor if she doesn't have the board makes her a challenging defensive match up. The fun may just be beginning. (Lewis)

Nike Skills-May '10: Without a doubt she has all the size and build you could look for in the post. The mobility is there as well and her strength is well in advance of her current age. With so many tools in place you find yourself expecting more from her in terms of intensity of effort and focus. She demonstrated an ability to drive the ball from the elbow and was strong on the offensive boards. At the same time when she became frustrated she settled for what the defense gave her or began wandering around the perimeter. The potential is limitless and if the commitment comes the only limitations she'll face are her own.

Nike TOC-Dec. '09: You could always count on former Narbonne coach James Anderson to have several major college prospects each year and, now walking the sidelines at St. Anthony (Calif.), he seems to be doing the same thing. Saint's freshman post Kendall Cooper is going to have recruiter after recruiter watching courtside the next four years. With an already physical and imposing build, the 6-4 Cooper has all the tools to evolve into a dominant force inside. She runs the floor well and has the strength to clear space against any player she's matched up with. Her form on her shot is there but the touch will need to come from massive repetitions and skill work. Around the rim she posts up aggressively and can finish the simple looks. Her post moves themselves are limited right now but the prospects are beyond promising. Maturity and experience alone will help her game evolve; an unconditional commitment will let it explode.

Cali Summer Games-July '09: Longtime Narbonne coach James Anderson now makes the St. Anthony sidelines his winter home and next season he will have a budding star on his hands in Kendall Cooper. The Carson, Calif., native has a great basketball frame and good athleticism. The great thing about this youngster is that she plays with the aggression in the lane you expect of upperclassmen. She showed some craftiness along the baselines by sneaking in a little hook with her inside elbow to get by the defender, but not blatantly enough to draw an offensive foul. She showed some face up skills as well from the high post and rebounds on both ends of the floor.
Notes
Club Team: Cal Storm Team Tarausi

Invited to the USA Basketball U16 national team trials, 2011.

ESPN HoopGurlz Tip Sheet Mentions and Features:
%u2022  USA U16 Trials--May 2011