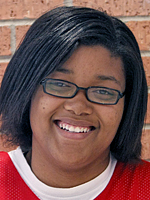 Kristina Higgins
Post
CLASS: 2012
El Paso, TX

Hometown

Chapin

High School
57

Overall Rank

8

Position Rank
ESPN Player Evaluations
Nike Nationals-July 10: Phyiscal and powerful on the block, she has great moves and nice footwork. (Bodine)

Had one of her better performances in Augusta and may well have been the one player who could have made a difference in the final. In limited minutes she was an effective low post force and a strong contributor on the boards. There's nothing flashy to her play but she plays within herself and has improved each time out. She'll have to add to her arsenal to become a more complete threat in the post but has a steady and constant improvement to her game. (Lewis)

Nike Summer Showcase-July. 10: Has not only size but the bulk as well to be a real force inside. Somewhat methodical at this point but works at every aspect of the game. A lot of things are still a thought at this point rather than a reaction but the potential is obvious. Willing to play physical and mix it up which makes her a force defensively and on the boards. (Lewis)

Flava Jam-July '10: Higgins continues to improve and with that has come a little swagger. She seemed to enjoy her matchup against highly touted Rachel Hollivay of Essence. She continues to show impeccable footwork, soft hands and agility that few her size have. She is scoring with more than just a drop-step now and is a rebounding force. She needs to improve her conditioning because her agility and size combination getting up and down the court and getting early post position for longer stretches would maximize her impact. She's not in bad shape but could definitely turn it up a notch. (Hansen)

Nike Skills-May '10:Extremely mobile for her size..she has excellent footwork in the paint. Once she has her defender sealed and she almost impossible to stop from drop-stepping to the basket.
Notes
Nike Regional Skills Academy, 2009.