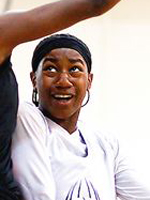 Khadijah Ellison
Guard
CLASS: 2011
Roxbury Crossing, MA

Hometown

J. E. Burke

High School
44

Overall Rank

10

Position Rank
ESPN Player Evaluations
Battle of the Boro-July 10: When it comes to putting the ball on the floor and getting from A to B there may not be any more dynamic ballhandler than this Roxbury, Mass., native. The 5-7 combo guard almost defines "having the ball on a string." Whether it's a hesitation, crossover, between the legs or around the back, she keeps it low and wastes little effort working side to side before she attacks the rim. Making her even more difficult to contain or pick is the low level at which she keeps the ball. While she may keep the ball low, the rest of her play is high-flying. On her pull-up, off a lob or just hitting the boards she elevates as well as anyone on the floor. On her penetration she's willing and more than capable of reading helpside rotations and delivering some pinpoint, and often flashy, passes. She's got sound form and a nice touch from the perimeter as well as one of those rare true jumpers. Defensively, she's quick and aggressive on the ball but takes chances at times that will leave her reaching and out of position. On the weakside, she has good vision and anticipates well often making the pick on the skip or floated pass. (Lewis)

Deep South-April 10: Explosive guard that is maturing nicely, she is comfortable being a leader on the floor.

Showtime Nationals-July 09: She is a big time, explosive leaper which she deploys around the rim allows her to score over bigger interior players; plays bigger than her 5-foot-8 frame.
Notes
Club Team: Albany City Rocks

As of Feb. 2010 schools list includes Boston College, Providence, North Carolina, Texas, Michigan State, Memphis and Southern Cal.