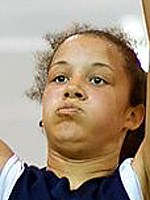 Virginia Johnson
Wing
CLASS: 2011
Iowa City, IA

Hometown

Iowa City

High School
62

Overall Rank

11

Position Rank
ESPN Player Evaluations
Boo Williams-April 10: Bound for her home town University of Iowa, this 6-1 wing almost defines the word versatile. Combining size, athleticism and skills, she has taken multi-taking from the corporate world to the basketball court. She's effective both on the break and in the halfcourt. She can attack off the dribble and get to the rim or pull up with good elevation on the short jumper. While perimeter opportunities are secondary to her attack of the dribble, the form is there to be a threat and could be a real asset at the next level. Defensively, she has the feet and the speed to match up with smaller and quicker guards and the wingspan to eliminate most of their offensive options. She's effective on the boards and isn't hesitant to throw her lean build into the mix when things get physical.

Chicago Fall-Oct. 09: Each class seems to have more 6-0-and-up players who are redefining the perimeter positions on the floor. Virginia Johnson of Team Iowa might well be one of those players who should have her picture by that new definition in the dictionary. Long, lean and athletic at 6-1, she can get out on the break with or without the ball and in the halfcourt can create off the dribble. Her size and agility make her a difficult match up for defenders and her first step gets her by both the big and the quick. Consistency in her shooting should come with repetitions as the form and touch are already in place. Her wingspan is that of someone even taller and allows her to get touches and blocks again and again. Johnson may well be a major sleeper in the 2011 class.
Notes
Club Team: Team Iowa

First team all-state, 2010 ... 4A Region 8 All Region Team, 2009.