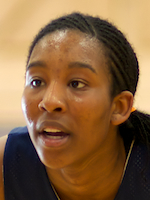 Sydney Umeri
Forward
CLASS: 2013
Acworth, GA

Hometown

The Lovett School

High School
29

Overall Rank

9

Position Rank
ESPN Player Evaluations
USAB U16 Trials-May 11: It's hard not to be a fan of Umeri's game and her approach to it. She's strong and physical and seems to enjoy playing the that way as well. Her solid build and wide frame give thought to Karl Malone type forward. Her mentality offensively is to constantly be attacking both with and without the ball. Down on the block she's got some refined post moves as well as some effective interior passing. She demonstrated a little ballhandling in the open court and used an explosive first step to get to the rim from the elbow. At the defensive end she almost appears to enjoy putting a body on someone and is an effective position defender. (Lewis)

Derby Classic-July 10: She continues to improve and show a great deal of maturity on the court. She has a nice touch around the basket with both hands. (Bodine)

Nike Regional Skills-May 10: A very good athlete who is best at getting to the rim in transition. If her handle is developed she can unlock all her athleticism. She is ahead of her peers when it comes to upper body strength so playing with contact has come naturally at an early age.

Deep South Classic-April 10: She continues to improve..understands how to find open teammates when she is doubled teamed. Plays under control with a great deal of maturity for her age.

Super Showcase ATL-Oct. 09: Watching Umeri, it is hard to believe that a player with her size, power and basketball IQ is only a freshman at Lovett High (Atlanta, Ga.). She is 6-1 and is as skilled a player that you will find in this class; the best description of her position is point-forward. A physical specimen, Umerie has incredible hops and is very comfortable playing the game at rim level. Her passing ability and open-court ball handling make her a tough defensive assignment. She can get to basket in one or two dribbles from the perimeter and she punishes the defense when she attacks the paint. Umerie is relentless on the defense boards and seems to block or alter at least one shot on every possession. Her potential is unlimited and one can only imagine how good she will be as she matures.

Derby Classic-July 09: Another up-and-coming youngster is Sydney Umeri of Peak Performance. She doesn't need to get any bigger or taller because she has a college-ready body even though she's not played a single high school game. Her athleticism is what makes her a top prospect, and it should be fun to see how she develops over the next four years. Her play has already earned her an offer from North Carolina.
Notes
Club Team: Peak Performance