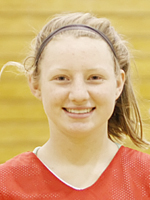 Megan Rogowski
Guard
CLASS: 2011
Arlington Heights, IL

Hometown

John Hersey

High School
—

Overall Rank

61

Position Rank
ESPN Player Evaluations
USJN DC-July 10: Although our best of the summer rankings are a few weeks away, we would like to suggest that Rogowski is one of the best shooters in the country. During one half of play, she drained three deep jumpers and led her Hustle team to an early first half lead. Draining 3-point baskets are not the only scoring options for Rogowski. She compliments that deep shooting range with a very high arching runner that she executes when defenders rush to guard her proficiency from deep. Along with teammate Mariah Smith, they form one of toughest perimeter scoring duos of the summer.

Rogowski was bound to cool off this summer and though she didn't shoot it as well as earlier in the month, she still shot it better than most. Beyond her touch, it's her focus and effort to create her looks and scoring opportunities that sets her apart from others. Drawing opposing top defenders she cuts effetely off screens and reads the floor well beyond her years. At either end of the floor her work ethic is a staple you can count on. (Lewis)

Nike Summer Showcase-July. 10: As true shooters become more and more difficult to find, players like Rogowski become more and more of a commodity. Her ability to knock down her looks is exceeded only by her talent for finding those shots. She reads well off screens and can even set up a nice step back off the dribble. She's not going to be your go to penetrator but enough is there to keep defenders honest and give her some breathing room. The athleticism is adequate but it's the work ethic and skills that let her compete with the quicker and sometimes bigger defenders. (Lewis)

Chicago-Oct. 09: Through the years the Illinois Hustle has had a lot of versatile scorers and Megan Rogowski may seem set to step into that role for them in the future. Friday and Saturday the 5-10 guard found scoring opportunities spotting up for jumpers or using an impressive shot fake to get defenders out of their stance and attacking on the drive. Her ability to read defenders makes her threat to score or set up her teammates as well. She handles it comfortably and has a few moves that can shake some aggressive on ball pressure. One other aspect of her game that makes her effective offensively is her aggressive cuts off screens, backdoor or over the top of defenders. Rogowski is the kind of player who will find her looks and make them count.

Nike Regional Skills Academy-May 09: Nice release on her jump shot, good range. Handle needs to improve to be able to play both guard positions.
Notes
Club Team: Illinois Hustle