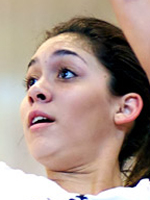 Keani Albanez
Guard
CLASS: 2011
Santa Barbara, CA

Hometown

Buena

High School
72

Overall Rank

19

Position Rank
ESPN Player Evaluations
Nike Nationals-July 10: May have been one of the more underestimated players in Augusta. Nice size on the wing with some fluid athleticism and leaping ability. Playing a smart, well thought game creating some of her own looks as well as picking up a few assists. Rebounds and defends well and may be one of those who really comes into her own at the next level. (Lewis)

Summer Showcase-July 10: With Chelsea Gray now on to her college career at Duke, the Cal Storm Team Tarausi has a different look. Without a point guard who dominates the ball it has placed a bigger burden on each of the perimeter players to get involved early. Albanez and teammate Karina Alofaituli are both thriving with the additional responsibility. In the past Albanez, a 5-foot-11 guard, could wait for the game to come to her. But with her scoring ability and pretty jumper, her team cannot wait for her to catch fire. She is being more active and as the defense adjusts she is figuring out when to distribute. Her mid-range game gives her an added dimension offensively and she seems more comfortable then ever putting the ball on the floor to create those scoring opportunities. She has a lean build so adding strength for college level will be vital. (Hansen)

Spring Fling-May '10: Just based on her length at about 5-10 and athleticism, Keani Albanez of Buena High in Ventura, Calif., would be a prime Division I prospect. But she also flies all over the place, at both ends of the floor; will go hard at the cup off the dribble, and has three-point range. If and when she tightens up her handle, just a wee bit, you can pencil her in as a shooting guard.

Nike TOC-Dec. 09: In an era of stand-and-watch basketball, the players who are active without the ball find themselves on the receiving end of a few extra scoring opportunities. Those same players who can also create their own looks become legitimate offensive threats and popular recruits in the eyes of college coaches.

Buena's (Ventura, Calif.) Keani Albanez is a multifaceted scorer who can make her coaches smile and give opponents headaches. The 5-10 junior guard has the ability to read defenders and exploit opportunities off both the cut and the dribble. Her constant motion and activity also occupies help-side defenders while providing more room for her teammates to attack. The effective jumper she demonstrates has good form and comes at the top of some impressive elevation. While her ballhandling is sound, she'll have play a little less upright to be effective against smaller and quicker defenders in the future.

Making Albanez an even more rounded threat on the floor is her own affinity and passion for defense. She's willing to get into a stance and does a good job of forcing her match up to play laterally. Her vision from the weakside allows her to rotate well and there's no hesitancy to put a body on an ambitious cutter. Albanez offers a lot of possibilities at both ends of the floor as well as at the next level.
Notes
Club Team: Cal Storm Team Taurasi