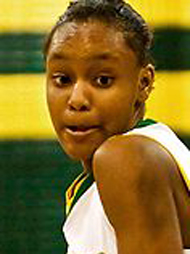 Nina Davis
Forward
CLASS: 2013
Memphis, TN

Hometown

Memphis Central

High School
52

Overall Rank

14

Position Rank
ESPN Player Evaluations
Boo Williams-April 12: Davis, a 6-foot-1 forward from Memphis, Tenn., brings great versatility to the floor with her combination of size and athleticism. The No. 58 prospect in the HoopGurlz Super 60 has the ability to score around the basket with great effectiveness and did so throughout the weekend. She has the size and ability to attack the basket off the bounce or catch the ball inside and finish with either hand around the rim. Throughout the weekend, Davis was asked to defend taller and often bigger post players, and she rose to the challenge and managed to make things difficult for opposing team's post players. Her size mismatch on defense was an advantage on offense as she used her athleticism and foot speed to go around off the bounce and on occasion chase down the loose offensive rebound and earn her team a second-shot opportunity. (Moore)

Deep South Classic-April 11: Long athletic, good hops, Fearless in attacking the paint off the dribble finishes well at the rack, good handles, runs floor extremely well. Nice midrange jumper. Excellent defender. Loves to jump the passing lanes and finishes well off the fastbreak. (Beverly)

Playing more and more assertive. Looking to create off the dribble and is finding her looks as well as opportunities for her teammates. Physically is looking stronger though still playing with a long lean build. The perimeter shot looks good statistically if not fundamentally. Is evolving into a dominant impact player and showing more and more confidence. (Lewis)

Nike TOC-Dec. 10: Lots of tools and potential that keeps showing flashes of becoming a consistent reality. She's creating more and more off the dribble which is good since the perimeter shot is still evolving. The left hand has got to become more relievable if she's going to keep defenders honest and be a complete threat. Despite only being a sophomore she's got a lot of experience and should be stepping up more often when things get challenging. (Lewis)

Turkey Jamm-Nov. 10: One of the great things about identifying and watching talented young players from a young age is seeing the progress in their game. This 5-9 combo guard was impressive as a freshman is showing considerable maturity already as a sophomore. She's not ready to skip the rest of high school and move on to college but continued advancements at the same rate will have a long line of coaches looking for her services when the time comes. Physically she's stronger and there seems to be more confidence in her play. With the ball, both at the point and on the wing, she can slash and penetrate with an impressive crossover while creating both shots and passes. The spin moves and body control are there to get off some creative shots at times but occasionally the pass might be the better option. It's obvious that she's put in the time on the jumper but it's still a major work in progress and an essential need to make her a more complete player. Davis has the size and athleticism to be a strong on-ball defender and anticipates off the ball effectively. That line of recruiters has already formed but it will be up to her how many ultimately will be knocking on her door. (Lewis)

Basketball on the Bayou July '10: For such a young player, Davis exudes confidence and is super aggressive at both ends of the floor. She has very good size and fluidity, but has a game that so far screams for a pairing with a very good long-distance shooting point guard. Davis' strengths are her toughness inside and her vision and passing ability from the wings and high post. As noted before, her shooting form is unorthodox and costs her points from the perimeter and free-throw line. As she will have to play guard or (a smallish) wing, that will need to improve to expand her recruiting opportunities. (Nelson)

AAU Orlando-July 10: Listed at 6-1, Davis has the size of a forward, but her game is all guard. She is capable of playing all three perimeter positions and can guard each as well with her lateral movement and long wingspan. She is at her best in transition, where can make solid decisions with the ball or out run defender from the wing spot. Davis has range to the three-point arc and can penetrate to the basket. Her shooting motion is very awkward, although effectively and her high release makes it impossible to block. (Powell)

Turkey Jamm-Nov. 09: Adding one of the state's most impressive freshmen may well be the key to Memphis Central taking one more step past last season's state championship loss. That may be asking a lot of a freshman but Nina Davis isn't your average 9th grader. The 5-9 guard has good size and athleticism and has also filled out and matured just since last year. She is confident and moves well with and without the ball. She can create her own looks off the dribble and is not hesitant to get into the paint and finish in traffic. She has good vision on the floor and is more than willing to give it up when the pass needs to be made. The one thing that is missing is her perimeter shot. She may make a few here and there but her form is out of a different book and will need some work to find the consistency she will need in the future. The level she can reach is up to her.
Notes


In her own words: Meet Nina Davis