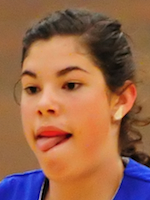 Kelsey Plum
Point Guard
CLASS: 2013
Poway, CA

Hometown

La Jolla Country Day School

High School
26

Overall Rank

6

Position Rank
ESPN Player Evaluations
Deep South Classic-April 11: Lefty. Play maker that can score and distribute well. Strong IQ. (Gray)

While not her best performance, but nobody can challenge her competitive fire or hard nosed play. Was dealing with back pain among other battle bruises resulting from her no holds bar play. Textbook fundamentals and court concepts allow her to be a factor on almost any possession. She's a scoring threat spotting up or taking her defender off the drive. She works hard at getting her defender out of her stance to create her looks or passing options. Footspeed won't be at the top of any list but effort more than compensates at the defensive end. (Lewis)

Nike TOC-Dec. 10: It's always flattering to be considered a great scorer. Even better? To be considered a great creator. That's the role that Plum of La Jolla Country Day (La Jolla, Calif.) morphed into Friday at Willis Junior High. There were many times early on when her team appeared lackluster at best. Enter the 5-9 junior guard from Poway, Calif. Initially it seemed as though her teammates were still in the Golden State, entrenched in finals.

As LJCD got off to a slow start, Plum demonstrated an ability to take over a game. Not only was she capable of scoring and creating shot opportunities for herself, she also found ways to engage teammates in the cause. She accomplished this by becoming more vocal, stepping up her intensity on both ends of the floor, and by demanding the same passion from those around. The end result was a collective and hard-fought win over a talented and feisty Tolleson Union (Ariz.) squad.

And while she gladly took her team on her back and served as a floor general, Plum was also able to create for herself. When in a one-on-one setting, she was entertaining to watch as she broke down defenders. She is very crafty at using her body to create space either leaning in or stepping back on the space away. Several times she muscled by her defender with a spin-back-middle power move to finish at the rim. In the end, it was a combination of distinguished leadership, distribution of the ball, and plain old fashioned putting up points that made Plum such a shining star in her first round win at the TOC. (Howe)

Nike Skills-May '10: Point guard with decent ballhandling skills. Active athlete but still developing her game.

Nike Extravaganza-Feb. 10: She can get lost amongst her pogo-stick teammates flying all over the court, but Plum, while just a freshman, could be La Jolla Country Day's foundation player. At 5-9, she has good size and skills through which to run an offense and, with length and fluidity, is no athletic slouch herself. Her best move off the bounce is a nice, quick crossover, which can lead her to the rim, where she can be a creative finisher, or into a pull-up jumper. She has good body leverage, strength and form to be lethal from long distance. Plum also has a good sense of timing, as well as being in the right place, which portends well for her development at the point.
Notes
Club Team: Wiggins Waves

ESPN HoopGurlz Tip Sheet Mentions:
%u2022  Deep South--April 2011
%u2022  End of the Trail juniors--July 2011