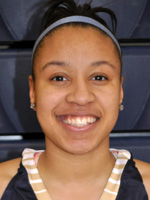 Lindsey Spann
Point Guard
CLASS: 2013
Laurel, MD

Hometown

Good Counsel

High School
84

Overall Rank

18

Position Rank
ESPN Player Evaluations
Nike TOC-Dec. 11: Shooting it well. Making the open three - has real ball skill. Solid athlete, right-hand dominant but was able to finish with her left hand on the left side of the floor. (Clay)

USA U16 Trials-May 11: Despite Spann usually being a player that is constantly attacking, she molded her game well to what the coaches were asking of her. She showed the ability to control the pace of play from the point and get her team into sets. Her eyes are constantly scanning the floor for potential dimes. If she can take this type of performance and mold it with what we are used to seeing with her high-school team, she should see her stock continue to rise in the '13 class. (Hansen)

Aggressive point guard with sharp and effective one on one skills. Getting past defenders is not an issue and but what happens after is somewhat inconsistent. The tools are there to finish as well as deliver the ball but more consistency needs to come to her decision making off the drive. She has the ability to make those around her better and could rack up the assists at will. Strong on ball defender at times who plays with a hard to find assertiveness. (Lewis)

Breezy Bishop-Dec. 09: Dynamic with the ball... terrific passer creates scoring opportunities easily..plays hard on both ends of the floor... always in attack mode.
Notes
Club Team: DC Heat