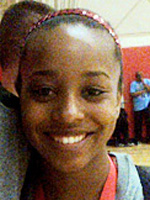 Lexie Brown
Point Guard
CLASS: 2013
Suwanee, GA

Hometown

North Gwinnett

High School
15

Overall Rank

3

Position Rank
ESPN Player Evaluations
USAB Trials-May 12: Although she is known for her smooth perimeter shooting stroke, it was the other parts of the 5-9 guard's game that were on display at the USA trials. Brown showed that she has the ability to be effective at a high level playing on or off the ball. At times, depending on the construct of her team, Brown was asked to play the point guard position and orchestrate the offense and then later move to the wing and find ways to score the ball inside an offensive set. It was her ability to handle both roles that helped her solidify her spot on the U18 national team. (Moore)

EBA All-American Camp-Sept 11: The passive Brown who sometimes showed up in the Spring club season was nowhere to be found this weekend. The future Maryland Terrapin was as aggressive and confident as in any prior viewing. There wasn't a shot the 5-9 guard was afraid of and she had no issues carrying the scoring load for her teams. She showed some questionable shot selection, but when you're making those shots as Brown was, you don't get benched for it. Her game isn't confined to scoring in waves; she showed she is capable of being a stopper on the defensive end when she's dialed in. (Hansen)

EBA Super 64-June 11: Looks to be adding some length to her frame. Constantly utilizing her speed and pushing the ball from makes, misses and turnovers. Distributing the ball with more confidence and maturity in traffic. Most evident advancement in her game is her effective use of a change of speed. Her acceleration leaves defenders standing who come out of a stance on her hesitation dribble. Though she still turns her body to a degree on her jumper it's hard not to take note of the elevation that gives her clean looks off the pull up or from range. Playing very active defensively and getting lots of touches one pass away as well as on the weakside of the floor. (Lewis)

Boo Williams-April 11: Played most of the weekend off the ball after a season at the point guard position at North Gwinnett. Was good but not as dominant as some prior viewings. She looks more and more confident from the perimeter but the point guard skills and dribble penetration that makes her so dangerous was not as frequent as past events. (Hansen)

Spring Showdown-April 11: Describing Brown in just two words -- "ice cold." Defensively the 5-9 Brown was like Freddy Krueger. She tenaciously attacked the passing lanes with reckless abandon and defended the perimeter, consistently hounding ... Click here for the full evaluation and tip sheet.

All SE Invitational-Oct. 10: Showing more and more maturity in her game and seems more comfortable attacking in the individual setting than with her club team. Created both passes and shots with confidence and made good decisions with the ball. Finished effectively in traffic but still makes some shots a little more challenging than they need to be rather than just taking the foul and going to the line. Active on ball defender with good anticipation. A little too ball oriented on the weakside but still a strong asset in help. (Lewis)

Nike Summer Showcase-July. 10: Maturity is slowly coming and paying big dividends for Brown. She's creating more and more off the dribble and getting by defenders on the break and in the halfcourt. The consistency that her jumper is beginning to show is a good sign of things to come and a bad sign for defenders. She seems to be wanting the ball more and looking for her own options as well as the smart pass. The best is yet to come for this young guard. (Lewis)

Nike Regional Skills-May 10: A quick and skilled young guard who just needs to get stronger to play through contact. Capable of being one of the top guards in her class but sometimes she didn't show the confidence to match her level of play at a young age.
Notes

In her own words: Meet Lexie Brown
Read more: Lexie Brown blog