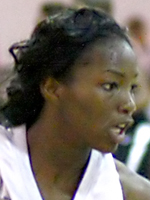 Nneka Enemkpali
Forward
CLASS: 2011
Pflugerville, TX

Hometown

Pflugerville

High School
32

Overall Rank

12

Position Rank
ESPN Player Evaluations
USJN DC-July 10: Easily on of the best inside tandems in Chicago and now in DC was Enemkpali and Forthan. As good as Forthan played, this 6-2 forward was just a step behind her in performance and productivity. One of the most surprising aspects of her game is her mobility and willingness to get out and run the floor. Her strong, well rounded game offered an impact both offensively and defensively. Sat a large portion of the semi finals with her knee wrapped but played the following day. (Lewis)

Summer Showcase-July 10: This strong, athletic forward makes her presence felt at both ends of the floor. Offensively, the 6-2 Pflugerville, Texas, native is intense and active in looking for her opportunities. On the block she posts wide and aggressively. As the ball moves around the perimeter she's active in improving her position and angle while keeping her defender sealed. On the break or in the halfcourt she cuts hard and is adept at getting herself free and becoming a scoring option. Her physical strength and mobility make her an imposing defender and contribute to her impressive presence on the boards. Her speed along with her size gives her the tools to be an effective part of any press or trapping situation. Her potential is just barely being tapped.

Boo Williams-April 10: What's in a name? The similarities to the last superstar with the same first name, Nneka Ogwumike, are more than namesake. The 6-2 forward leaps in the air with fluid, effortless motion on both ends of the court. She impacts the game with her ability to change shots and rebound. She is teamed with Krystal Forthan on TeamXpress, combining for one of the most athletic frontcourts on the circuit. She has the ability to hang in the air while the defenders drop back to earth and the strength to finish with contact. She needs to assert herself more offensively because she can be a difference maker if she wants to be.
Notes
Club Team: TeamXpress Black