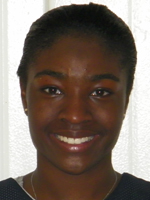 Jasmine Jones
Forward
CLASS: 2012
Madison, AL

Hometown

Bob Jones

High School
39

Overall Rank

8

Position Rank
ESPN Player Evaluations
Deep South Classic-April 11: Athletic frame, added a nice 3pt stroke to go along with midrange game, rebounds extremely well, all around defender, can defend mulitiple positions, blocked several shots, face game with ability to attack off the dribble. (Beverly)

Nike Regional Skills-May 10:One of the most explosive players in the gym. She has a college-ready body and her athleticism is on par with anyone in the class. She stays active, attacks the rim and has the ability to finish in traffic. She can rebound her position, defend multiple positions and is a potential top five player in the class. If 2010 was about Kaneisha Horn in the South then get used to hearing about Jasmine in 2012.

Deep South-April 10: I would like to thank a good friend of mine who suggested I "stick-around" and watch the next game during my exit from N.C. State. I got to see Jones-Vaughn, also known as JJ, who was as impressive a forward prospect as I saw all weekend. The 6-1 forward for the Southern Starz of Alabama is one of the quickest leapers you will ever see in the women's game and one of it's hardest workers as well. During a stint during the first half of her team's final game, JJ took a charge from a fleet-footed guard, forced two turnovers and drew three defenders with a hard flash to the basket. In case you did not notice, that's four plays she made without ever touching the ball. Once the ball is in her possession, the Sparkman High standout knows what to do with it. She can score from anywhere on the floor-at any time. A tireless worker, who can score and rebound in traffic. She is a high-octane athlete with basketball skills to match. Although she missed her two 3-point field goal attempts during our viewing, the release and the rotation were dead on.
Notes
Club Team: Ala. Southern Starz

Transferred from Sparkman to Bob Jones prior to her junior year.