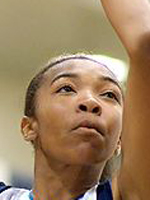 Imani Stafford
Post
CLASS: 2012
Los Angeles, CA

Hometown

Windward School

High School
11

Overall Rank

3

Position Rank
ESPN Player Evaluations
WCP Spring-May 11: Legit height. Has potential to be one of the game's best centers for a long time. Consistency in all aspects is the key. Face up skill all the way out to the three point line. Battled with Rachel Hollivay (MS-12) in a Sunday morning game. Blocks shots, changes shots, rebounds and runs. (Clay)

FIBA U17-July 10: Stafford played the fewest minutes of anyone on the team by virtue of being the least experienced player at the team's deepest position. She played well when she was on the floor. She converted on 52 percent of her field goal attempts and was third on the team in rebounding despite playing just 77 minutes. She grabbed 12 rebounds in 14 minutes against Canada and had an eight-point, seven-rebound performance against Japan in 12 minutes. She is an active player, though she didn't block as many shots as expected given her reputation and performance during the team trials. She showed the confidence to shoot from the mid-range without hesitation. As she stops growing vertically and starts to fill out and add strength, her statistical performance will only get better. Some of the putbacks that rim out will be scores when she can keep the ball high and stay on balance in traffic. She is a budding star who probably came away from the World Championships with more than any other player. (Hansen)

USAB Trials-June '10: One of the biggest surprises of the trials was the 6-7 Stafford. The California native made her presence felt early and often. She has a nice high touch around the basket and does a great job of keeping the ball high and away from the defense. She can score with either hand and is a natural shot-blocker. Because of her long strides, she covers a lot of ground on the court, although she does not appear to be running fast. Due to her stride length, she can separate from the defense in one or two steps, an amazing feat and a major advantage for her team. Already listed among the top players in the class 2012, currently ranked No. 23 in the ESPNU Hoopgurlz Terrific 25, she should be making her way up the charts in due time.

Nike Skills-May '10: Continues to demonstrate improving skills and advancement in all aspects of her game. She posts aggressively looking for the ball and utilizes her extensive reach in putting up a target for teammates. There are times she settles for falling away rather than attacking the rim but when she does take to the hole it's impressive. She has the stride and the speed to run the floor with the guards and will be there in transition if she's not the outlet pass. A very important summer lies in front of her in terms of development and where recruiters will ultimately see her in the national picture.

Spring Fling-May '09: Much as Imani Stafford tempts us, we won't repeat the tired bromide about the inability to teach what she has -- that is, 6 feet 5 inches of height. The post prospect out of Winward High in Los Angeles isn't just tall, she's tall with coordination and mobility. She also has a little shot, though we would not tempt it too far away from the lane. Stafford also has time to build an athletic base that will help her balance in the post, as well as develop the footwork that will add accuracy and range to her shot.
Notes
Club Team: FBC Blue

Selected to the USA Basketball U17 national team and won a gold medal at the FIBA U17 World Championships, 2010.

Recruiting Update-Aug. 25, 2011: Has dropped Notre Dame and will not schedule an official visit.