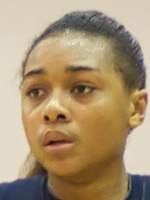 Allisha Gray
Guard
CLASS: 2013
Sandersville, GA

Hometown

Washington County

High School
7

Overall Rank

4

Position Rank
ESPN Player Evaluations
USAB Trials-May 12: Once a one-dimensional shooter, the 6-foot Gray has transformed her game and is a threat anywhere on the offensive side of the court. She has a pure shooting stroke but also has the ability to drive and finish in the lane. Her strong build and explosive moves to the basket keep her defender guessing on what she will do with the ball. You have to respect her jump shot, but as soon as you try to body her up, she will not hesitate to go around you for a quick pull-up or layup. The advantage she has on defense against smaller guards is her upper-body strength and lateral speed. Gray was able to guard anyone on the perimeter, and that will benefit this team because of the physical play in the FIBA Americas. (Gray)

Boo Williams-April 12: Continues to improve. Gray was explosive getting to the rim and hit the three-ball as well as we've come to expect from her. Also, when given a marquee matchup defensively, she elevated her game on that end. The next step for Gray is refining her mid-range scoring, which will start with footwork for a stepback jumper or some other separation move. With her athleticism and range, scoring in between seems like the last step to cementing her status as a premier scorer. (Hansen)

Nike Nationals-July 11: One of the best scorers in the country. Proved that here. Instant offense. Wants to go left 100% of the time but finds ways to get there. Just plays hard! Kid that makes you focus on figuring out how to guard her. High school team went 31-0 her sophomore season and Gray was one of the best players in the state. (Moore)

Battle in the Boro-July 11: Continued the coming out party she started in Colorado Springs at the USA Basketball trials back in June. Almost seems to add another o to the word smooth on every possession and drive. Her attack is well read and explosive but has an element of fluidity to it. The first step is lengthy, explosive and reminds any defender that there's a price to pay with too tight of a close out. Her court awareness also facilitated some sharp passing from her as opponents rotated her way on the drive. Defensively she can frustrate both the quick and the strong and seems to be evolving equally at that end of the floor as well. Bad news for the folks on the other bench. (Lewis)

USA U16 Trials-May 11: One of the best athletes in the class, to say Gray is explosive is an understatement. This lefty has good length with a strong lower body. Someone should check her calves for springs because she is one of the highest leapers in the trials. She complements her ability to get to the rim and finish with a smooth release on her jumper. She has the potential to be a lockdown defender on the perimeter. (Hansen)

Once again demonstrated her exceptional athletic resources which combine with ever improving skills to make her a challenge for any defender. Her length and quickness exploited those of less size and left bigger match ups standing. Once in traffic she had no trouble finishing and found her way to the line a time or two as well. The jumper came and went a bit but we've seen impressive consistency from her in the past both with range and on the pull up. Added physical strength makes her a real asset defensively and as good as her offensive skills are, she has the tools to be have an equal impact at the other end. (Lewis)

Nike Nationals-July 10: A left-handed athletic wing with that can get to the basket in traffic. Passes the ball very well and makes quick decisions under pressure. Huge upside. (Bodine)

Lefty guard with impressive speed and quickness. Navigates traffic and gets to the rim. The jumper has a forward motion on it but finds it way. Active on ball defender but plays a bit tight on the weakside. (Lewis)

Music City-July 10: One of the top young players in the tournament was the high-scoring guard from Sandersville, Ga. She is a very smooth left-handed guard with game well beyond her years. Gray can score in every conceivable way. We like her ability to penetrate and finish with regularity in the paint. Her pull-up game features a high ranging one-handed shot or a solid stop on a dime, elevate and stick from the mid-key. Gray also possesses deep range on her shot and has one of the softest touches of any guard in high school. Even though she is a good passer, scoring is what she does best. Look for Gray among the top guards nationally in the class of 2013. (Powell)

Battle in the Boro-July 10: There's not any one specific thing that makes this native of Sandersville, Ga., standout. It's the combination of all that she brings to the floor combined with her young age that grabs your attention and makes you watch. A 5-9 guard, she's got a solid and athletic physical build and a smooth and deceiving element to her movement both offensively and defensively. Her ballhandling is sound but a bit upright at this point. She can create off the dribble and gets to the rim with ease in the halfcourt or transition. The form is there and serves her well on both the jumper as well as open spot up looks. There's a fall away look that she got to go down a few times that will be tough to defend as she matures. On the defensive side she's got the tools to be a strong defender but has to find a consistency of effort on every possession to take advantage of them.

Nike Regional Skills-May 10: A lefty guard who has tremendous athleticism. Her skill set needs to be developed but she's not without a solid foundation to build on. She surprises opposition with her leaping ability. She is good for one big time block on an unsuspecting guard per game.
Notes
Club Team: Georgia Metros