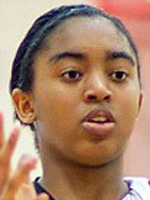 Peyton Whitted
Forward
CLASS: 2013
Suwanee, GA

Hometown

North Gwinnett

High School
59

Overall Rank

17

Position Rank
ESPN Player Evaluations
EBA Super 64 East-June 12: Whitted continues to improve and has really become the consistent player we've been asking for. She is embracing her advantages in the post more frequently and isn't settling for the 17-footer. This weekend was a really solid showing for her. (Hansen)

EBA All American Camp-Sept. 11: Though Whitted seemed to be really hard on herself for missed shots, she actually displayed more progress in her game than at any ... Click here for the full evaluation and tip sheet.

Battle in the Boro-July 11: The mystery continues as to what position might actually best suit this ever improving prospect. In Murfreesboro her ability to put the ball on the floor and attack the rim was on display and gives indication that the perimeter may well be in her colligate future. At the same time she'll have to find the consistency to be provide the same results game in and game out to convince coaches not to be tempted to line her up at a forward spot to exploit the combination of those perimeter skills and her size. The soft jumper was there as it was at the USA Basketball trials last month but wasn't called on as often with the penetration she was creating. Defensively the potential is still obvious and shows itself here and there but will need to find that same consistency that the offensive end is looking for as well. (Lewis)

EBA Super 64-June 11: Whitted continues an impressive spring with added maturation and confidence in her play. She was more than willing this time around to post up and attack from both the block and elbow in addition to her wing play. Her versatility may well be what sets her apart from others on the floor. She has the speed to run the floor with the guards and quickness to exploit any match up of size. Defensively her length makes her an asset as a backcourt presence in man, zone or pressing situations. The potential to be an impact player is there if she'll choose to step up on every play. (Lewis)

USAB U16 Trials-May 11: Whitted demonstrated some advancement in her game and had more than her share of moments in a talent rich setting. She was effective with her perimeter and pull up shots and slithered around defenders a time or two off penetration. The floater was there on a couple of occasions and she got to the line multiple times. Her ballhandling is sound and her passing sharp but she still appears uncomfortable at times on the wing rather than at the forward spot. She can be effective at either depending on defensive match ups and her willingness to exploit an opponent rather than simply take what she gives her. There's no doubt she's offering more at both ends of the court but she still leaves you thinking that she's still holding something back. (Lewis)

Spring Showdown-April 11: If you're looking for a prototypical basketball player look no further than the 6-3 Whitted. She is built much like Tennessee's Glory Johnson and fortunately for Whitted, the comparisons... Click here for the full evaluation and tip sheet.

All SE Invitational-Oct. 10: This long, lean 6-2 wing-forward is the kind of player that leaves you wanting more. Each time out Whitted shows more growth and depth to her game. Another in the mounting avalanche of lefthanders, she combines strong perimeter skills with the size and athleticism that will challenge opponents. Her crossover is becoming a more lethal and effective weapon and she's showing more of a willingness to take it on into traffic than in the past. There's still a "soft" element to her game that you want to see her get. Defensively this wasn't her best effort as she seemed more content to react to her matchup rather than dictate or take anything away. Whitted has the potential to take that next step to the top tier of prospects in her class if she'll push herself beyond her comfort zone. The results might even surprise her. (Lewis)

Peach State-July 10: On a high-profile team like the Georgia Ice, it's difficult to stand out if you're just scratching the surface of your potential. First glance may not have this 6-1 forward catching your eye, but keep watching and you'll see some potential that's going to have the college coaches calling. Her long and lean build combine with some fluid athleticism to help her cover either end of the floor as efficiently as any coach could hope for. On the break or in transition defense she's out in front and has the speed to keep up with the guards. Offensively she had some moments working from the high post and creating off the one dribble drive. Her tendency to avoid contact will be something she'll have to overcome but physically the tools are there to mix it up. Defensively she could be a force defending smaller guards, playing the front of almost any press or at the top of any trapping zone. Aggressiveness and consistency will be keys in expanding and advancing her game to the next level. (Lewis)

Nike Regional Skills-May 10: Good size, athleticism and length. Showed signs of being a big time prospect but blended in at other times. Keep an eye on.
Notes
Club Team: GA Hoopstars Black