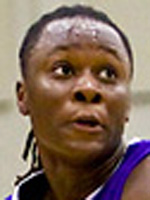 Shayla Cooper
Forward
CLASS: 2013
Norcross, GA

Hometown

Norcross

High School
35

Overall Rank

12

Position Rank
ESPN Player Evaluations
AAU Nationals-July 11: Was good here. Maybe her best event of the summer. We saw her in NY, Orlando, New Orleans, and here. Rebounded the ball and finished through contact. Doesn't create her own looks at a high rate, but has a nice stroke from 15-18 ft and can finish inside. Length and athleticism will bother her from time to time. A very good prospect who we will be looking to see how she grows over the next 10-12 months. (Moore)

Flava Jam-July 11: As a result of the NCAA's new boarder state legislation, Essence is without the services of 6-4 rising senior Rachel Hollivay. This 6-1 forward stepped up in her place and provided an interior game that would keep any coach smiling. Her play on both ends in every game was relentless... Click here for the full evaluation and tip sheet.

Boo Williams-April 11: Big Strong physical forward, tenacious on the offense boards. (Bodine)

Nike Regional Skills-May 10: She has a strong, physical style but her skill set hasn't reached the elite tier in her class yet.
Notes
Notes are not available.