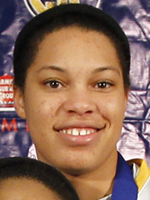 Breanna Brown
Forward
CLASS: 2013
Oakland, CA

Hometown

Bishop O'Dowd

High School
—

Overall Rank

27

Position Rank
ESPN Player Evaluations
Nike TOC-Dec. 11: Real size, back to moving well again. Ok offensively, has room to improve in that area. Will rebound in her area. (Clay)

Boo Williams-April 11: Has a college body already. Excellent rebounder, really attacks the ball coming off the glass. She has excellent balance and footwork offensively. (Bodine)

WCP Spring Invitational-May 10: The next big thing in the Bay Area may be Bishop O'Dowd's Brown. The 6-3 post is incredibly fluid for her age and size. She runs the court well and moves inside the paint with relative ease. She showed good hands at times, catching some difficult passes as post entry passing is not a strong suit for guards at the U13 level. She could develop into one of the those dynamic scoring threats as her agility should allow her to add a face-up game once the back to the basket stuff is down. (Hansen)

Nike Skills-May '10: Good size forward with a long athletic build. She's very mobile and has the ability to run the floor in transition. There are a lot of physical tools in place that should allow her to develop her skills and tap into some impressive potential. There were times she seemed to rush a bit offensively and occasionally her upright stature made her easier to defend. All in all she's got some real possibilities and seemed to have the work ethic to make the most of them. We'll see.

EBX Showcase-Oct. '09: We didn't get a long look at Breanna Brown of Oakland, Calif., but we got enough to prompt a double take when looking at her class. Incoming freshman bigs don't get too much better. At 6-2, she is a fluid athlete who gallops up and down the floor and, what's more, looks for the ball with hands raised in transition. We didn't get to see much of her in a halfcourt offensive setting, but her defense -- her blocks as well as challenges of shooters -- was enough to make us want to see more.
Notes
Club Program: Cal Ballaz