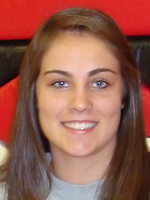 Kristen Gaffney
Wing
CLASS: 2012
Cary, NC

Hometown

Green Hope

High School
—

Overall Rank

77

Position Rank
ESPN Player Evaluations
Summer 2011: Big wing, floating perimeter kid - could be a real matchup problem at the 4. Range to 3-point but not consistent, release point varies. Has an extra gear in the open floor. Finishes against contact. (Clay)

Nike Summer Showcase-July. 10: Strong perimeter player who could find herself at either the guard or wing spot. Impressive off the dribble and constantly attacking. Speed is a question mark. (Lewis)

Deep South Classic-April 10: Big guard, can put it on the floor and score. She switches hands well on her crossover but has a tendency to favor her right hand when driving to the basket.


Notes
Club Team: Hoops City ML All Stars

All State first team, 2010. ... averaged 26.6 points per game as a sophomore.