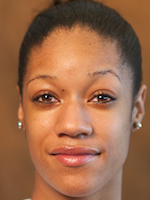 Briana Day
Forward
CLASS: 2013
Raleigh, NC

Hometown

Millbrook

High School
57

Overall Rank

16

Position Rank
ESPN Player Evaluations
Battle in the Boro-July 11: Long, lean and athletic. She moves well both in the halfcourt and running the floor. Has the ability to put it on the floor from the high post or one dribble drives off the baseline. There are some skills in place but they're not completely refined as of yet. She's fluid in her attack and has the ability to get off the floor but she's often drifting or shooting off balance to avoid defensive contact. She'll take a short or midrange jumper but again has a tendency to fall away on it. Defensively she has some agile feet and moves well in helpside situations to contest shots. At both ends additional strength will be an asset for her as she matures and takes her game to the next level. (Lewis)

EBA Super 64-June 11: Active and athletic forward. She has a long and lean build but her constant activity makes it difficult for opponents to exploit her current lack of strength. Her play is confident from 15 feet and in including a consistent 10 footer. She put it on the floor several times and created her own looks including a floater from full extension. Her active play away from the ball is impressive and hard to find in any high school or club players. Her vertical gave her an advantage on the glass and defensively and with added strength could make her an impact player. Lots of possibilities for her to pursue and embrace. (Lewis)

Deep South Classic-April 10: She is long and very athletic, has the ability to cover the court and chase down opponnents with her speed and length. She has a few offensive moves, including a baseline hook shot.


Notes
Club Team: Carolina All Stars