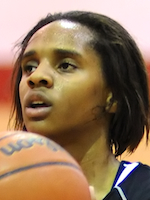 Tyler Scaife
Point Guard
CLASS: 2013
Little Rock, AR

Hometown

Hall

High School
9

Overall Rank

1

Position Rank
ESPN Player Evaluations
Boo Williams-April 12: Embraces being the go-to player, Scaife is as good as they get at setting up the 12-15 foot pull up jumper. Even though her game is at times predictable, she is so strong and elevates so quickly that defenders still struggle to do anything about it. She does make some spectacular plays with the pass but being a more consistent playmaker for her teammates, to complement her scoring, is what we'd like to see more consistency from. (Hansen)

DFW March Fest-March 11: Scaife is one of the most electric scorers in the country regardless of class, and she still has two more full seasons of high school basketball left. The narrow-framed guard has a knack for attacking opposing defenses off the bounce and finding ways to create her own shot. The 5-8 guard is the true definition of a scoring point guard as she is consistently looking to create offense when the ball is in her hands, a trait that at times is her greatest asset, but can also be her major weakness. Running an offense and running a team are two things that Scaife has yet to master, and at times she will settle for a tough contested shot rather than show the poise and patience to use her teammates. She has a natural instinct for scoring the basketball, but will need to develop a better understanding of how to play the point guard position. Nonetheless, Scaife is an elite talent that can be a handful to contain in both the open court as well as in one-on-one situations in the half court. (Moore)

Battle in the Boro-July 10: While she had already established herself among the ones to watch in the 2013 class, the first evaluation period of the summer had college coaches who hadn't yet seen her talking on the sidelines. This 5-8 point guard from Little Rock, Ark., has shown advancements in her game over the short time since the spring evaluation period. She attacks with speed and still displays a silky smoothness that makes it hard to anticipate her next move. She's reading defenses even better and making good choices both in her shot selection as well as her passing decisions. Her changes of speed and direction are being put to more use and and are leaving defenders in her wake. The pull-up shot looks good but the perimeter consistency is still a bit of a roller coaster at times, particularly later in games. That should resolve itself with maturity and strength. On the other end of the floor, she's making plays as well but occasionally gets herself out of position by taking a risks on the ball. The trade off may well be worth it. (Lewis)

Nike Skills-May '10: Plays with a great deal of confidence and maturity. Tremendous ball handling skills she keeps the ball low when attacking. She keeps defenders off balance with her ability to attack the basket or pull up a nail a jump shot. She just has the natural instincts to play point at a high level.

Boo Williams-April 10: The 2013 class is shaping up to be one of the deepest to come along in a long while and this 5-8 point guard from Little Rock, Ark., adds some serious depth to the talent pool. Her wiry build is deceptive as it hides an explosive quickness that's equal to or beyond many athletes several years older. She has impressive one-on-one skills that keep defenders on their toes and create both scoring and passing opportunities for her and her Cy-Fair teammates. Her speed with the ball in her hands in transition is often faster than the defenders who are trying to get back. Her pull-up shot has good elevation on it and comes off a quick and sudden jump stop that's hard to anticipate. Consistency from the perimeter will be critical to keep opponents honest and closing out. Defensively, that same speed and quickness serves her well on ball and gives her the potential to work over opposing ballhandlers. With the right focus and commitment, Scaife could be a special player among a talented class.
Notes

Club Team: Cy-Fair Shock U15-Mickens

ESPN HoopGurlz Tip Sheet Mentions and Features:
~ Tip Sheet: PBR Super 64--July 11
~ Scaife leads Cy-Fair to Nike Juniors title--July 11