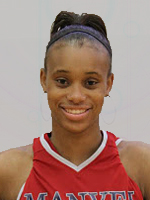 Brianna Turner
Forward
CLASS: 2014
Pearland, TX

Hometown

Manvel

High School
2

Overall Rank

2

Position Rank
ESPN Player Evaluations
Texas State Tournament-Austin, TX-March 2014: Continues to solidify game with versatility, leadership role; handles and creates on perimeter, breaks trapping pressure; elevates in mid range game, finishes in traffic; the complete package on and off the floor. (Olson)

Boo Williams-April 2013: Long, agile faceup-4 performer elevates on mid-post game moving to the arc; defensive presence, alters shots, active on glass; consistently impresses on both ends of the floor, superb in transition game; Next-level impact. (Olson)

DFW March Fest-March 11: At this point in the maturation process of the class of 2014, no prospect in the class has displayed more potential than Turner. To start, there's her physical attributes, which are impressive even in street clothes. She stands a legit 6-3 and is gifted with long limbs and explosive athleticism. Turner has the ability to run the floor as well as most guards her age, and on the defensive end she finds a way to challenge every shot attempted anywhere near the basket. Her ability to be both an explosive athlete, attempting the impressive shot block around the basket, and be fluid, finding ways to finish around defenders when she can't simply go over them, makes her a sure fire challenger to finish the class in the No. 1 spot. When talking about prospects on the national level, the term "genetic lottery" plays such an impact on what separates kids at the top of a given class from their peers. Similar to previous No. 1s ahead of her, (Maya Moore, Candace Parker, Brittney Griner) Turner won the genetic lottery of 2014. (Moore)

NAIC Southeast-Oct. 10: Adding more size and athleticism only takes her game to a higher level. Constantly active and utilizing both her athletic and basketball skills. Her perimeter scoring is beginning to catch up with her scoring off the drive making her a challenging match up for any defender. In traffic she's reading rotations well and elevating to finish consistency in traffic. Defensively she looked to match up with the top players at the event and embraced the challenge...she also got stops. Turner adds a strong rebounding element to play at both ends of the floor. (Lewis)

Nike Nationals-July 10: The physical potential has been obvious for a while, but now her court concepts and understanding of the game are making her that much more difficult for any opposing match up. One impressive touch pass was something any college player would have been proud of. She runs the floor and is a factor at both ends of the floor on virtually every possession. As she fills out physically her length, reach and athleticism are going to only be magnified. (Lewis)

Flava Jam-July 10: By now the 6-4 game-changing youngster is no longer the secret. In the Flava Jam the Pearland, Texas native showcased her ability incredible combination of size and athleticism, however, she is not athletic just for her size; she is athletic for any size. While she can snatch a rebound from the rim and start the break herself, leaving scouts shaking their heads in what they are seeing, Turner can also fill the wing and because of her size she is usually being checked by a forward or post player. This is a complete mismatch. As she continues to add depth to her perimeter skills she will become and even tougher player to defend. One thing she needs to remember is that regardless of what position she is technically played at, she will always be key to her team's defense and rebounding and she must attack the glass the entire game. (Hansen)

Midwest Showdown-May '10: Despite not having put on a varsity high school uniform yet, this 6-3 DFW 2013 team standout is already well known, nationally. Her combination of size, athleticism and skills makes her a prospect on the highest level at both the forward and wing spots; however the perimeter may ultimately be her best fit. The left-hander has the ballhandling skills and fluid mobility that allows her to attack defensive matchups of any size. She can run the floor with the quickest of guards and leaves the bigs behind. Her height and reach make her an imposing defender with the versatility to defend several positions and still be a constant contributor on the boards. The toughest challenge for prospects that emerge this young is making sure that their own expectations and efforts exceed what others are looking for from them.

Nike Skills-May '10: She is a special talent with skills and ability way beyond her years. Her open court ball handling has improved and she is understanding how to use the length of her arms to push the ball past her defender. She can score at will and seems equally comfortable facing up as in the paint.

Flava Jam-July 09: So much can change between the seventh grade and when a player hits the college ranks that we tend to avoid writing about kids this young, but forward Briana Turner of Pearland, Texas, has the makings of a future star. She is listed at 6-1 but on the court looks at least 6-2. Her lateral speed is still coming but she is far from awkward as she is fast sprinting in transition or getting back on defense. On the defensive end she is a shot-blocking threat both on the interior and out on the perimeter. She's still a little timid on offense but make sure you remember this kid in the years to come.
Notes
Turner was named the Gatorade National Player-of-the-Year and a 2014 McDonald's All-American. She led Manvel to a 38-2 record and the 5A state title as a senior.



Turner was one of three players from the class of 2014 selected to the USA Basketball U19 world championship team.

Read more on Brianna Turner: A modest superstar
Club Team: DFW Elite

Transferred from Westbury Christian to Manvel after her sophomore season, 2011. ... invited to the USA Basketball U16 national team trials