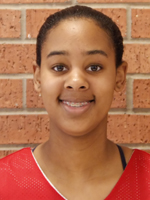 Ashley Eli
Wing
CLASS: 2012
Mansfield, TX

Hometown

Summit

High School
—

Overall Rank

25

Position Rank
ESPN Player Evaluations
Texas UIL-March 12: Eli is a real competitor on both ends of the floor and a workhouse on every possession. The 5-9 forward has added an effective left-handed jumper that she hit multiple times off of the dribble from 15 feet. If the North Carolina State signee can stretch that range out past the 3-point line, she will become a very efficient and effective offensive weapon for Wolfpack coach Kellie Harper. (Clay)

DFW March Fest-March 11: An active, high energy defender who does all of the little things to help a team win a game. A bit undersized, but never lets that effect her play. Rebounds the basketball with a passion and will go track the ball down off the rim. Won't create a high volume of scoring opportunities for herself or others, but can finish around the rim. Would like to see her become a more consistent perimeter shooter. (Moore)

Flava Jam-July '10: This lefty wing player has grown her confidence in the last year. She never forces anything but is still capable of hitting a big shot in a key moment of the game, as she did on several occasions in the semifinal win over Essence Purple. She doesn't come with the flash and fan fare of some of her teammates but she is a very good player with a lot that transfer to the college game. She pursues rebounds with the aggression of a front court player yet has the smooth athleticism to do some things off the dribble from the wing. The most important thing she brings to the floor is a positive energy. She seems to always have a smile on her face, regardless of the situation. Don't take that as her being soft but that she enjoys playing the game. She could easily become a "Big Shot Bob" (NBA's Robert Horry) player at the next level. (Hansen)

Nike Skills-May '10: Big lefty wing-guard who is quick with ball, nice crossover dribble. Excellent passer. Smooth player.
Notes
Club Team: DFW 2012