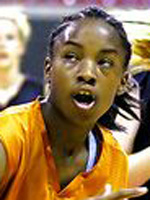 Tyshell King
Guard
CLASS: 2013
Baltimore, MD

Hometown

St. Frances Academy

High School
44

Overall Rank

11

Position Rank
ESPN Player Evaluations
Boo Williams-April 12: This 5-foot-11 guard has continued to get better, and we're starting to see that world of athletic potential become reality. King has the fantastic combination of being shifty and explosive and has a somewhat slight frame that she uses to slither into the heart of the defense. Her ability to finish in traffic and pull up and knock down the jumper makes her a constant scoring threat. On the defensive end, her quick feet and hands mean she can match up with just about anyone on the perimeter. While much of the spotlight is directed at teammates Lindsay Allen and Jannah Tucker, and deservedly so, the Belles' depth and ability to compete with the best teams in the country wouldn't be the same without King's contributions. (Hansen)

Deep South Classic-April 11: Has taken the steps to advance her game just since January. Her offensive arsenal appears to have a little more depth to it and her consistency appears to be improving. Several of her pull ups were solid and without the drift that's been there in the past. Additionally with added strength her first step is more explosive getting her deep in the paint before rotations come her way. On the defensive end she's still the standout she's always been and even looks to be even more focused on making an impact at that end of the floor. Continued improvement over the summer schedule is critical in establishing just where she fits in among the class's elite. (Lewis)

Winter 2010-11: She possess all the elements colleges want in a 2 guard, speed, lateral quickness, creativity. There are some issues with shot mechanics and ball handling that will need to be addressed but those should improve with hard work and maturity. (Bodine)

Braggin Rights-Dec. 10: Could be one of the top defenders in the sophomore class. Physically strong with eye catching speed she has the tools to defend #1 through #3. Offensively she has some catching up to do with her potential at the other end of the floor. The skills are there but not yet consistent enough to count on every possession. She can aggressively get to the rim but things from the perimeter are hot and cold. The forward motion on her shot will have to be straightened out but the stroke itself is fine. (Lewis)

USJN DC-July 10: On a young and talented Team Unique squad this 5-10 guard demonstrated both some basketball and physical skills that should help her elevate her game into the thick of a talented 2013 class. The Baltimore native already possesses an athletic and cut build and utilizes some impressive strength in every aspect of her play. On the drive she is aggressive and gets to the rim with some quickness that helps her avoid some rotating posts. Her individual skills with the ball in her hands create her penetration as well as let her navigate traffic in transition. The pull up is there but occasionally finds her drifting a bit and making the shot more difficult. She connected from long range several times, which should force tighter defensive close outs and bring a smile to her face. On the defensive end she has the potential with her combination of quickness and strength to become a real disruption for ballhandlers and seems to be embracing that role. With an attack at both ends she should find the line at her door already getting long.

Deep South-April '10: Ultra athletic wing guard. She has excellent defensive footwork and know how to use her length and speed to defend on the ball. She can get to the basket right now because of her athleticism , as she develops she will need to add a mid-range pull-up jump shot.
Notes
Club Team: Team Unique