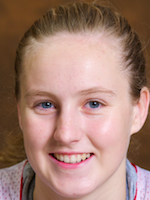 Courtney Ekmark
Guard
CLASS: 2014
Phoenix, AZ

Hometown

Saint Mary's

High School
31

Overall Rank

5

Position Rank
ESPN Player Evaluations
End-of-the-Trail-July 2013: Confident perimeter performer and considered the best pure shooter in the class of 2014; deep range with superb release point on jumper, reads screens, executes fades; green light given with productive results; cerebral on both ends of the floor; half-court execution. (Olson)

USAB U16 Trials-May 11: Already established as a legitimate perimeter threat, Ekmark offered up some improved ballhandling in her attack and utilized an effective change of speed to create some looks and passes. Is it where it needs to be yet? Not quite but the improvement is showing and giving evidence to an understanding of how to advance her game. Her length allows her to cover more ground than her footspeed generally affords her and she uses it to her advantage against smaller perimeter defenders. She's employing a more refined shot fake as well getting more than her share of defenders out of their stance and off balance. Strength and speed still will need to take considerable steps forward for her to continue the growth of her game but Mother Nature herself should contribute a bit to the cause. even appears to have added some height to her frame just since the end of the scholastic season. (Lewis)

Boo Williams-April 11: She has sprouted up to at least 6-0 and though her days as a potential point guard have passed, having a shooter with her length and size will keep her among the Pac-12's bigger targets in the 2014 class. Right now her game is limited by her physical strength but for most kids growing, it's hard to add much muscle. She's been on the high school club circuit for two years now and the experience shows; she's near the head of the class in that regard. (Hansen)

Nike TOC-Dec. 2010: Continues to demonstrate why she's one of the more highly regarded perimeter prospects in the 2014 class. Long and lean in her build, she covers the floor effectively both offensively and defensively. Her long ball is her most obvious threat but she can create off the dribble as well. She's able to see the floor and makes good decisions on her passing. Her slight build offers some challenges for her defensively but her length and footspeed compensates. Improves each time out. (Lewis)

USJN DC-July 10: The great thing about younger players is the continual advancement of their skills and the growth they show even over a short period of time. This 5-11 guard has made impressive strides just over this past spring and summer and it's not like she was starting from scratch. Having already displayed a court intelligence and feel for the game usually reserved for older players, the Phoenix, Ariz., youngster has become a more attacking and aggressive threat every time she touches the ball. While still reading the floor effectively, she's getting defenders out of their stance more often and looking to force defensive shifts with her penetration. Her decision making on those drives more often than not leads to a bucket or an assist on a well-disciplined Warrior team. The quicker release that needed to evolve is coming into play and she's even showing a true jumper off the dribble from good range. Her size is making her tough defender and her reach is getting several touches off the ball. Keep watching.

Nike Summer Showcase-July. 10: Consistent improvement and advancement of skills make her one of the elite players in her class to keep an eye on. Creating more off the dribble and starting to become a more versatile threat. Has both the range and the stroke to force tight closeouts as well as the individual skills to develop her own looks and passes. Still very lean in her build but seemingly not limited by it and shouldn't be a problem as she matures. Active defender who benefits by the size and reach she has on the perimeter. (Lewis)

Nike Skills-May '10: Young, lean guard with great size and upside. She has a tremendous understanding of the game for her age and plays with significant confidence. Her first step is very deceptive and allows her to penetrate effectively. She navigates traffic well creating both shots and the well thought pass. From the perimeter she's more of a spot up threat at the moment but a quicker release and more pull up possibilities will come with age and maturity. The sky may well be the limit.
Notes
Club Team: Arizona Warriors