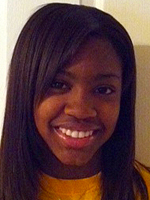 Chardonae Fuqua
Forward
CLASS: 2012
Birmingham, AL

Hometown

Hoover

High School
44

Overall Rank

9

Position Rank
ESPN Player Evaluations
Starr's Mill/Kay Yow GNO-Jan. 11: Athletic build runs the floor exceptionally well, can knock down the 3-point, nice low post and mid range game, very active on the boards at both ends of the court, good on ball defender not afraid to guard the opponents top scorer, has ability to block shots, has a nice face up game as well, will put the ball on the floor and attack, developing a nice all around game. (Beverly)

Turkey Jamm-Nov. 10: Some of the most versatile play seen at the Turkey Jamm came from this talented 6-0 wing/forward. Fuqua is the No. 60 prospect in the ESPN HoopGurlz Super 60 and has already given a verbal commitment to Van Chancellor and LSU, which should have the Tiger faithful smiling. Combining size, athleticism and very fluid movement, she offers an inside out threat that can be a challenge to match up with. With the ball in her hands she can attack off the dribble and has no trouble among the bigs once she gets into the paint. With a smaller defender the ability is there to post up as well. Without the ball she's active and has that all too hard to find willingness to cut aggressively. Defensively she's exceptionally strong on ball and has the footspeed to contain smaller guards. Off the ball she anticipates well and sees the floor for quick rotations on the weakside. On both ends of the floor she's constantly attacking. Her play is smart, well thought out and well-suited for the next level. (Lewis)

Wildcat Classic-May '10: Long, lean and athletic forward who is at her best in transition. Scores well from 15 feet in and has good leaper ability. She can guard multiple positions and rebounds well for her size due to leaping ability. Projects as a wing at the next level, although she is more of a (inside) forward now. Runs the floor exceptionally well. Has played in two elite high school programs Murrah (MS) and Hoover (AL).
Notes
Club Team: Alabama RoadRunners