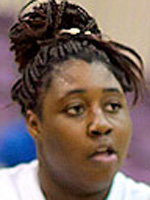 Chantel Osahor
Wing
CLASS: 2013
Phoenix, AZ

Hometown

Saint Mary's

High School
71

Overall Rank

11

Position Rank
ESPN Player Evaluations
USJN Nationals-July 11: Superb passing skills from the post, she is difficult to defend down low because of her versatility. (Bodine)

Nike TOC-Dec. 10: At 6-1, sophomore post Chantel Osahor is one of more physical players at this year's TOC. Against Mt. Lebanon (Pittsburgh, Pa.) she had to shoulder the load for her team in more ways than one. In previous games she seemed to be content with making the extra pass to a teammate on the wing instead of looking for her own shot even when she had her defender sealed in the post. With St. Mary's (Phoenix, Ariz.) playing from behind for the majority of the game, Osahor was the one player who remained constant and steady on the floor. She was a dominant presence in the post attacking the glass going up for multiple rebounds during a possession; she has great hands, which allowed her to keep the ball secure in heavy traffic.

Osahor was very effective at setting screens, which resulted in getting her teammates good looks at the basket. When St. Mary's made their final push during the fourth quarter, she was the player who sparked off a seven-point run to get them within striking distance. At the high school level she is a player that can control the action in the paint on either side of the ball, she has good center of gravity, which makes it easy for her to back down her defender to the low block. She is also comfortable facing the basket and isn't afraid to shoot from 3-point range, which is an option she has in the St. Mary's offense. If she concentrates on her physical conditioning and perimeter skills, Osahor has the potential to be solid four at the next level. (Lewis)

Nike Skills-May '10: Major size and bulk in the post. She has the frame and strength to be a real presence on the block and showed some good hands in pulling in some less than accurate passes. At the same time her skill set has to expand and bring something to the table to force defenders to pay attention to her down low and at the high post. Her perimeter shot is not a strength at the moment by any means. She does move better than you would think and with a little better conditioning could be more of a factor.
Notes
Plays for Arizona Warriors.