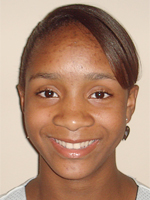 Alex Lapeyrolerie
Guard
CLASS: 2013
Sugar Land, TX

Hometown

Foster

High School
—

Overall Rank

39

Position Rank
ESPN Player Evaluations
PBR Super 64-July 11: Active and athletic build combines with good size on the perimeter. Her ballhandling is looking sharper and sharper allowing her to create her own looks both off the drive and the pull up. She is using an effective floater as well and finishing at a pretty good percentage. The first step is lengthy and gets her past a lot of smaller and quicker defenders. Defensively the tools are there to be a strong on ball defender at any perimeter spot. Steady advancement is coming in her game. Important year in front of her. (Lewis)

USAB U16 Trials-May 11: The progress is obvious in her game and the advancement of her skills is serving her well. Active and athletic, she keeps defenders worrking throughout each posession with and without the ball. The ability is there to create one on one as well as the vision and passing to take advantage of defensive rotations. She knocked down several pull ups but ran a little hot and cold deeper on the perimeter. Defensively on the ball she can match up with any backcourt opponent and has the lateral footspeed to turn ballhandlers at will. (Lewis)

Athletic build, quick and explosive..elevates over defenders when she shots. (Bodine)

NAIC South Carolina-Oct. 10: Wiry build. Sound athlete who gets out and runs the floor. Ballhandling is decent but could be stronger. The form is OK on her shot but there is some forward motion on her release. Shot selection will need to show more discipline. (Lewis)

Nike Skills-May '10: She uses her length well on the court. She showed some nice hestiation moves when handling the ball.
Notes
Club Team: Cy Fair Shock

First Team All-District, 2010, 2011. ... participated in the USA Basketball U16 national team trials, 2011. ... District Co-Newcomer of the Year, 2010. ... team MVP, 2010.

Averaged 16.5 points, 6.7 rebounds, 2.4 steals and 1.4 assists per game as a sophomore at Kempner HS. Transferred to Foster for her junior year.