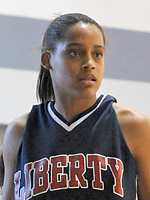 Nichole Moody
Guard
CLASS: 2011
Euless, TX

Hometown

Trinity

High School
100

Overall Rank

23

Position Rank
ESPN Player Evaluations
Battle in the Boro-July 10: Skilled and athletic point guard who may well not get the respect she should. She has the ability to play at speed but still handles the ball and make good decisions. The range is there on the jumper and she's not hesitant to take it into traffic. An aggressive on ball defender, she stays a little too tight on the weak side making her rotation to help a little longer than it needs to be at times. (Lewis)

PBR 64-July 10: Moody has the strong athletic frame coches covet at the position of point guard in the BCS conferences. She can get to the basket and finishes strong;always penetrates looking for the score. Has a nice hesistation move to get to the basket. Likes to go right.Hit a deep 3 off the bounce. Needs to develop left hand and could be a better distributor. A nice prospect. Plays hard. (Powell)

Skills Select-April 10: If there's an example of why your first impression of athletes should be written in pencil this 5-8 Euless, Texas, native is it. While her first-day performance was sound, it wasn't the kind of play that makes you look twice. Day Two revealed a much more impressive and memorable exhibition of a very promising game. She's a smooth and athletic point guard who attacks both in the halfcourt and on the break. Individually she can create off the dribble and finishes well in the paint or on the pull up. There's a quick release on her shot that does have a somewhat two-handed "volleyball set" look to it. Aggressive at both ends, she gets in a stance defensively and does a good job of anticipating off the ball.
Notes
Notes are not available.