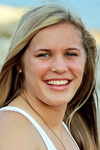 Gabrielle Ortiz
Point Guard
CLASS: 2014
Racine, WI

Hometown

The Prairie

High School
13

Overall Rank

3

Position Rank
ESPN Player Evaluations
USJN-July 2013: Fundamental floor general with a scorer's mentality; game manager with superb court awareness; reads pressure, executes; manufactures and attacks, elevates on jumper to the arc; a coach's dream, communicator and leader; among the nation's elite point guards in the 2014 class. (Olson)

Fall Certified Chicago-Oct. 11: A true lead guard who can make open shots, Ortiz has a good feel for the game and how to play with other people. She seems to struggle at times with full court pressure. But this 5-6 prospect also has the ability to play off the ball because of her shooting stroke. (Moore)

USJN Great Plains-May. 11: Having burst onto the scene last summer, Ortiz is already beginning to take her game to another level. Her decision making and distribution of the ball is sound and she gets it in the hands or the right teammates at the right times. She can push the ball from makes, misses and turnovers but isn't hesitant to pull it back out if the options aren't there. Her play is confident and aggressive at both ends and she's just as comfortable facilitating plays as making them herself. It wasn't a big weekend for her from a scoring standpoint but she's capable if needed. (Lewis)

USJN DC-July 10: While everyone was watching the impressive play of Samantha Logic on the Midwest Elite's Platinum team, the folks with foresight were checking out this 5-6 point guard from Logic's hometown of Racine, Wis., on the Black team. To describe her game as assertive and aggressive would be an understatement. A confident and extremely impressive ball handler she had complete control of a floor where she was the youngest player on either team by two years. Pushing the ball on almost every possession, she has vision and makes smart decisions with the ball. On penetration she distributed the ball or got to the line on multiple occasions. Not many perimeter looks came her way but the form on her free throws seemed sound and reliable. Logic may have come into her own before her senior year but Ortiz is catching people's attention now.


Notes
Club Team: Midwest Elite