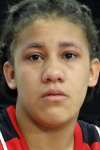 Kayla Rankin
Forward
CLASS: 2014
Hazard, KY

Hometown

Perry County Central

High School
—

Overall Rank

21

Position Rank
Considering
No schools available.
ESPN Player Evaluations
Boo Williams-April 2012: Strong, powerful insider with physical interior game; consistent interior producer, finishes vs. contact; superb interior footwork; average mobility in transition; double-double producer. (Olson)

Raatz Fence-Jan. 11: Young, strong, power forward. Makes plays off physical and aggressive plays. There are some skills there but they have rough edges at this point. Conditioning needs to improve for the next level. (Lewis)


Notes
Notes are not available.