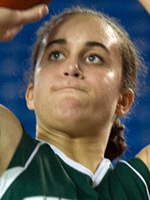 Haley Smith
Wing
CLASS: 2013
Sammamish, WA

Hometown

Skyline

High School
—

Overall Rank

21

Position Rank
ESPN Player Evaluations
KingCo Playoffs-Feb. 11: Smith is a promising young prospect with some similarities in build and athleticism to Danielle Walter, now a freshman at Gonzaga. She's a 6-foot combo guard with a ton of length. Offensively when she pushes the ball in transition her size and length allows her to see over the top and deliver the ball too. Her dribble is a little higher than we'd like to see, which gets her in to trouble against smaller, quicker defenders. If she learns to use her body to protect the ball in traffic and learns to drop her hips a little bit, she will be better equipped to keep the ball low and utilize her length to go by defenders and split double teams.

Her aggressiveness came and went but there is plenty to like about her game. She has the handle to play either guard position. She snaps passes off and it's really nice to see a young guard that does some of the little things already. Her shot has a nice, high release point that will allow her to shoot over defenders without worrying about having her shot blocked but her actual release is inconsistent and comes off flat at times. When she tried to get shots off quick, her accuracy was lacking, but again with her length, she shouldn't be rushing too many shots.

Defensively she needs to learn off the ball defensive principles. In both zone and man defenses she appeared to watch the ball and not move with it. When she is in position she tips passes and she is a guard you'd love to have up top on a 1-3-1 or 1-2-2 trap, funneling the ball handler and making passing lanes disappear.

She's not a finished product but there is plenty of reason to stay tuned and monitor her progress.
Notes
Notes are not available.