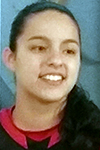 Amber Ramirez
Point Guard
CLASS: 2016
San Antonio, TX

Hometown

Karen Wagner

High School
12

Overall Rank

4

Position Rank
ESPN Player Evaluations
McDonald's All-American Game-March 2016: Electrifying lead-guard with deep range offensive game, 1 on 1 creator with flair; handles and passes, superb vision of the floor, distributor; an elite guard in the class of 2016. (Olson)

UIL Texas State Tourney-March 2015: High-octane scorer with flair; streaky offensive mid-range game with range beyond the arc; superb in uptempo, pressure game; court savvy, vision; one of the most electriying prospects in the 2016 class. (Olson)

Rockin-the-Hardwood-March 2014: A game manager with court awareness, savvy and a scorer's mentality; quick release on jumper with range to the arc; uptempo producer, breaks down defender. (Olson)

March 2013: Flashy floor leader with a scorer's mentality; quick release on jumper with streaky range to the arc; excels off the dribble with deceptive quicks on both ends of the floor. (Olson)
Notes
McDonald's All-American Team member in 2016.

TABC 1st-team 6A All-State in 2015, 2016.

Ramirez, who originally gave a verbal to Oklahoma State, has decided to reopen her recruitment. "I felt it was best to be certain of my decision and re-open my recruitment so that I can feel comfortable about the process," Ramirez said. "I am still considering Oklahoma State but I'm open to other options as well"


Read more: Why they call her 'Sauce'