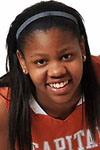 Desiree Elmore
Guard
CLASS: 2016
Hartford, CT

Hometown

Capital Prep

High School
51

Overall Rank

13

Position Rank
ESPN Player Evaluations
Battle-in-the-'boro-July 2015: Left-handed off-guard manufactures, mid-range game creator; exploits the mismatch, delivers in the paint, finishes plays vs. contact; 3-point range brings respect to the arc; soft touch delivers with consistency off the dribble. (Olson)

Boo Williams Invitational-April 2014: Power-guard with size on perimeter, quickness off the bounce, scores vs. contact with body control; manufactures, splits double-teams; a big guard with a scorer's mentality. (Olson)

USJN-July 2013: Strong, athletic left-handed combo-guard handles, attacks with a scorer's mentality; manufactures in mid-range game to the arc; converts in pressure.(Olson)


Notes
1st-team Class L All-State in 2015, 2016.


Oct. 14, 2014: Desiree Elmore, the No. 22 prospect in the espnW HoopGurlz Super 60 for the 2016 class, has committed to Syracuse. The left-handed guard with a versatile perimeter game will bring a scorer%u2019s mentality to the back court for Syracuse.
%u201CI want to study communications, and Syracuse is the leading school in the country for that study,%u201D she said. %u201CI also am within a four-hour drive of my home, so family and friends can see me play in the Carrier Dome.%u201D
Elmore%u2019s list included West Virginia, Florida, Mississippi State, St. John%u2019s, Florida State and Wake Forest.