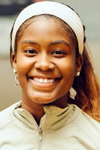 Destinee Walker
Guard
CLASS: 2015
Orlando, FL

Hometown

Lake Highland Prep

High School
17

Overall Rank

2

Position Rank
ESPN Player Evaluations
Boo Williams-April 2014: Long, athletic and explosive mid range game creator; expands range beyond the arc; confident, commands the ball and delivers vs. pressure; brings a continuous attack mode, scorer's mentality; among the elite guard prospects in the nation for 2015. (Olson)

Nike Nationals-July 2013: Wiry, athletic off-guard with a scorer's mentality; deep-range threat with streaky results; explosive off the bounce, attacks with flair; developing mid-range game creator, secondary ball handler. (Olson)


Notes
Walker scored 34 points on Feb. 18, 2015, to lead Lake Highland Prep to the Florida 4A state championship with a 68-62 overtime win over Fort Myers. Walker hit a 3-pointer with 10 seconds to go to send the game into overtime.

Member of the USA U18 National Team in 2014.

1st-team FABC All-State in 2014.