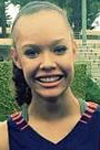 Valerie Higgins
Wing
CLASS: 2016
Granada Hills, CA

Hometown

Chaminade College Prep

High School
15

Overall Rank

2

Position Rank
ESPN Player Evaluations
Nike Nationals-July 2015: A complete perimeter performer; a coveted "glue-player" that raises the bar for her teammates; unselfish demeanor, handles, passes and delivers on the break; executes in half-court game; triple-threat creator offers range to the arc; among the elite small forwards in the 2016 class. (Olson)

Nike Nationals-July 2014: Versatile perimeter prospect with soft touch in mid-range game; unselfish persona, slashes, distributes, reads spacing; active on glass, handles and attacks in transition; superb floor game.(Olson)

Boo Williams Invitational-April 2014: Agile perimeter performer handles and creates in uptempo game; mid range game creator, smooth release point on jumper; versatile. (Olson)
Notes
Aug. 23, 2015:Valerie Higgins has given a verbal commitment to Southern California. An invaluable piece to any team, Higgins' ability to pass, score and rebound make her among the elite small forwards in the nation. Higgins had narrowed her list to Oregon, Oregon State, Louisville and California before choosing USC. %u201CThe feeling I had when visiting the campus and the mystique of Cynthia Cooper and the possibilities that abound made me choose Southern California over the other great universities that gave me an opportunity. I am grateful to each and look forward to my time at USC," Higgins said. Cynthia Cooper-Dyke and her staff have also gained commitments from Minyon Moore and Aisah Jones in the 2016 class.

2016 CIF Open Division Player-of-the-Year.

All-CIF Open Division in 2014, 2015, 2016.