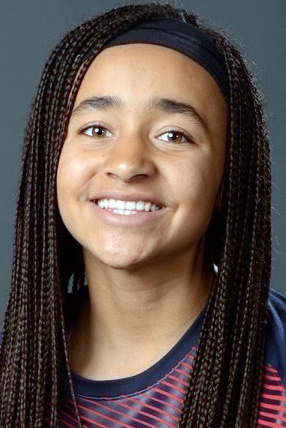 Haley Jones
Wing
CLASS: 2019
Santa Cruz, CA

Hometown

Archbishop Mitty

High School
1

Overall Rank

1

Position Rank
ESPN Player Evaluations
Boo Williams Invitational-April 2018: Poised, consistent perimeter performer manufactures shots, breaks down the defense and scores at all three levels; unselfish leader makes plays on both ends of the floor; continues as an elite prospect in the class of 2019. (Olson)

Nike Tournament of Champions-December 2017: Versatile prospect rebounds, handles and passes in transition; manufactures, delivers off the dribble with consistency; deep range threat; drives, draws defenders and delivers off the dribble; an elite prospect in the class of 2019. (Olson)

USA Trials-May 2017: Agile perimeter prospect brings size, versatility to the front court; manufactures, delivers in half-court game, off the dribble, draws contact, makes plays; stretches the defense out; consistent delivery off the dribble. (Olson)

End-of-the-Oregon Trail-July 2016: Agile perimeter threat with superior size in the front court; manufactures, elevates on jumper to the arc; drives, draws contact and finishes plays in traffic; consistent production on both ends of the floor; among the most versatile prospects in the 2019 class. (Olson)

Nike Tournament of Champions-December 2015: Versatile perimeter threat rebounds, handles and passes in uptempo game; plays taller than advertised; utilizes weak hand in the paint; developing range to the arc; potential. (Olson)
Notes
member McDonalds All-American Team in 2019.

member FIBA U17 World Cup All-Tournament Team in 2018.

member USA U17 National Team in 2018.

California Gatorade player of the year in 2018.

USA Today 1st-team USA in 2018.

Led Archbishop Mitty to a 29-1 record and a No. 1 final ranking in the espnW 25 Power Rankings in 2017-18.